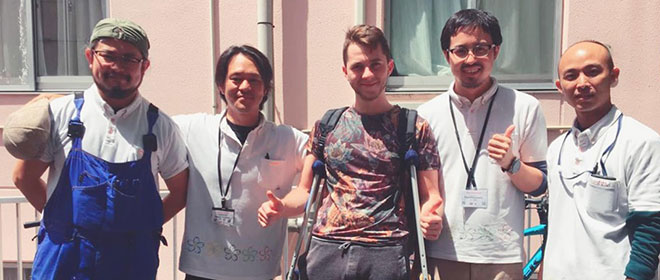 SAKURA HOUSE Maintenance Staff
You are the main player at SAKURA HOUSE, where customers come from all over the world.
Each of our staff supports and make an "OMOTENASHI" the lives of customers in Japan.
Full time
Excellent driving skills Welcome
Work experience in related fields preferred
Responsibilities
Once you join the company, you will first learn the know-how of beautification (cleaning) of the property, and you will be able to communicate with customers coming from all over the world in the house. After that, depending on your skills and experience, there are various tasks that you will be responsible for in stages, such as leaving the room, light property repairs, replacement of equipment, arrangements for repair companies, selection of indoor equipment, and planning of property renovation. While part-time jobs are mainly supported, employees are required to work with a sense of responsibility and independence. Those who are interested in managing a share house, those who have studied abroad or working holidays, those who have plans in the future, those who want to work in an English-speaking workplace, those who are interested in architecture, interior, and real estate We look forward to your application.
Requirements
Excellent driving skills
Strong interest in real estate and construction industry
Work experience in related fields preferred
Multilingual skills are a plus
Work Location
SAKURA HOUSE Shinjuku Office (7 mins walk from Shinjuku station west exit)
K-1 Bldg. 2F, 7-2-6, Nishi-Shinjuku, Shinjuku-Ku, Tokyo, Japan
Working hours (Full-time)
8:50~17:50 and 11:00~20:00 (Two shifts rotation)
Compensation & Benefits (Full-time)
240,000~550,000 YEN per month(Dependent upon experience, skill level and persons holding a specific license)
Salary Increment: one to two times per year (based on individual performance)
Bonus: Two times per year (based on individual performance)
Commuting allowance : Up to 30,000 yen per month
Full Social Insurance and Retirement Plan
Trial period for the first 3 to 6 months
Holidays (Full-time)
Two days off per week
Summer and Winter vacations
Paid Leave
Marriages and Deaths, Family Leave