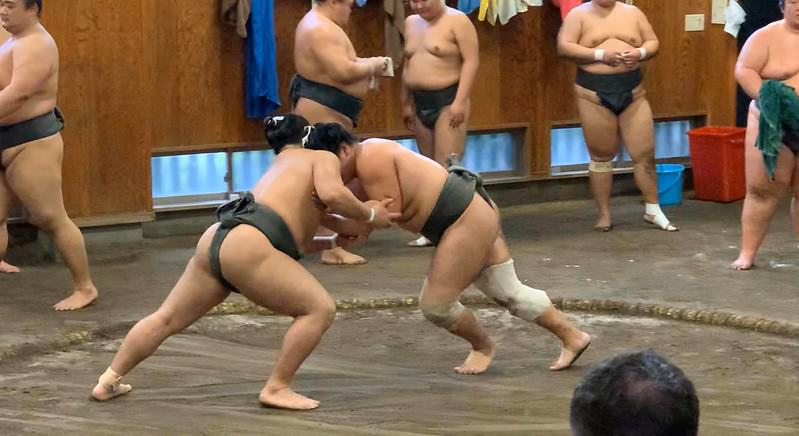 2019/12/17 (Di) ~ 2019/12/17 (Di)
SUMO STABLE BESUCH
Rundgang, Sonstiges
Woher:

Tamanoi Stable: Nishiarai

4-chōme-1-1 Nishiarai, Adachi City, Tōkyō-to 123-0841, Japan

Show google map
Gebühr:

2000 Yen
Veranstalter:

SAKURA HOUSE CO., LTD.
Woher:

Tamanoi Stable: Nishiarai Show google map
Gebühr:

2000 Yen
Veranstalter:

SAKURA HOUSE CO., LTD.
This event is exclusively for Residents and Guests staying at SAKURA HOUSE & SAKURA HOTEL!
Join us and watch SUMO wrestler's morning training at the Sumo stable in Nishiarai Daishi!
--> Please be quiet and watch seriously during the training as the wrestlers and the master train very strictly and very hard in the early morning.
--> No flash (Pictures OK with shutter sound) / No talking.
[Date] December 17th (Tuesday Morning)
[Meeting time & place]
8:00 A.M. at the ticket gate of Daishi-Mae Station
https://goo.gl/maps/9VhXjPrYgQhzfbpd9
*The tour will start at 8:10 A.M. and ends at around 11:00 A.M.
[Fee] 2000 YEN (Cash Only)
[Registration] BOOK TODAY!
Please fill in the form or e-mail us with the following information:
- Request for attending the "Sumo stable visit"
- Your Name
Kontakt: [email protected]
BEITRETEN
Die Bewerbung für diese Veranstaltung ist geschlossen. Bei Fragen wenden Sie sich bitte an [email protected]!
KONTAKT
Fragen? Kontaktieren Sie uns heute!
Alle Mitarbeiter von SAKURA HOUSE sind mehrsprachig und stehen Ihnen gerne zur Verfügung!