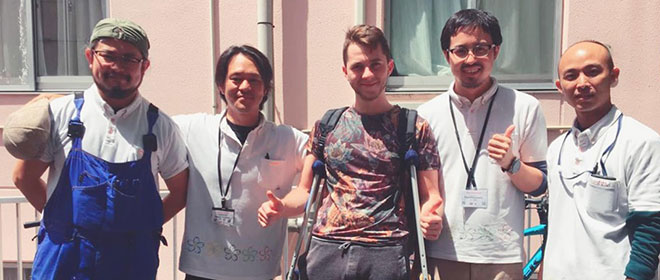 SAKURA HOUSE Maintenance Staff
You are the main player at SAKURA HOUSE, 1150 rooms in 100 locations in Tokyo area. Specialized in Share Houses, Guest Houses and Apartments for foreign community.
Operation: Maintaining and cleaning the houses and buildings.
Full time
Excellent driving skills Welcome
Work experience in related fields preferred
Responsibilities
You will be responsible for the kind and caring response at the houses to customers from approx. 200 countries around the world who have come to Japan for the first time. This is the position closest to the customer within the company that provides overall support for a safe, secure, and clean life in Japan. You can meet and get to know one another from all over the world. If you have experience of living abroad or are interested in international community, or if you like DIY, contact us today.
Cleaning and maintenance of the common areas of the house and the room for checking ins and outs of the house
Daily maintenance (replacement and repair of furniture, facilities, interiors and exteriors)
Care of plants in the garden and around the buildings
Arrange a contractor estimate for renovation work
Inventory management of equipment, etc.
Requirements
Excellent driving skills
Strong interest in real estate and construction industry
Experience in interior/exterior/carpentry work and good skills
Also welcome those who are interested in interior decoration and color scheme
Multilingual skills are a plus
Allowance for qualifications such as electrical equipment and real estate is available
Work Location
[Main Office] SAKURA HOUSE Shinjuku Office (7 mins walk from Shinjuku station west exit)
K-1 Bldg. 2F, 7-2-6, Nishi-Shinjuku, Shinjuku-Ku, Tokyo, Japan
Working hours (Full-time)
8:50~17:50 and 11:00~20:00 (Two shifts rotation)
Compensation & Benefits (Full-time)
220,000~350,000 YEN per month (Dependent upon experience, skill level and persons holding a specific license)
Salary Increment: one to two times per year (based on individual performance)
Bonus: Two times per year (based on individual performance)
Commuting allowance : Up to 20,000 yen per month
Full Social Insurance and Retirement Plan
Trial period for the first 3 to 6 months
Holidays (Full-time)
Two days off per week
Summer and Winter vacations
Paid Leave
Marriages and Deaths, Family Leave