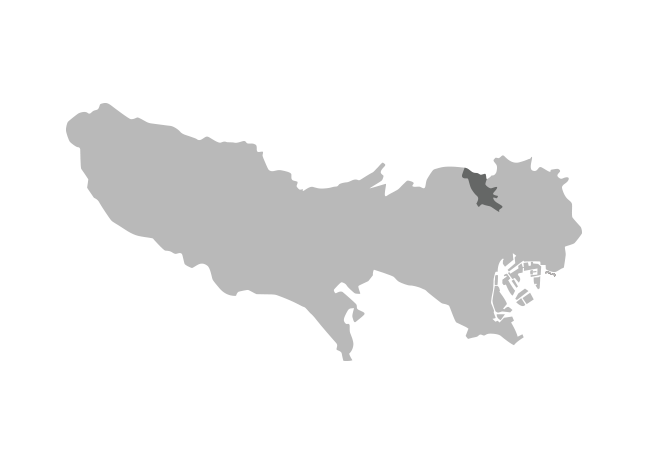 Remnants of traditional Tokyo streetscapes
Kita Ward in northern Tokyo offers remnants of Tokyo's traditional landscape and culture away from the crowded and bustling metropolis. The Arakawa, Sumida, Shakujii and Shingashi rivers flow through the area, which features many beautiful parks such as Asukayama Park and Central Park. During the spring season, the parks attract many visitors who wish to capture a glimpse of the cherry blossoms in full bloom.
The two main train stations in Kita are Akabane Station and Oji Station, which both can be accessed by train from Tokyo Station in approximately 30 minutes. Near Oji Station, you will see the Toden-Arakawa Line, one of two tram lines that are still operated in Tokyo, running through the city.
There are also many events in Kita throughout the year. The most popular event is the annual Kita City Fireworks Festival held during the autumn season. Stunning firework displays are set off over Arakawa River. The Oji Fox Parade, held on New Year's Eve, is another popular event where people dress up as foxes and parade from Shozoku Inari Shrine to Oji Inari Shrine.
.
PICK UP
MINATO-KU TAKANAWA (TOKYO APARTMENT & SHARE HOUSE)

MINAMI ASAGAYA (APARTMENTS NEAR SHINJUKU & NAKANO)

RENEWAL

SETAGAYA KAMIMACHI APARTMENT (TOKYO APARTMENT)

NAKANO SHIMBASHI (TOKYO SHARE HOUSE)

SHIBUYA SENDAGAYA (TOKYO SHARE HOUSE)

ASAKUSA KURAMAE (TOKYO SHARE HOUSE)
RELATED PROPERTY
MEGURO APARTMENT A (Former Meguro Apt.)

NUMABUKURO C (Former Numabukuro 3)

NAKAMEGURO (TOKYO SHARE HOUSE & GUEST HOUSE)

SHINJUKU KAGURAZAKA (TOKYO SHARE HOUSE)

Male Only

SHINJUKU AKEBONOBASHI B (Former Akebonobashi 5)

In addition to the many traditional Japanese-style homes and streetscapes, Kita is also the home to many famous temples and shrines. Although it is unclear exactly when Oji Shrine was originally constructed, most of the structures were destroyed during World War II, and then later restored beautifully. One of the main attractions of the shrine is the giant ginkgo tree that is believed to be over 600 years old, and has been designated a Natural Monument in 1939.
As an Edo-period post town, Kita retains a traditional shitamachi feel, with narrow streets lined with restaurants, izakaya bars and affordable shops. Shimofuri Ginza is a popular shopping district among both locals and visitors, where you can find vendors selling fresh fruits, local delicacies and souvenirs among other things.
Kita is a relaxed and student-friendly neighborhood
JET Academy was established in 1988 as an educational institution chartered by the Governor of Tokyo. The school offers a wide range of courses, including college preparatory courses, a Japanese language course and short-term intensive courses. Scholarships are also awarded to select students who perform particularly well in their courses. The school also features a dormitory with top facilities to enable students to focus on their studies.
The Japanese Language School of the Tokyo Foreign Language Academy is another excellent school in Kita. Courses are divided into beginner, intermediate and advanced levels, with each class level focusing on different aspects of the Japanese language.
The school also offers post-graduate studies for students who have completed a 4-year university course. In addition to educational courses, the school also gives students the opportunity to partake in various cultural exchanges and extra-curricular activities.
 Easy access to SAKURA HOUSE residents from Kita
Although there are no guest houses or share houses within Kita, Itabashi Motohasunuma apartments and share house is located approximately 20 minutes away by train in the neighboring Itabashi Ward.
The Itabashi Motohasunuma apartments are extremely popular among visitors thanks to its ideal location and easy access to central Tokyo such as Sugamo, Jinbocho, Otemachi (Tokyo Station), Mita and Meguro. The five-story building features two separate common areas for visitors to relax, cook or simply converse with one another, and each room is fully equipped with free Wi-Fi and other basic amenities.