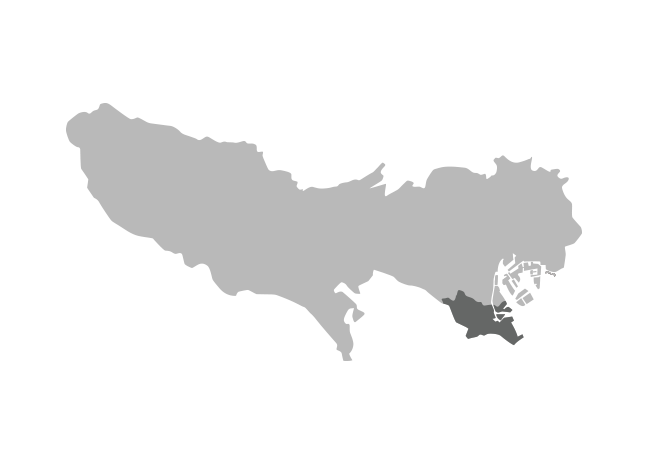 Enjoy technology, culture, and nature in perfect harmony in Ota
Despite being home to some of the world's leading manufacturing companies and Haneda Airport (Tokyo International Airport), Ota Ward is also a great place to live. Located in the southeast of Tokyo surrounded by Tokyo Bay and the Tama River, Ota takes up the largest area of Tokyo's 23 wards with rivers, parks, and beaches to counterbalance the more industrial areas.
A high-tech vibe pervades the busier areas, where products like satellites and smartphones are made with the exceptional quality that's characteristic of Japanese manufacturing. But Ota has a lot to offer residents, from shopping streets to nature spots.
PICK UP
ITABASHI-KU HASUNE "Aloe Heights"

MEGURO APARTMENT A (Former Meguro Apt.)

NUMABUKURO C (Former Numabukuro 3)

NAKAMEGURO (TOKYO SHARE HOUSE & GUEST HOUSE)

SHINJUKU KAGURAZAKA (TOKYO SHARE HOUSE)

Male Only
RELATED PROPERTY
MEGURO APARTMENT A (Former Meguro Apt.)

NUMABUKURO C (Former Numabukuro 3)

NAKAMEGURO (TOKYO SHARE HOUSE & GUEST HOUSE)

SHINJUKU KAGURAZAKA (TOKYO SHARE HOUSE)

Male Only

SHINJUKU AKEBONOBASHI B (Former Akebonobashi 5)

There are approximately 150 shopping streets, or shotengai, in Ota, which is more than anywhere else in Tokyo. The quaint shops, unique streets, and super-friendly locals give Ota a nostalgic, down-to-earth quality, making one forget that it's one of Tokyo's major industrial areas.
The busiest area is Kamata, famous for its many public baths—there are 45 bathhouses total in the ward—and wonderful dining/entertaining options. In Kamata alone, there are 12 shotengai, featuring 7,500 shops for residents to choose from.
Another notable neighborhood, Haneda, is a great place to grab a bite to eat, particularly for traditional cuisine like sushi and tempura, made with recipes straight from the city's Edo heritage. Haneda also boasts quite a few shotengai, so visitors can get their last-minute souvenir shopping done before leaving Japan from Haneda Airport.
As for a dose of nature, Ota does not disappoint. The Omori Furusato Hamabe Park is just a 15-minute walk from Heiwajima Station, where Ota residents like to dip their feet in the water (swimming isn't allowed) enjoy the ocean breeze.
The Tama River is another nice spot to stroll and from there, visitors can check out Ikegami Honmonji Temple or head to the pond at Senzoku-ike.
Learn the language at one of Ota's high-quality Japanese schools
With an affordable cost of living, Ota is an ideal place for students looking to study Japanese.
Westcoast Language School, established in 1989, is authorized by the Association for the Promotion of Japanese Language Education of Eligibility and conveniently located just three minutes from Kugahara Station.
Students can learn the Japanese language as well as the culture, customs, and lifestyle of authentic Japan. Experienced instructors teach speaking, reading, listening, and writing skills using direct teaching methods for quick and efficient language acquisition. A Full Attendance Reward Certificate is awarded to students with perfect attendance of their classes.
Tokyo Transnational Japanese Language School is another great option for language learners. The teaching philosophy and curriculum is based on the idea that language needs to be used in real-life situations to be absorbed.
Just four minutes from Omori Station and six minutes from Shinagawa Station, students can enjoy top-quality instruction in a convenient location.
 Enjoy all that Ota has to offer by staying at SAKURA HOUSE's share houses
Less than a minute away from Omori Station, the Ota-ku Omori share house/guesthouse is convenient for commuting to Shinagawa, Tokyo Station, Akihabara, Ueno, Yokohama, and Haneda International Airport. Located in a lively area with lots of shops and restaurants within walking distance, the guest house is ideal for students, working holiday travelers, business professionals, and interns/trainees—particularly those who work in the IT (Information Technology) industry. The Omori share house/guesthouse is a non-smoking facility. Another excellent place to stay is the Yukigaya-Otsuka share house. A beautifully modern share house/guesthouse with four available units, it's located in a quiet, established neighborhood in the southern part of Tokyo with convenient rail access to Ebisu, Shibuya, and Shinagawa. The Yukigaya-Otsuka Station is just four minutes away on foot. Close to convenience stores, supermarkets, and restaurants, staying at the Yukigaya-Otsuka share house makes it easy to study and live comfortably.