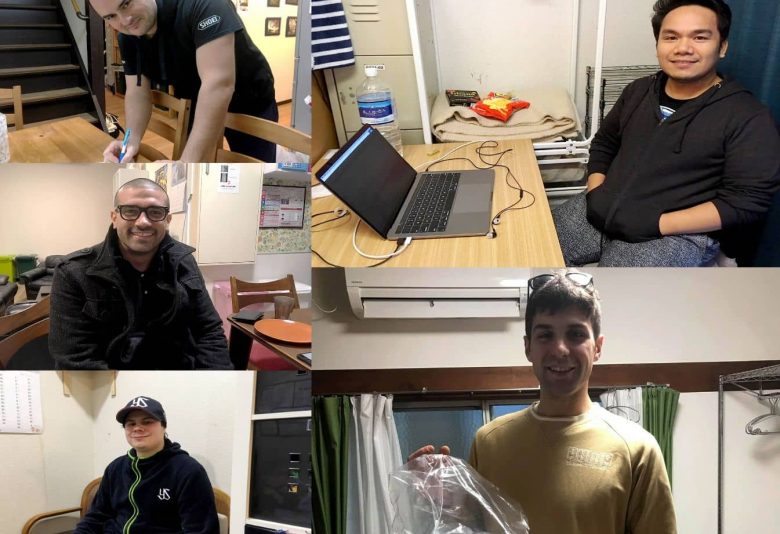 2020/04/27 (Mon)
People in SAKURA HOUSE
Resident Stories vol.01

Magandang umaga(Good morning)!
We met a Fillipino resident working at his desk.
By Covid19,his colleague & him can't help working at his house (home work). Of course it depends on his work,it programmer.
Now we're under such a hard circumstance however he still loves Japan cause the punctuality of the train & the correctness of the transportation.
Lets overcome this situation together!
Maraming selamat po(Thank you).


We have many Manga ,Anime fan residents from all over the world.
We met 2 manga mania residents from France. They are "Shonen Jump", "Studio Gibli " generation.
You know what is the reason he started Japanese studying?
When he watched animation before, Suddenly the main character inquired about "Dogeza" and he wanted to know what it is! (Dogeza means politest apologize form, down on knee & touch the ground by the head => orz)
Their favorite animations are "Dragonball" to "One piece". He told us about place of Angouleme of cartoon festival.Rumiko Takahashi & Yoshiharu Tsuge won the prize there.
They are so happy because now is the best timing for enjoying manga and animation in the room!


We met a new resident from Russia,but he stayed at our Kuramae sharehouse to go to Japanese language school in 2012.
After that he entered Japanese university to study the Tourism in Mie prefecture.Now he is working at the hotel.
He first got the interest in Japan by the famous novel book "O roshiya koku suimutan aka Dreams of Russia"based on the real drifted sailor story in Edo era.
By him,after 2005,Japanese pop culture boom broke in Russia.
Spasiba!
Thank you for talking about the many interesting stories.


We have met with our Italian resident.
He told us that he was going back to Germany and is prepared with many masks and alcohol lotions for his travel back.
He told us that he did worry about the current situation all over the world due to the virus.
In Japan it is becoming warm and the spring season already has blooming cherry blossom.
Please everyone be safe and do not forget to always wash your hands with soap as well!

SAKURA HOUSE has been helping foreigners with short and long term accommodation in Japan since 1992.
We strive to make sure our residents and soon to be residents are as comfortable as possible during their stay in Japan.
We have over 1,100 apartments, share house rooms, guest house beds in 110 locations inside the hearts of Tokyo and Kyoto. If the room is available, you can move in immediately. All of our properties are fully furnished with electricity, gas, water and Wi-Fi internet provided.
SAKURA HOUSE
Nishi-Shinjuku K-1 Bldg. 2F
7-2-6 Nishi-Shinjuku, Shinjuku-Ku Tokyo, Japan
Postal code: 160-0023
Google map
From Japan:
From outside Japan:
Mail:
Office hours:

8:50 am to 8:00 pm
We are open every day of the year.
Tokyo time:

15:57(We are open now!)