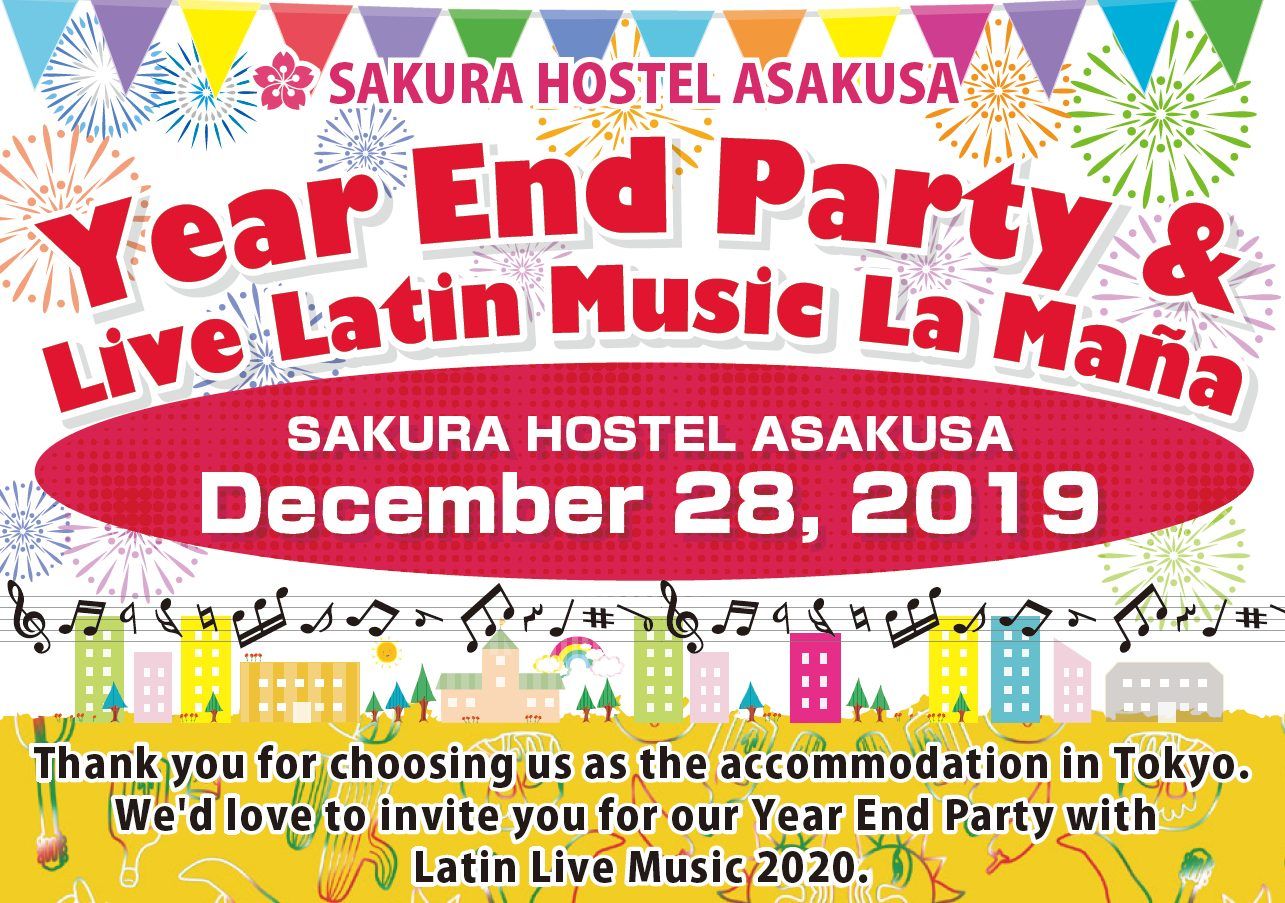 2019/12/28 (Sat) 19:00〜22:00
YEAR END Party & LIVE LATIN MUSIC by La Maña
Other
Where:

SAKURA HOSTEL ASAKUSA

2-chōme-24-2 Asakusa, Taito City, Tōkyō-to 111-0032, Japan

Show google map
Fee:

2,000yen
Organizer:

SAKURA HOSTEL ASAKUSA
Where:

SAKURA HOSTEL ASAKUSA Show google map
Fee:

2000
Organizer:

SAKURA HOSTEL ASAKUSA
We will host a Year End Party with Latin Live Music on December 28th Saturday Night. Meal and one Drink accompanied with Latin Live music will be served!
We have invited a famous band from Cuba: La Maña to perform salsa and jazz music for us during the party You are invited to cerebrate the end of 2019 together with us..
[Date]: December 28th, 2019 (Saturday)

[Starting Time]: 7:00 P.M.
[Place]: SAKURA HOSTEL & CAFE ASAKUSA

               Sakura Hostel Asakusa, 2 Chome-24-2 Asakusa, Taitō-ku, Tōkyō-to 111-0032

https://www.sakura-hotel.co.jp/asakusa-access
[Fee] 2000 yen (including one drink and Latin original dish.)
BOOK TODAY!

Please fill in the form on this page or e-mail us at [email protected]stel.co.jp

 with the following information:
 - Request for attending the "Year End Party"

 - Your Name
Let's enjoy South American cuisine together!

Cuban sandwich, Chicharon, and Olle de carne...etc
You can experience a fancy South American foods and drinks.

Also we serve the special rum with whisky soda and South American beer.