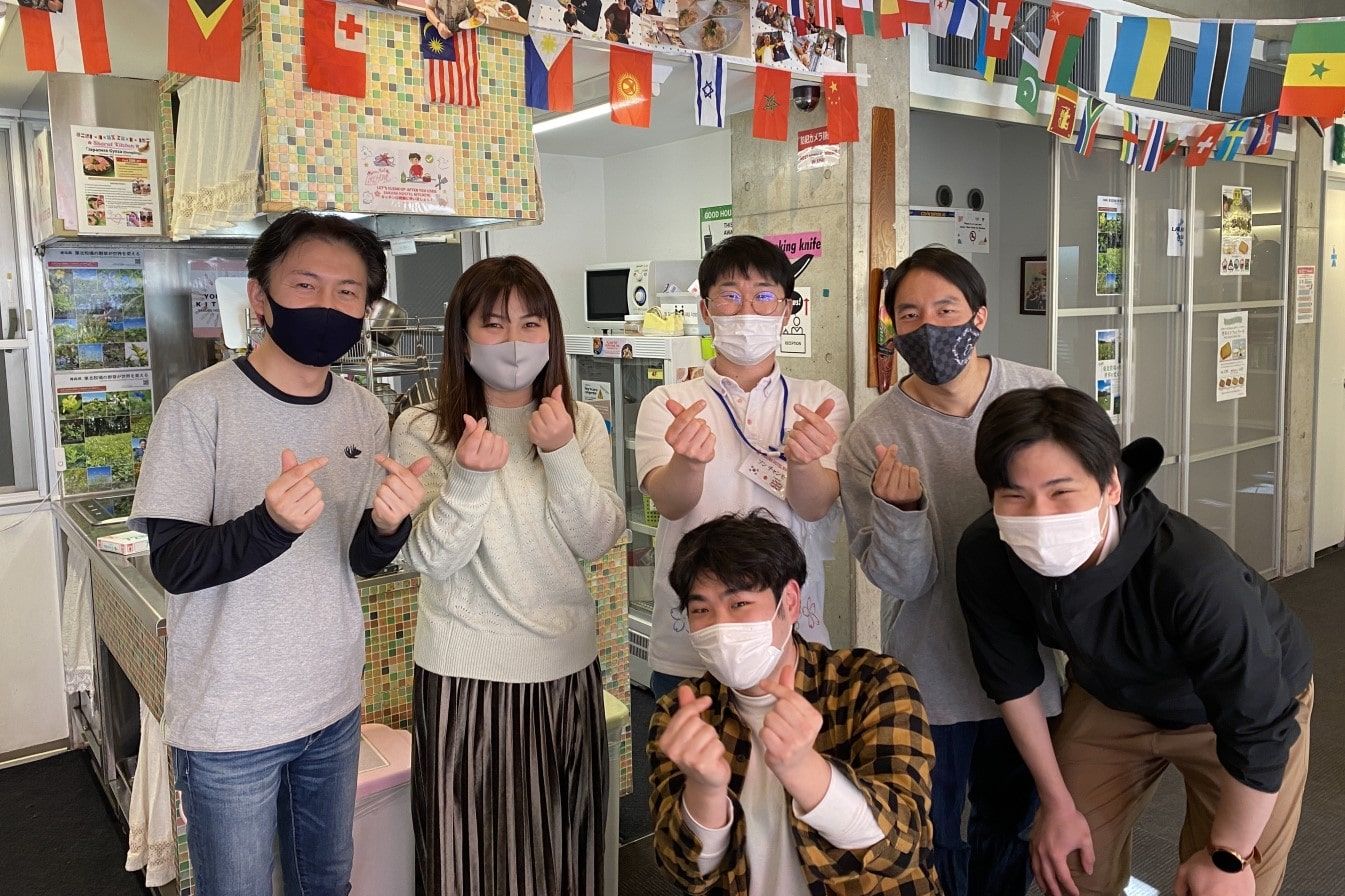 2021/4/24 (Sat) 12:00〜14:00
Korean Language Exchange & Cooking Party / 韓国料理教室&言語交流会
Food
Where:

SAKURA HOSTEL ASAKUSA

2-chōme-24-2 Asakusa, Taito City, Tokyo 111-0032

Show google map
Fee:

1,000yen
Organizer:

Sakura Hostel Asakusa
Where:

SAKURA HOSTEL ASAKUSA Show google map
Fee:

1000
Organizer:

Sakura Hostel Asakusa
---English later----

★코로나 바이러스의 감염 확대 방지를위한 이벤트 개최 시간을 [토요일 점심 12시]로 변경합니다. ★
코로나 바이러스 확산을 막기 위해 창문을 열고 체온 측정 및 알코올 소독제 사용 등 의 대책을 실시 중입니다.

매주 토요일, 한국인 스태프가 주체하는 한국어 교류회 및 키친 요모다에서 한국 요리 만들기 등을 매주 토요일에 실시하는 한국 문화의 날입니다.

이번 주 한국 요리는 【양념치킨】
새콤달콤하고 살짝매운 양념치킨!
전문점에서 파는 양념치킨 레시피를 알려드립니다!

■ 【참가 비용】 1,000 엔
※ 소프트 드링크 1 잔 포함
※ 이벤트를 참가하시는 분들은 참이슬을 300 엔의 특별 할인 가격으로 구입하실 수 있습니다! (기본 가격: 400 엔)

■ 【장소】 : 사쿠라 호스텔 아사쿠사 (연간 수백여 개국의 손님을 맞이하는 호텔 & 호스텔입니다.)
공식 사이트 : https : //www.sakura-hotel.co.jp/asakusa
구글맵 : https://goo.gl/maps/2SCyiCjBWs4s4Z9Z8

■ [이전 이벤트의 모습]
https://youtu.be/5SO0ZlzRhIg

~ 이런 분들에게 추천드립니다 !! ~
· 학생분들 대환영입니다!
· 새로운 친구를 만들고 싶으신 분
· 영어 공부 하고 계시는 분
· 언어 교환 파트너를 찾고 계시는 분 등
· 먹는 것을 좋아하시는 분
· 한국 요리를 좋아하시는 분
· 한국의 문화를 좋아하시는 분

가벼운 식사 교류회이기 때문에 누구나 부담없이 참가해주세요 ♪

[주의 사항]
- 촬영 및 생방송을 실시하기 때문에, 양해 해주시기 바랍니다.
- 행사중 외부 음식 반입은 금지입니다.
- 이 이벤트는 금연입니다. 흡연자를 위한 입구 근처에 흡연 구역이 있습니다

Please kindly be noted we ask taking your temperature, opening the windows, and using alcohol sanitizer.

Korean Japanese Language Exchange followed by Korean Food Party @ Kitchen Yomoda (Sakura Hostel Asakusa)
We will be making Korean food every Saturday!

Our NEXT Menu is...【 Yangnyeom Chicken 】
Enjoy Korean cooking with the delicious Korean alcohol ""JINRO""!!

Enjoy Korean food and language exchange with Korean native and other International friends!!!
Let's taste , feel and enjoy Korean culture!

The most important social media is not Facebook nor Instagram but FOOD ! Lets enjoy the meal with good people !

If you are alone ? it does not matter, come make friends !

■Time: 12:00pm-2:00pm

■Joining fee: 1,000 Yen
Please order 1 drink from the Cafe (Drink Bar or Korean Jinro included)
-Food and Drink from outside is prohibited during the event.

■Place : Sakura Hostel Asakusa Lounge
Google Map : https://g.page/sakurahostel?share

■Please simply click [ Join ] to BOOK TODAY!