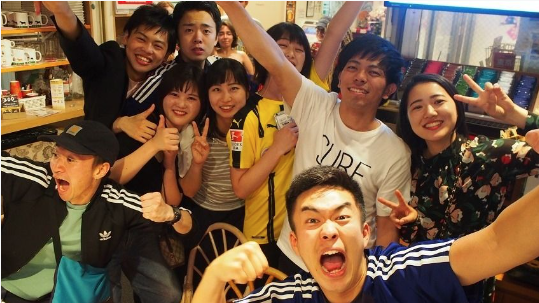 2021/3/25 (Thu) 19:00〜21:00
Korea vs Japan Soccer Game
Other
Where:

Sakura Cafe Nippori

3-chōme-43-15 Kamiya, Kita City, Tokyo 115-0043, Japan

Show google map
Fee:

0yen
Organizer:

SAKURA HOTEL NIPPORI
Where:

Sakura Cafe Nippori Show google map
Fee:

0
Organizer:

SAKURA HOTEL NIPPORI
Lets watch Japan VS Korea Soccer game together !

Do not watch it alone, come watch it with people from all over the world !
[Who's this event for ?]

・Korea lovers

・Soccer lovers

・People that want to watch soccer games.

・Any friend making, beer, interesting bites, international atmosphere loving individuals, language exchange.
If you are alone ? it does not matter, come make friends !
[More good reasons to join]:

- Food and drinks available at the CAFE.

- Famous Hotel/Hostel in Tokyo with guests coming from every part of the earth.

- The location: Sendagi/Nippori is a very convenient station to access.

- Our venue is only 3 minutes walk from Sendagi Station Exit number 2.


■Place : Sakura Cafe Nippori

Official Website: https://www.sakura-cafe.asia/nippori/

Google Map :https://g.page/sakuracafenippori?share

3 minutes walk from Sendagi station exit number 2(Chiyoda Line)
■Joining fee : Free

※Please order something at the Café.
Event Terms and Conditions

・Participation in the Event is at the Participant's own risk. Organizer is not responsible for any health problems

・We are not responsible for your lost or stolen belongings
-----------------------日本語-----------------------
日韓戦:国際親善試合を一緒に観戦しませんか!

世界各国からのゲストと一緒に盛り上げていきましょう!
■【イベントについて】

・駅近で千駄木駅から徒歩3です。

・30種類以上の世界のビールを提供

・24時間営業のカフェがあり、世界のおつまみやビールの注文も可能

・サクラカフェ日暮里:異国情緒あふれるユニークなカフェ

併設のホテルには、年間約3万人、世界約100ヵ国以上のお客様がやってくるため、様々な言語が飛び交っています。
■【費用】無料です

※必ずワンドリンク制をお願いしております。
■【場所】:サクラカフェ日暮里(年間百か国以上のゲストを迎えるホテル&ホステルです。)

公式サイト: https://www.sakura-cafe.asia/nippori/

Google Map :https://g.page/sakuracafenippori?share
-貴重品の管理は各自でお願いいたします。所有物の紛失・盗難・忘れ物等にご注意下さい。