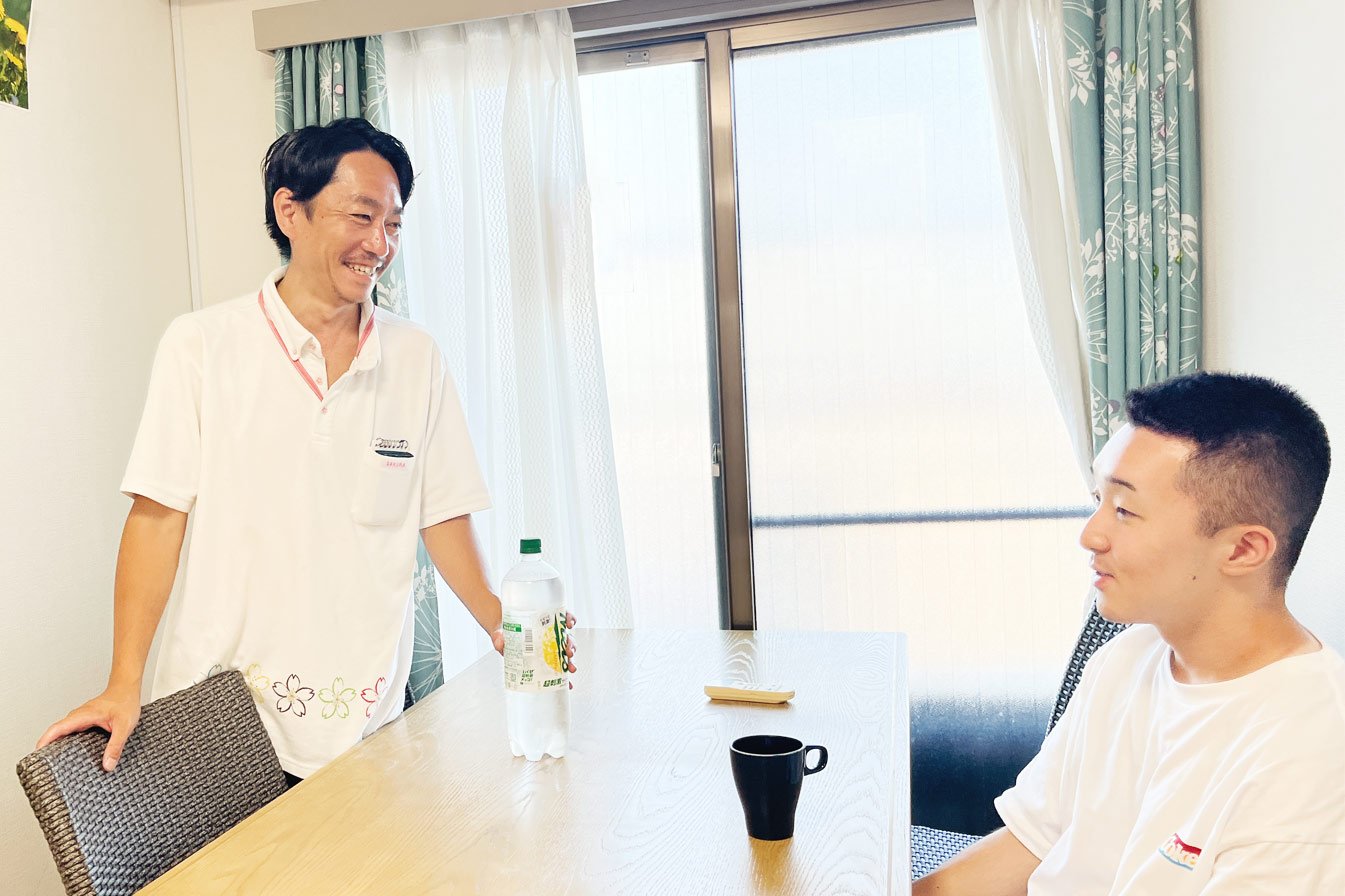 Residence management and living support services for guesthouses for foreigners
This position is one of the main parts of SAKURA HOUSE.
Essential to ensure that share house users (residents) can enjoy their stay in Japan safely and securely.
Not only do you have a lot of interaction with residents, but this position is also the one that is most appreciated.
In fact, it is not uncommon for customers to thank us by mentioning our staff's names in their reviews.
Some of them even come back to Japan looking forward to meeting our staff.
[What is SAKURA HOUSE?]
About 30 years ago, when there were not many foreigners in Japan, we started out with a passion to revolutionize the inconvenient services for foreigners in Japan and make Japan a place where people from all over the world can come more easily. Today, we have 100 properties in Tokyo and Kyoto, but we started with a single bunk bed in a 4.5 tatami room and built each guest house and share house one by one with our own hands. We are characterized by our flexible, customer-first service. We are committed to providing safe, secure, and enjoyable accommodations and housing services for foreign residents who come to Japan for a variety of reasons. Today, we have grown to welcome guests from over 100 countries annually. As we enter a new era, we continue to move forward with the aim of further evolution and improvement.
Responsibilities
SAKURA HOUSE operates monthly rental share houses, apartments, and guesthouses exclusively for overseas residents in Tokyo and Kyoto. This time, we are looking for candidates for maintenance staff of the facilities.
We have received many positive reviews from our customers who say, "If you are going to Japan, you should stay at SAKURA HOUSE"! If you are passionate about welcoming and taking care of people who come to Japan from overseas, this is the perfect job for you.
Job Description
Making the rounds of managed properties in Tokyo to support the lives of our residents, mainly from overseas, in Japan
Cleaning of common areas, rooms, and exterior of share houses and guesthouses
Move-in and move-out attendance
Property management of facilities, interior, and fixtures
Arranging for the purchase of consumable goods
Management and delivery of appliances, tableware, and furniture received as gifts
In the beginning, you will start with simple tasks such as cleaning. You will be required to travel around the property by car. No need to worry if you have no experience!
This job is suitable for people who like to clean and care for others.
Requirements
Regular driver's license (AT limit acceptable)
High school graduate or above
Native Japanese speaker or Japanese Language Proficiency Test N1 level
[Optional – Highly Welcomed]
Able to speak English at a daily level (TOEIC score of 730 is recommended)
Experience in real estate management and building maintenance
Experience in the accommodation or travel industry
Experience in cleaning, maintenance and light work
Knowledge of electrical and gas systems
Qualification as a Building Lots and Buildings Transaction Specialist
Second-class electrician certification
[Someone like this is suitable for our company! ]
This job is best suited for people who are not self-satisfied, but who can put themselves in the customer's shoes and provide services that are truly needed.
This job is best suited for people who value hospitality.
[People who are not suited for this job]
This is a job where hospitality is important, so it will be difficult for people who just want to do their job.
Also, since there will be a lot of communication with users, it may be tough for those who can't handle cheerfulness.
Work Location
[Main Office] SAKURA HOUSE
K-1 Bldg. 2F, 7-2-6, Nishi-Shinjuku, Shinjuku-Ku, Tokyo, Japan
[Location]
7 mins walk from Shinjuku station (JR Line)
2 mins walk from Shinjuku-nishiguchi station (Toei Oedo Line)
Working hours (Full-time)
8:50~17:50 (early shift) and 11:00~20:00 (late shift) (Two shifts rotation)
*Currently, only early shifts for the time being.
*No overtime work
Compensation & Benefits (Full-time)
240,000~360,000 YEN per month (Dependent upon experience, skill level and persons holding a specific license)
Bonus: Two times per year
Salary Increment
Qualification allowance available
Compensation & Benefits
Bonus: Two times per year (based on individual performance)
Salary Increment: one to two times per year (based on individual performance)
Commuting allowance: Up to 20,000 yen per month
Social insurance system / Retirement allowance system
Holidays (Full-time)
Two days off per week
112 days of holidays per year
Marriages and Deaths, Family Leave
---
[Application Process]
Application→Document screening→Two interviews→Offer and entry into the company
Notification of results of document screening Within 7 days of receipt of documents
Notification of interview selection results Within 7 days of interview
Prescribed interview venue: In the head office building
*Please feel free to consult with us about the time and place.
[Contact information]
Phone: 03-5330-4566 / Recruitment Manager Namiki
If you have any questions, please feel free to contact us.
---
[Company Profile]
Company name: SAKURA HOUSE CO., LTD.
Established: 1992
Director: Hanako Tsukumo
Capital: 10 million yen
Number of employees: 50 in total
Head Office: Nishi-Shinjuku K-1 Bldg. 2F, 7-2-6 Nishi-Shinjuku, Shinjuku-ku, Tokyo
Business Activities:
Planning, construction, and operation of guesthouses, share houses and monthly apartments and dormitories