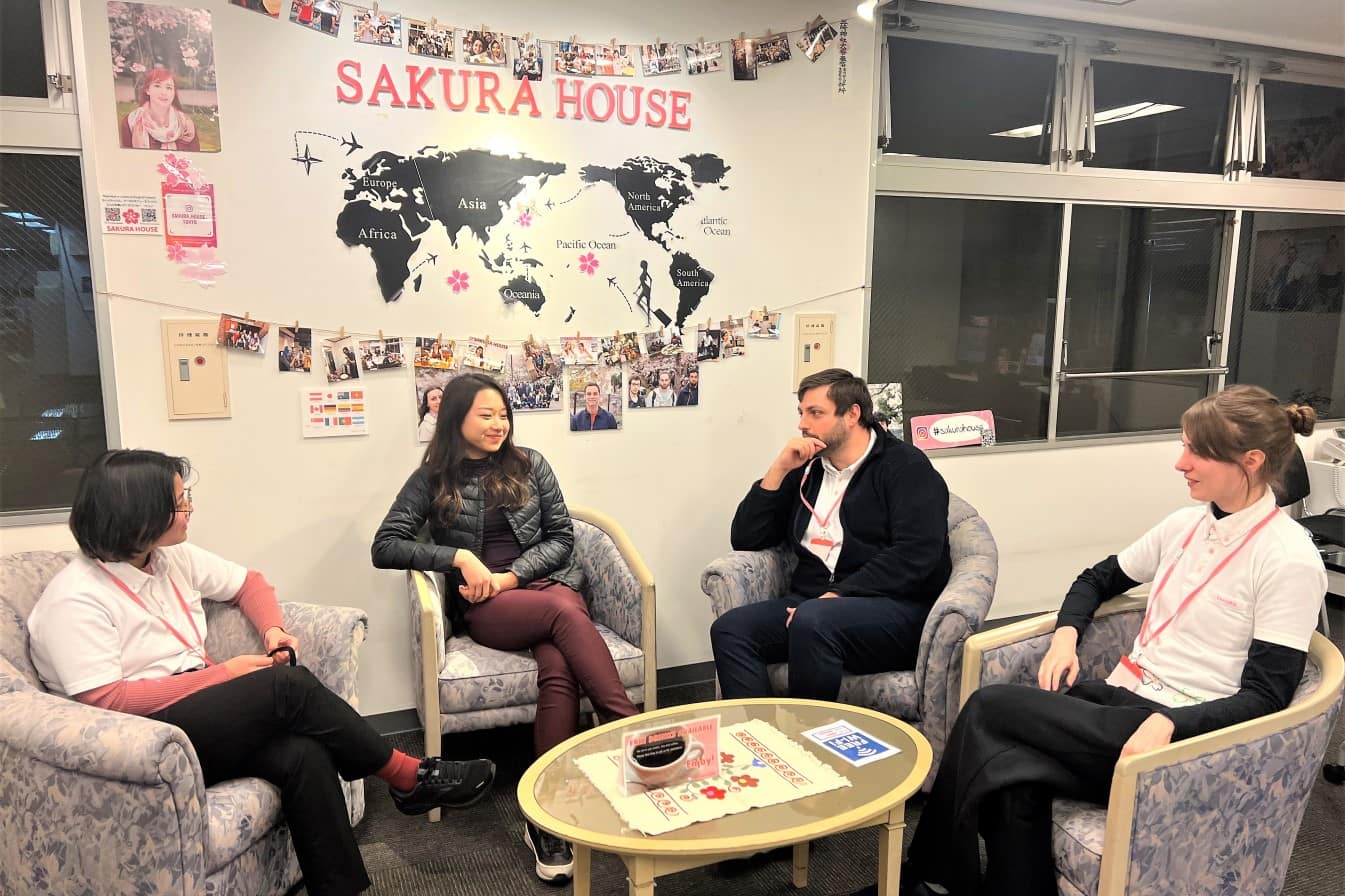 Accounting and General Affairs: Housing for Foreigners
A position where you can be involved in multiple aspects of overall accounting and general affairs with a great deal of discretion! You can make full use of your experience and skills!

Being small, you get to learn multiple skills!
Work to support businesses that connect overseas customers with Japan
Achieve career growth with accounting at the core
SAKURA HOUSE has been providing share houses and guest houses for foreigners visiting Japan for study abroad, business, international activities, and tourism. We value the spirit of hospitality, which is our starting point, and are expanding our business with the aim of providing "the kindest service for foreigners in Japan," which has been our motto since the establishment of the company.
We are looking for an "Experienced Accountant" to support our business growth from the back office as a core member of the company. By being involved in a wide range of multiple tasks, including not only accounting but also general affairs and labor relations, we offer an environment in which you can improve your skills in accounting and more. Join us as we make a fresh start on the occasion of our 30th anniversary and grow together while refining your expertise.
Career development in a global environment
The entire SAKURA HOUSE GROUP has more than 10 diverse businesses, including food and beverage and real estate, and even with the Corona disaster, management is stable. We aim to grow with a new organizational structure on the occasion of the Corona Disaster because of our business style specializing in services for foreigners and our willingness to take on new challenges despite our long history. Challenge yourself to a new career in our global corporate culture, where many foreign staff members are also active.

The number of reservations from abroad has resumed and is increasing as we enter the year 2022. This is a challenging job where you can feel the company's growth from a position close to the management.
Responsibilities
A position where you can be involved in multiple aspects of overall accounting and general affairs with a great deal of discretion! You can make full use of your experience and skills!
[Specifically]
Our accounting department is small in number, but including group companies, we have a team of more than 10 people.
We also have foreign staff membersin the company, making it a global and friendly workplace.
You will be in charge of general administrative duties with a focus on accounting and general affairs.
Monthly closing of accounts using cash and deposit management and accounting software (PCA)
Annual closing of accounts (handles up to in-house processing before requesting a tax accountant)
Sales Management
Management Accounting
Fund Management (cash management, payment operations)
Attendance management, payroll calculation
Bank Negotiations
Employee on-boarding and off-boarding procedures, etc.
Requirements
At least 2 years of experience in accounting *3 years or longer of work experience preferred
No industry experience or educational background required
Experience with accounting software (regardless of software)
Experience with payroll calculation
[Additionally]
Preferred experience and abilities
Experience in general affairs
Nissho Bookkeeping Level 3 or higher
Experience in general office work in a small to medium sized company
[Someone like this is suitable for our company! ]
Interested in strategic accounting work
Desire to multitask and have a wide range of experience
Interested in a global work environment
Desire to work with ideas and discretion
Able to work with a broad perspective
Work Location
[Main Office] SAKURA HOUSE
K-1 Bldg. 2F, 7-2-6, Nishi-Shinjuku, Shinjuku-Ku, Tokyo, Japan
*No transfers
[Location]
2 mins walk from Shinjuku-nishiguchi station (Toei Oedo Line)
5 mins walk from Seibu Shinjuku station (Seibu Shinjuku Line)
7 mins walk from Shinjuku station (JR Lines and more)
Working hours (Full-time)
8:50~17:50
(1 hour break)
Overtime: 15 hours/month on average
Compensation & Benefits (Full-time)
300,000~380,000 YEN per month (Dependent upon experience, skill level and persons holding a specific license)
[Allowance]
Commuting allowance: Up to 30,000 yen per month
Qualification allowance (from 10,000 yen)
Overtime pay
[Bonus]
Two times per year
Compensation & Benefits
[Trial period]
3 month
Monthly salary from 270,000 yen during the period
[Insurance system]
Health insurance
Employees' pension
Employment insurance
Employees' accident insurance
[Passive smoking prevention]
No smoking in the building
Retirement allowance system (More than 3 years of work)
Holidays (Full-time)
Two days off per week (Saturdays and Sundays)
National Holidays
[Annual Holidays]
120 days
[Paid Vacation]
10 days
[Leave system]
Summer vacation
Year-end and New Year vacations
Celebration/Condolence leave
Maternity leave
Childcare leave
Nursing care leave
*Acquisition records of Maternity leave and childcare leave
---
We are a company that connects Japan with the rest of the world
Our mission is "to provide the kindest accommodation and housing services for foreigners in Japan with warm hospitality." We provide shared houses, apartments, hotels, etc. to people who come to Japan for study, business, tourism, etc., mainly for short or long term stays. Some of our customers are foreigners who are well versed in Japanese culture and history, or who come to study traditional or advanced Japanese technology. SAKURA HOUSE GROUP plays a meaningful role in "connecting Japan and the rest of the world" by welcoming and supporting people who have a strong interest in such Japanese attractions. This is an environment where you can feel a sense of fulfillment that you will not find at other companies, as we support businesses with a high social contribution from the back office.
---
[Application Process]
Application → Document screening → Two interviews → Offer and entry into the company
Notification of results of document screening Within 7 days of receipt of documents
Notification of interview selection results Within 10 days of interview
Prescribed interview venue: In the head office building (Nishi-shinjuku K-1 Building 2F, 7-2-6, Nishi-Shinjuku, Shinjuku)
[Contact information]
Phone: 03-5330-2371 / Recruitment Person in charge: Takeishi
If you have any questions, please feel free to contact us.
---
[Company Profile]
Company name: SAKURA HOUSE CO., LTD.
Established: 1992
Director: Hanako Tsukumo
Capital: 10 million yen
Number of employees: 50 in total
Head Office: Nishi-Shinjuku K-1 Bldg. 2F, 7-2-6 Nishi-Shinjuku, Shinjuku-ku, Tokyo
Business Activities:
Planning, construction, and operation of guesthouses, share houses and monthly apartments and dormitories