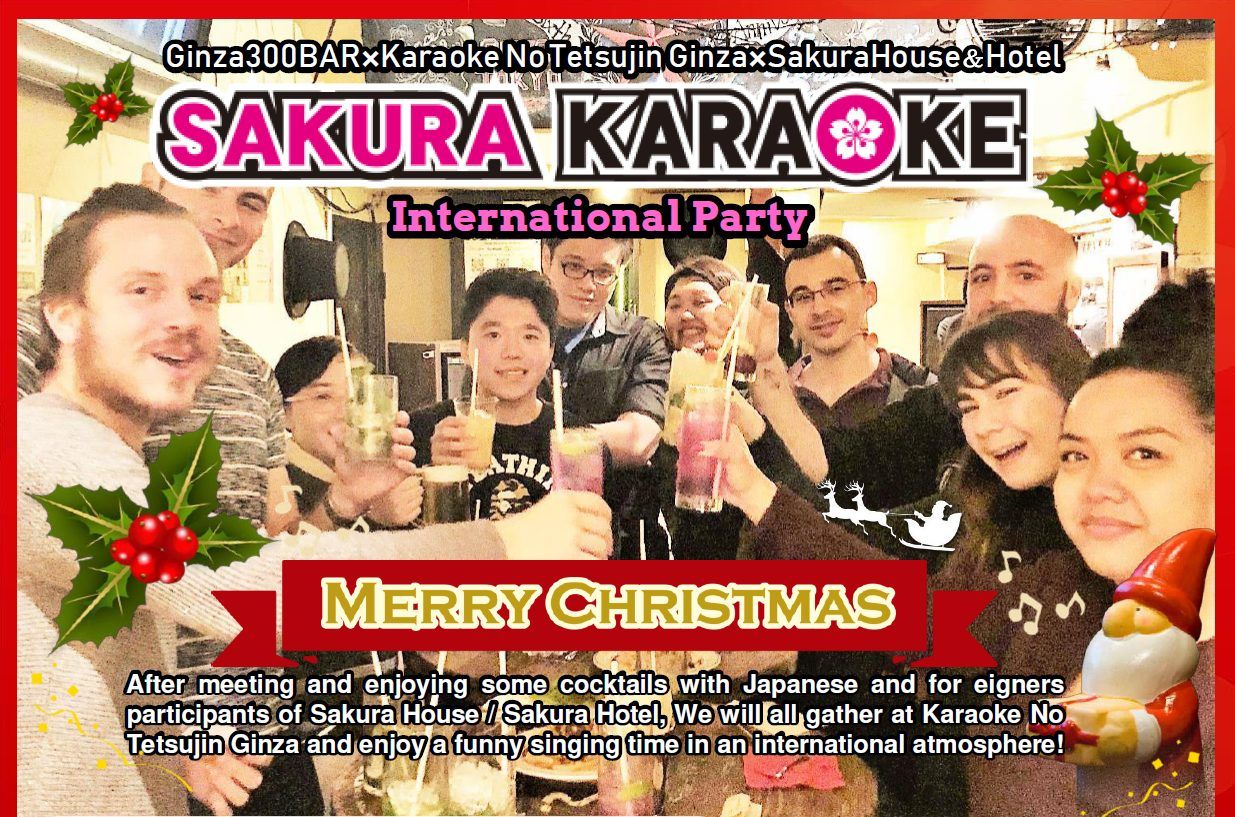 2019/12/25 (Wed) 17:00〜21:00
Sakura KARAOKE International Party: Christmas Time!
Karaoke
Where:

GINZA 300BAR 5-chome

Japan, 〒104-0061 Tokyo, Chuo City, Ginza, 5 Chome−9−11 ファゼンダビルB1

Show google map
Fee:

3,000yen
Organizer:

SAKURA HOUSE CO., LTD.
Where:

GINZA 300BAR 5-chome Show google map
Fee:

3000
Organizer:

SAKURA HOUSE CO., LTD.
The Christmas Karaoke Party will be held!
On the 25th of December,

let's meet up, enjoy food & drinks and sing songs!

For this event, the 300BAR's original Christmas-related cocktails will be available for us!
[Date] December 25th (Wednesday Evening)
[Meeting time & place]

5:00 P.M. at GINZA 300BAR 5 CHOME

and then at 7:00 P.M. KARAOKE NO TETSUJIN (Ginza branch) *approx. 2 hours of Karaoke time!
[Fee]

3000 yen (Includes 2 drinks and food at 300BAR & Karaoke and 1 drink at KARAOKE NO TETSUJIN)
[Registration]

Advance reservation is required.
BOOK TODAY!

Please fill in the form on this page or e-mail us with the following information:
- Request for attending the "Karaoke Party"

- Your Name
Contact: [email protected]
More than 500,000 Songs! Many non-Japanese songs available!

1 free drink for anyone who gets a score of more than 95!
Join us for the SAKURA KARAOKE PARTY and let's enjoy and spend time together on this winter holiday time with good food, good drinks and plenty of Karaoke!