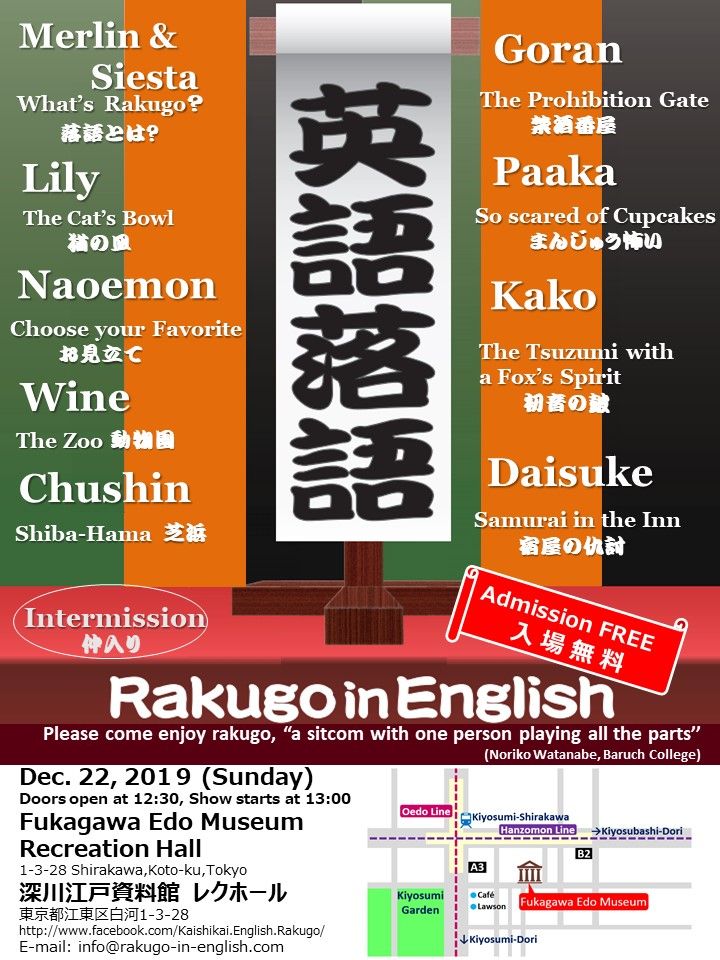 2019/12/22 (Sun) 17:00〜18:00
Rakugo in English, a sitcom with one person playing all the parts
Other
Where:

Fukagawa Edo Museum Recreation Hall

1-chōme-3-28 Shirakawa, Koto City, Tōkyō-to 135-0021, Japan

Show google map
Fee:

0yen
Organizer:

Rakugo in English
Where:

Fukagawa Edo Museum Recreation Hall Show google map
Fee:

0
Organizer:

Rakugo in English
*Following is the message from "Rakugo in English."

For more information, please directly contact:




Please come enjoy rakugo, "a sitcom with one person playing all the parts."



Nine amateur performers will tell traditional rakugo stories in English. Come see for yourself why rakugo is so much fun.

The Kaishi-kai English Rakugo Club has been putting on performances of rakugo in English for more than a decade.

Our show on December 22 features both long-time members and newcomers.
[Date] December 22nd (Sunday)

[Time (Doors open at)] 12:30 P.M.

[Time (Show starts at)] 1:00 P.M.

[Fee] FREE

[Location] Fukagawa Edo Museum Recreation Hall
https://www.facebook.com/events/381128962764204/
Rakugo-in-English is a lot of fun. Come and join us to enjoy traditional Japanese humor!
For more information, please directly contact:

[email protected]

Introduction to Rakugo: https://www.facebook.com/Kaishikai.English.Rakugo/