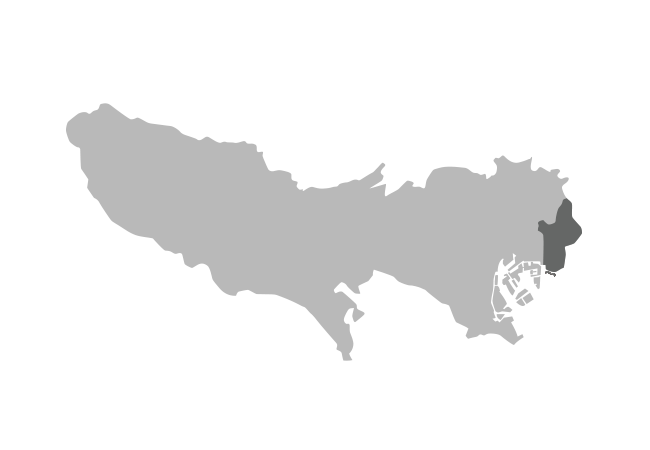 Explore the diverse riverside neighborhood
Edogawa Ward, taking its name from the Edogawa River that runs through it, is an often-overlooked city in Tokyo, but for those in the know, it's an ideal place to live and study. With spacious parks, several waterways, and a traditional, shitamachi (downtown) vibe, Edogawa is a wonderful blend of city and nature. Edogawa is 35 minutes from Tokyo Station and a great place for commuting in and out of the busier districts.
Edogawa is the second most popular ward for foreigners in Tokyo, home to approximately 7.6% of the total foreigner population. This makes for a culturally diverse and rich demographic.
The Edogawa and Arakawa Rivers are great for cooling off and splashing around in the summertime. Because Edogawa is located on Tokyo Bay, it's even possible to jet-ski and canoe, which is hard to imagine in a concrete jungle like Tokyo.
A notable neighborhood is Kasai, famous for housing one of Tokyo's largest parks, the Kasai Rinkai Park, just across the river from Tokyo Disney Sea Resort. On clear days, it's possible to view Disneyland, the Boso Peninsula, and even Mt. Fuji from the park's beach. The park's 806,000 square meters includes various attractions, like Tokyo Sea Life Park, an aquarium with an extensive penguin exhibit. The park's grounds also include Japan's second-tallest Ferris wheel, offering a striking light show at night.
Kasai Rinkai Park is also a great place to go for cherry-blossom viewing and BBQ-ing. Also, worth visiting is the Edogawa Natural Zoo, located in Kita-Kasai. With free admission and lots of cute animals like an anteater, penguins, and prairie dogs, the zoo is a fun experience for children and adults alike.
Nishi-Kasai is known to many as Tokyo's Little India, home to approximately 10-percent of Tokyo's Indian population. As a result, there are lots of authentic and mouthwatering Indian restaurants.
PICK UP
TABATA C (GUEST HOUSE) (Former Tabata 3)

NAKANO SHIMBASHI (TOKYO SHARE HOUSE)

OJIMA TOKYO D (Former Ojima Tokyo 4)

SUGINAMI OGIKUBO (TOKYO SHARE HOUSE NEAR SHINJUKU)

YOYOGI KOEN B (Former Yoyogi Koen 2)

MINATO-KU TAKANAWA (TOKYO APARTMENT & SHARE HOUSE)
RELATED PROPERTY
MEGURO APARTMENT A (Former Meguro Apt.)

NUMABUKURO C (Former Numabukuro 3)

NAKAMEGURO (TOKYO SHARE HOUSE & GUEST HOUSE)

SHINJUKU KAGURAZAKA (TOKYO SHARE HOUSE)

Male Only

SHINJUKU AKEBONOBASHI B (Former Akebonobashi 5)
The excellent Japanese language schools in the area offer high-quality instruction and cultural exchange opportunities
The Toho International College is another fantastic school, accredited by the Tokyo Immigration Bureau for its excellence. With a convenient location in Kasai, only 3 minutes from the station, students are taught by expert Japanese instructors from various specialized fields of study.
Another great option is the Tokyo Language Education Academy, where the focus is on preparatory classes to help students pass the N1 and N2 exams as well as entrance exams to Japanese colleges, graduate schools, and technical schools.
 Explore Edogawa, and make life-long friends by staying at a SAKURA HOUSE guest house in the area
The Edogawa share house/guest house is in a quiet, residential area with Japanese and Western-style rooms to choose from. It's just a 6-minute walk to Edogawa Station, where access to Nippori Station is available with the Keisei Line.
Each room comes with free Wi-fi and utility costs such as electricity, water, and gas are included in the room price.
The Koiwa share house is located in a quiet neighborhood in Edogawa, Tokyo just 20 minutes from the central Tokyo on the Chuo-Sobu Line. It is also directly accessible to and from Sophia University, a popular university among foreign-language students. It is also conveniently located within walking distance to the Ito-Yokado supermarket and the famous discount chain store Don Quijote to provide visitors with all their shopping needs. The Japanese-style Flower Road shopping arcade is also within walking distance from the share house, and here you can find everything from local cuisine to vintage clothing shops.
The three-story building has a total of five rooms that are furnished with a mini-kitchen with refrigerator, microwave oven, toaster oven, and a shared shower and toilet among other features.