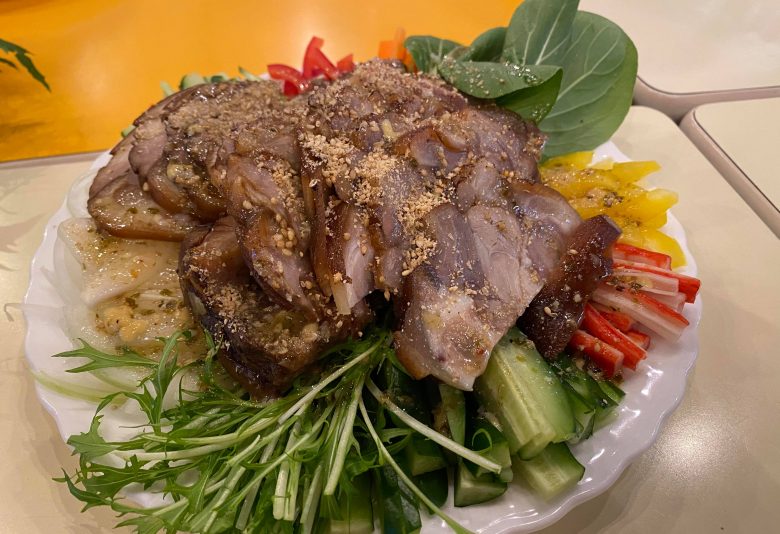 2020/12/04 (Fri)
SAKURA EVENTS
[Korean Night Report] 3th of DEC, 2020 / BUSAN NIGHT
Yesterday night was very happy.
We shared the same topic with people who love Korea.

I am Korean, but I was amazed by the Korean language of Mr. Morishita, who came as a guest, and Chris, our resident.
Their Korean pronunciation was perfect.

Look at this delicious and unique food!

"Naengchae Jokbal" is a famous dish in Busan what you eat pork with a lot of collagen and vegetables with mustard sauce.
Jagalchi Market, a huge fish market located in Nampo-dong, Busan, and the international market around it are filled with this Jokbal restaurant.
You can buy Jokbal at the Korean food store in Shinokubo, Tokyo. You can make the sauce taste good with mustard, vinegar, soy sauce, and sugar and eat with vegetables.

Please don't hesitate to visit Sakura House/Hostel's Korean Night, where you can enjoy Korean cuisine and Korean culture for just 1,000 yen!

You don't have to be a resident of Sakura House.
Everyone has the right to participate in the event. Please contact us!
SAKURA HOUSE
Nishi-Shinjuku K-1 Bldg. 2F
7-2-6 Nishi-Shinjuku, Shinjuku-Ku Tokyo, Japan
Postal code: 160-0023
Google map
From Japan:
From outside Japan:
Mail:
Office hours:

8:50 am to 8:00 pm
We are open every day of the year.
Tokyo time:

23:05