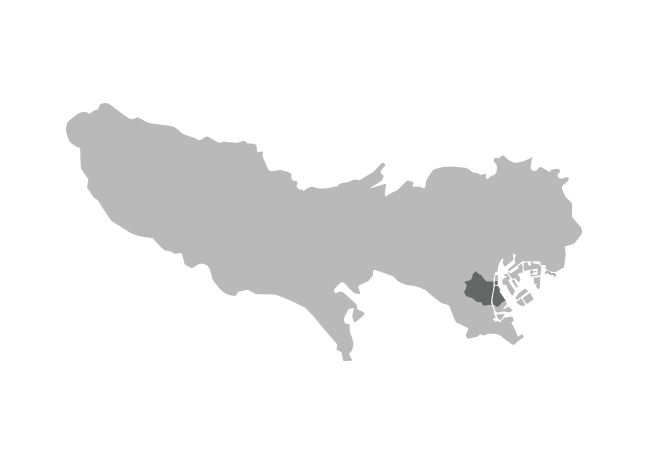 Enjoy all that the transportation hub has to offer, or escape from it all
Shinagawa Ward is a bustling, high-activity area, home to one of the city's busiest train stations, Shinagawa Station. A 10-minute train ride from Tokyo Station, Shinagawa is extremely convenient when it comes to traveling both in and out of Tokyo. This is largely due to the fact that Shinagawa was the first stop on the main road connecting Tokyo with Kyoto since the Edo Period.
The areas surrounding the station are bursting with restaurants, offices, and shops. There are several shopping malls, but the atré Shinagawa complex is particularly notable. Inside, you can find a wide selection of trendy cafes, restaurants and clothing stores. And to the west of Shinagawa, there is a high-class residential area where the affluent live.
PICK UP
MINATO-KU TAKANAWA (TOKYO APARTMENT & SHARE HOUSE)

MINAMI ASAGAYA (APARTMENTS NEAR SHINJUKU & NAKANO)

RENEWAL

SETAGAYA KAMIMACHI APARTMENT (TOKYO APARTMENT)

NAKANO SHIMBASHI (TOKYO SHARE HOUSE)

SHIBUYA SENDAGAYA (TOKYO SHARE HOUSE)

ASAKUSA KURAMAE (TOKYO SHARE HOUSE)
RELATED PROPERTY
MEGURO APARTMENT A (Former Meguro Apt.)

NUMABUKURO C (Former Numabukuro 3)

NAKAMEGURO (TOKYO SHARE HOUSE & GUEST HOUSE)

SHINJUKU KAGURAZAKA (TOKYO SHARE HOUSE)

Male Only

SHINJUKU AKEBONOBASHI B (Former Akebonobashi 5)

Located 15 minutes on foot from Shinagawa Station, Hara Museum is a gorgeous Western-style residence turned modern art museum with a well-maintained courtyard garden. Unfortunately, the museum is set to close at the end of 2020.
Shinagawa is not all modern, however. For a glimpse of the old Edo and to escape the hustle and bustle of the station areas, visitors love Tokaido Road, which offers a variety of restaurants, bars, affordable guesthouses, and traditional shops. Nearby temples and shrines also offer tranquility and a much-needed break from the city's busy transportation hub.
The Shinagawa Kumin Park is a great place to go for outdoor recreation. The spacious park has an amazing children's playground, along with a pool, tennis courts, jogging/bicycle lanes, baseball fields, and more.
Located on top of a small hill, two stops from Shinagawa Station, the Shinagawa Shrine is popular for its large stone torii gate that features unusual carvings of dragons and its small replica of Mt. Fuji.
There's so much more to Shinagawa than the busy areas surrounding the train station, making it an ideal and convenient location for students who want to learn Japanese.
Learn Japanese in convenient and bustling Shinagawa
Get a high-quality Japanese language education at Nozomi Japanese Language School in neighboring Oimachi, a six-minute walk from Oimachi Station and a three-minute train ride on the JR Keihin-Tohoku Line-Negishi Line to Shinagawa Station. Oimachi is a safe and beautiful town with lots of convenient shops, restaurants, department stores, and useful public facilities. There are many options for students who want to work part-time in the area.
Experienced and passionate teachers teach classes of a maximum of 20 students, striving to change the perspective of Japanese is difficult to Japanese is interesting and fun. For those wanting to work in Japan, there are courses that teach Japanese business etiquette and that familiarize students with the workforce culture of Japan.
At Nozomi Japanese Language school, students can expect to learn the Japanese language in order to live comfortably in Japan and to gain the confidence and ability to reach their chosen goals.
 Live in a Shinagawa SAKURA HOUSE apartment or share house and travel anywhere with ease
Just four minutes from Togoshi Station, the Shinagawa Togoshi Tokyo Heights apartment and share house has amazingly convenient rail transportation. Easily commute to Hoshiyakka University and Keio University, Shinagawa, Gotanda, Meguro, Asakusa, Nihonbashi, or Ginza—there are a total of eight stations within a 15-minute walking radius!
There are lots of shops, supermarkets, and restaurants just two minutes away as well as a public bath that uses natural black mineral water—a perfect ending to a long day of studying or working.
Or check out the Oimachi apartment, just a seven-minute walk from Oimachi Station. Each apartment is fully-equipped with kitchens, Wi-Fi, a vacuum cleaner and other convenient amenities. Two coin-operated washing machines and a dryer on premise make laundry days easy and enjoyable.
The Minato Takanawa apartment and share house is another great option, located within Minato and accessible from Shinagawa via the JR Yamanote, Kehin-Tohoku, Tokaido, and Yokosuka Line, as well as the Tokaido Shinkansen and the Keikyu Line.