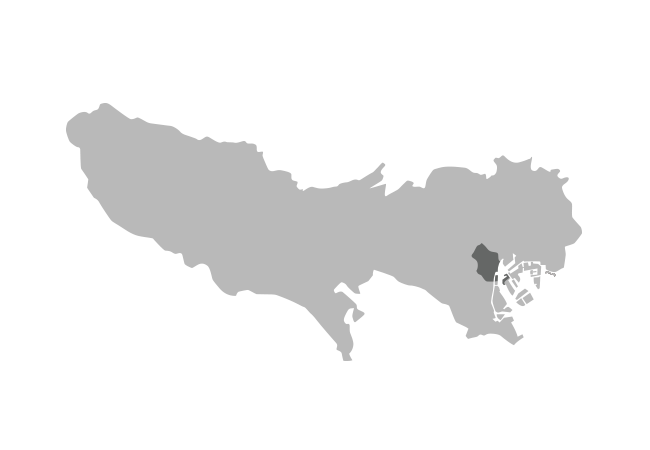 From the Tokyo Tower to world-class cuisine and exciting nightlife, Minato has it covered
Minato Ward, which in Japanese means port, is one of the most popular and heavily visited areas in Tokyo. Minato is generally known as one of the most expensive and international parts of Tokyo, as evident by the large number of foreign embassies, multinational corporations and prestigious universities in the area.
Minato is comprised of various neighborhoods, including Akasaka, Odaiba and Roppongi, with each area offering a different vibe. Akasaka is generally known as a business district and is located west of the government center in Nagatacho. Tokyo Midtown, which was opened in March 2007, is filled with countless shops and restaurants, as well as museums and art galleries.
Odaiba is a large artificial island that is connected to the rest of Tokyo by various tunnels and bridges, including the iconic Rainbow Bridge. The Tokyo Big Sight, also known as Tokyo International Exhibition Center, is Japan's largest exhibition and convention center where many popular events such as the Tokyo International Anime Fair are held. The Odaiba Tokyo Ooedo-Onsen Monogatari is another extremely popular tourist destination. The massive public bathhouse is designed to recreate elements of the Edo Period, and in addition to the many baths to enjoy, visitors can eat a wide range of Japanese cuisine, from yakisoba, takoyaki, ramen and sushi, and enjoy many games before or after relaxing in the bath.
Roppongi is best known as Tokyo's hub for contemporary art and nightlife that is heavily geared towards foreigners. With its concentration of embassies, consulates, multinational corporations and foreign residents, Roppongi is widely considered the most cosmopolitan area in Japan. For art lovers, the National Art Center and Mori Art Museum offers exhibitions and galleries of the most prominent artists throughout the world. Roppongi Hills offer a one-stop source for shopping, eating and entertainment. This city within a city boasts a collection of office spaces, shops, restaurants, a movie theater, art museum, observation deck and more. Breathtaking 360-degree views of Tokyo can be enjoyed from the Tokyo City View observation deck.
PICK UP
MINATO-KU TAKANAWA (TOKYO APARTMENT & SHARE HOUSE)

MINAMI ASAGAYA (APARTMENTS NEAR SHINJUKU & NAKANO)

RENEWAL

SETAGAYA KAMIMACHI APARTMENT (TOKYO APARTMENT)

NAKANO SHIMBASHI (TOKYO SHARE HOUSE)

SHIBUYA SENDAGAYA (TOKYO SHARE HOUSE)

ASAKUSA KURAMAE (TOKYO SHARE HOUSE)
RELATED PROPERTY
MEGURO APARTMENT A (Former Meguro Apt.)

NUMABUKURO C (Former Numabukuro 3)

NAKAMEGURO (TOKYO SHARE HOUSE & GUEST HOUSE)

SHINJUKU KAGURAZAKA (TOKYO SHARE HOUSE)

Male Only

SHINJUKU AKEBONOBASHI B (Former Akebonobashi 5)
Perfect your Japanese skills in the cosmopolitan hub of Japan
The Edo Cultural Center Japanese Language School was founded in 1984 and focuses not only on teaching Japanese, but also providing a space for meaningful culture exchanges. The school offers preparatory courses, general courses and general short-term courses to meet the individual needs of each student. The Japanese room enables students to enjoy conversations with Japanese university students.
The UJS Language Institute was established in 1986 in Roppongi with a mission to provide a unique Japanese language education that emphasizes on the context of culture and customs. Long-term courses are available to suit the needs of the students and covers topics such as preparation for the EJU and JLPT, including social studies, science and mathematics. The UJS Language Institute is conveniently located within walking distance from Roppongi Station or Roppongi-itchome Station.
 Stay at the popular SAKURA HOUSE residence in the the center of Tokyo
The Minato-ku Takanawa apartment/share house is conveniently located near Shinagawa Station on the JR Yamanote Line, Keihin-Tohoku Line, Tokaido Line, Yokosuka Line, Keikyu Line and Tokaido Shinkansen, as well as from Sengakuji Station on the Toei Asakusa Line. The four-story building has a total of 24 rooms with two duplex apartments. The kitchen and dining areas can be found on the first and third floor, and the shared laundry room is located on the first floor.
All rooms are equipped with free Wi-Fi, and a select number of rooms feature a small sink and kitchen area, study desk, refrigerator, microwave oven, air conditioning and heating.
The apartment/share house is the perfect place to interact with other travellers and make lifelong memories and relationships during your stay in Tokyo.