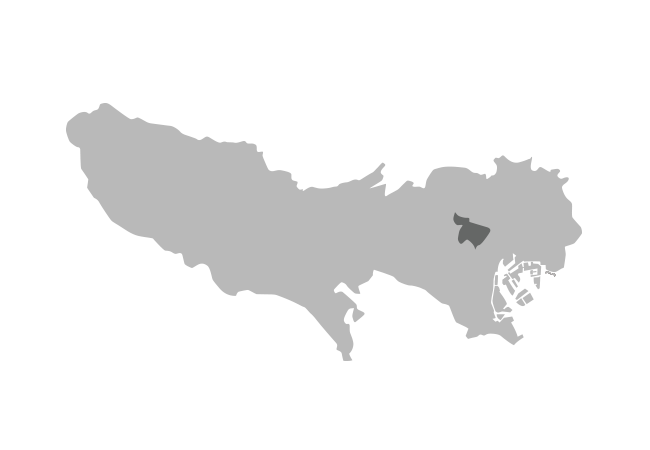 Experience the clash of traditional and modern Japanese culture, entertainment, beauty and cuisine
For visitors who wish to experience a microcosm of Tokyo, Shinjuku Ward is the place to go. With everything from office buildings to schools, department stores and nightlife at your fingertips, you'll never have a dull moment.
One of the most popular tourist destinations in Shinjuku is the Shinjuku Gyoen National Garden. This large park and garden are located just a short walk from Shinjuku Station, and beautifully contrasts with the surrounding skyscrapers and neon lights. Originally developed during the Edo Period, Shinjuku Gyoen National Garden is comprised of a Japanese landscape garden, French garden and English landscape garden. Shinjuku Gyoen National Garden is also the home to a large number of cherry trees, and thousands of visitors flock to the park during the cherry blossom season to relax, party and observe the blooming cherry trees. The park hours vary depending on the season, and the admission fee is 500 yen, making it the ideal place to visit when in Shinjuku.
PICK UP
TABATA C (GUEST HOUSE) (Former Tabata 3)

NAKANO SHIMBASHI (TOKYO SHARE HOUSE)

OJIMA TOKYO D (Former Ojima Tokyo 4)

SUGINAMI OGIKUBO (TOKYO SHARE HOUSE NEAR SHINJUKU)

YOYOGI KOEN B (Former Yoyogi Koen 2)

MINATO-KU TAKANAWA (TOKYO APARTMENT & SHARE HOUSE)
RELATED PROPERTY
MEGURO APARTMENT A (Former Meguro Apt.)

NUMABUKURO C (Former Numabukuro 3)

NAKAMEGURO (TOKYO SHARE HOUSE & GUEST HOUSE)

SHINJUKU KAGURAZAKA (TOKYO SHARE HOUSE)

Male Only

SHINJUKU AKEBONOBASHI B (Former Akebonobashi 5)

The Shinjuku Business Garden is a rental office located just six minutes from JR Shinjuku Station by walk that offers English-speaking reception staff. With a low initial cost, 24/7 access and on-site professional secretarial services, the Shinjuku Business Garden is ideal for start-ups and venture companies looking to expand their businesses in the heart of Tokyo (https://www.shinjuku-bg.jp/en/).
K-1 Print is a store located in Shinjuku that specializes in the printing of business cards. The store gives customers the opportunity to customize their business cards using a selection of templates, and can be printed on the same day the order is placed, making the service extremely popular for customers who require business cards in a short amount of time. K-1 Print is conveniently located just seven minutes from Shinjuku Station, making it easily accessible from anywhere within the area (https://www.k-1-print.jp/en/).
Study Japanese in the heart of Tokyo
The Japan Tokyo International School is an excellent school to develop and master your Japanese language skills. The school's goal is to enables students to get a better understanding of Japanese customs and culture in order to improve their Japanese. The campus is located within walking distance from Nishi-Shinjuku Station and Tocho-mae Station. Students can choose between short-term courses and long-term courses, which are taught by professional professors and tailor-made to suit the needs of each individual student.
Another excellent option is the Elite Japanese Language School, which is conveniently located just north of Shinjuku Golden Gai. The school's goal is to help students realize their dreams and equip them with the necessary skills to succeed in the real world. Students can choose from a wide range of course levels—ranging from beginner level to advanced level—that meets their specific needs. Students wishing to enter a Japanese university may also take courses oriented towards learning graduate school-level Japanese.
 Choose from a wide range of SAKURA HOUSE accommodations for your stay in Shinjuku
The Shinjuku Akebonobashi share house is located just a few stops from Shinjuku Station on the Toei Shinjuku Line, and can be accessed from other popular areas such as Ginza and Tokyo Station on the Marunouchi Line. There are a total of five Shinjuku Akebonobashi share houses, all within walking distance from each other. Each share house offers between four to eight rooms, and each share house features shared kitchens, washing machines, free Wi-Fi, and other amenities to provide a comfortable and relaxing stay.
The Shinjuku Shin-Okubo apartment offers comfortable rooms with convenient railway access to various parts of Tokyo. The apartment is located near Shin-Okubo Station on the JR Yamanote Line, and is just one stop away from Takadanobaba Station, which is the home to a number of schools. The four-story apartment has a total of 14 rooms, and each room is equipped with basic amenities and features, including a small kitchen and sink, refrigerator, microwave oven and free Wi-Fi.
The SAKURA HOUSE LOUNGE located within walking distance from Shinjuku Station offers guests a variety of services, including free Wi-Fi access, computers with internet, support for residents living in Japan, luggage storage (only for SAKURA HOUSE residents), travel accommodation arrangements and Tokyo Tourist Information Desk with complimentary drinks (tea, coffee and water). Walk in to the SAKURA HOUSE LOUNGE in for same-day move-ins!