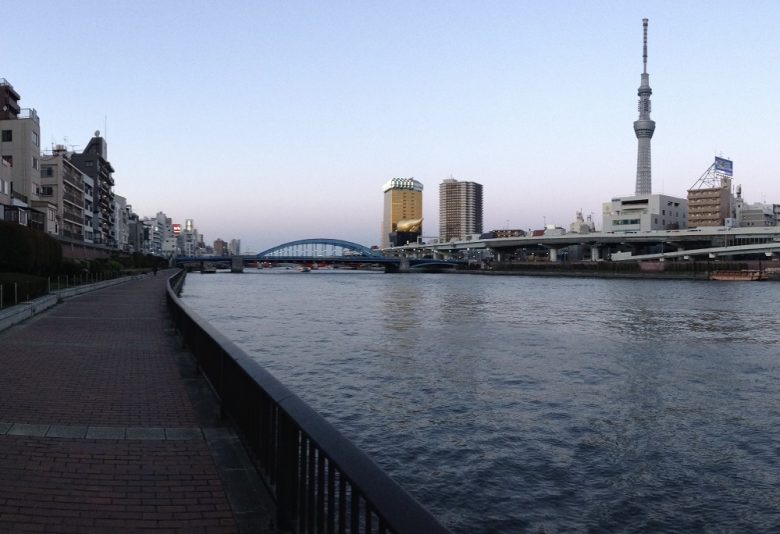 2021/09/30 (Thu)
Living in Japan
Dicovering Tokyo: Tokyo Skytree
Tokyo is a city with many tall buildings, with some even having a particular architectural design. This is one of the many reasons that attract foreign students, workers and travelers from all around the globe. During a stay in Tokyo, it shall be possible to even enter some of these buildings and enjoy the view from their observation decks. However, there is one structure that continues to attract many local and foreign travelers alike. This is the Tokyo Skytree.

Completed on February 29th of 2021, this broadcasting and observation tower continues to be until today the tallest structure in Japan and the second tallest structure in the world right after the Burj Khalifa in Dubai. Its 634 meters height have displaced its predecessor, Tokyo Tower, after the need for a complete terrestrial broadcasting coverage that surpasses the tall buildings in the city.
Its design kept the concepts of neofuturism, revitalization of the city and contribution of safety and security to heart on the process of its design. The cylindrical structure rests on a tripod like base that offers an eye-catching artform. It also is equipped with an intricate earthquake resistance design that allows it to keep it center of gravity in unison with the seismic movement of the ground.
With two observation decks at 350 meters and 450 meters height, the view that Tokyo Skytree provides continues to be an image that every tourist desires in their cameras. However, this is not the only attraction it provides. At the base of the tower is Tokyo Skytree Town, a large shopping mall area with a great variety of shops, restaurants, an aquarium, a museum and even a planetarium.
Some unique features of this structure is its color. The exterior is painted with "Skytree White", an original color made by taking the bluish-white tone of traditional Japanese "aijiro" color. In the evening, a set of LED lights change the appearance of the entire exterior depending on the occasion.
Another interesting fact is that before acquiring its current name, other options were Tokyo Edo Tower, Rising Tower, Mirai Tower ("mirai" meaning future in Japanese), Yumemi Yagura (meaning "Dream Lookout") and Rising East Tower.
Located in the area of Sumida, Tokyo, and near Asakusa, this is a great destination to keep in mind when discovering the city. Some iconic city sights can also be seen from the observation deck, making it a great way to get an idea of where they are located.
If you would like to live within this area with a beautiful blend of modern and traditional buildings and atmosphere, make sure to check SAKURA HOUSE ASAKUSA KURAMAE, our popular house with private bedrooms and shared guest house dormitory rooms located 23 minutes away on foot from Tokyo Skytree through a walk by the relaxing Sumida River, and SAKURA HOUSE KINSHICHO C with private apartment units and share house private bedrooms, located 17 minutes away on foot from this iconic tower.
If you are in doubt on where to stay in Tokyo, make sure to contact our multilingual staff to get our best recommendation for your needs.
SAKURA HOUSE
Nishi-Shinjuku K-1 Bldg. 2F
7-2-6 Nishi-Shinjuku, Shinjuku-Ku Tokyo, Japan
Postal code: 160-0023
Google map
From Japan:
From outside Japan:
Mail:
Office hours:

8:50 am to 8:00 pm
We are open every day of the year.
Tokyo time:

15:28(We are open now!)