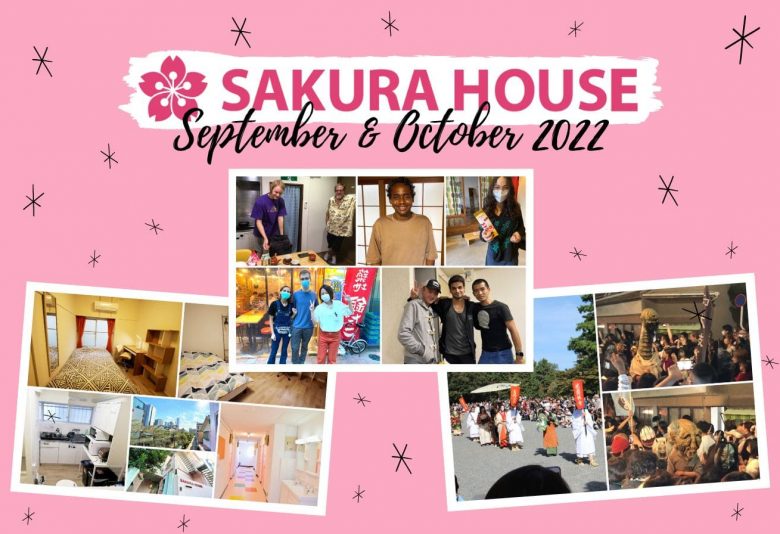 2022/11/02 (Wed)
Living in Japan
SAKURA HOUSE during September & October of 2022
It has been a long wait for many travelers around the world, but finally the announcement of the borders opening took place and many set their eyes once again to Japan in pursuit of their travel dreams. With all the uncertainty that September brought, we continued to work everyday to provide travelers from all paths of life (foreign university students, Japanese language students, interns, work related professionals and researchers, amongst many others) with a quick reply to their needs. Finally, during October, we were able to meet many new faces and some known ones as well both in Tokyo and Kyoto for their stays in our Share House, Guest House and Apartment units.
Take a look with us at what we have been up to these past months and get ready for your trip in the near future.

Time to experience Japan again

With the diminishing cases of the world pandemic, many large scale events started taking place once again after a postponement of up to 3 years.
On this occasion our residents could experiences the real history of Japan with the large parade of the "Jidai Masuri" and the preparations for Halloween with the Yokai Street's Monster Parade.
If you haven't seen any of this yet, make sure to follow us on our social media platforms to stay updated on what to expect during your time with Sakura House in Japan.
Facebook  |  Instagram (Tokyo)  |  Instagram (Kyoto)  |  Twitter
Digging into Japan's roots
On these months, our lovely residents in Kyoto gave us the privilege to have a small performance of Koto, the traditional Japanese zither. It was lots of fun talking about all the aspects that compose this historical instrument and how difficult it can be to play it.
Take a look through the video below.

From your preparations to your arrival, by your side
As many people showed concerns regarding the condition of rooms and apartment units, we continued to offer the convenient Online Room Viewing. In this way, we could offer everybody the possibility of seeing their desired room together with our staff from the comfort of their home.
If you have already searched through our website and would like to see any particular room, make sure to let us know. We shall be happy to meet with you online for this and also attend any inquiries on the spot.
The stars of the month

With over 1,000 rooms in Tokyo and Kyoto, it can be difficult to decide where to stay, specially if you need a place to stay in the following days or on the same day. That's why we continued to provide our special recommendations. This also allows many making their travel plans to know what we may have available for their stay.
These months the highlights were:
NAKANO SAKAUE
NISHI SHINJUKU
SHIBUYA MATUYAMACHO

Closer to your dream

The big announcement of the Japanese borders reopening for tourists, as well as long term travelers, was a great relief. Our multilingual staff members were delighted to hear this news and continued to be at our Shinjuku Lounge Office and Kyoto Front Desk Office to welcome all.
Since many continued to suffer the effect of sudden flight changes and visa delays, we continued with our flexible service of check-in date readjustment and late arrival arrangements.
If you are looking to make your room/apartment reservation but are concerned of having your travel arrangements changed, make sure you contact our team for a clear and friendly explanation on how we are helping many fulfil their dreams of travel in Tokyo and Kyoto.
SAKURA HOUSE
Nishi-Shinjuku K-1 Bldg. 2F
7-2-6 Nishi-Shinjuku, Shinjuku-Ku Tokyo, Japan
Postal code: 160-0023
Google map
From Japan:
From outside Japan:
Mail:
Office hours:

8:50 am to 8:00 pm
We are open every day of the year.
Tokyo time:

20:16