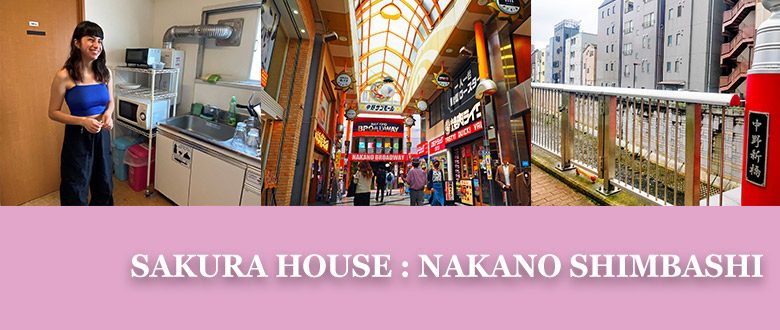 2023/07/21 (Fri)
Living in Japan
Nakano Shimbashi
Introducing Sakura House Nakano Shimbashi: Tokyo's Hidden Gem with Local Treasures!
Are you ready to dive into the wonders of Tokyo and uncover the charm of Nakano Shimbashi? Look no further than Sakura House Nakano Shimbashi – your key to a thrilling city living experience with a touch of local magic! Let's get right into the excitement and explore what makes this place a top choice for students, interns, working professionals, and solo travelers.
A Perfect Launchpad for Your Tokyo Adventure
Imagine stepping out of your door and being just a hop, skip, and jump away from Nakano-shimbashi station! With the Marunouchi subway line at your fingertips. But that's not all! For those craving a leisurely stroll and scenic views, the Nakano station, serving JR Chuo & Sobu lines and the Tozai subway line, is a mere 25-minute walk away. And hey, adventurers, you'll love this – the vibrant Shinjuku station is just 30 minutes away on foot! Get ready to embark on a journey like no other.
Affordable Living + All the Perks
At Sakura House Nakano Shimbashi, we believe city living should be affordable, without compromising comfort. That's why we've got you covered with monthly rents starting at a wallet-friendly ¥82,000! But wait, there's more! New residents enjoy a sweet 1-month discount to make settling in even sweeter. And guess what? Utility costs are all included in the rent, so you can bid farewell to worries about electricity, water, gas, and regular maintenance. Get ready to live it up without the stress.

Unearth Nakano Shimbashi's Hidden Gems
Beyond your cozy share house, Nakano Shimbashi has a treasure trove of surprises waiting for you:
Nakano Shimbashi Ramen Alley: Calling all ramen enthusiasts – this is your paradise! Wander through this charming alley and discover a lineup of renowned ramen shops, each with its tantalizing flavors. From rich miso-based broths to classic tonkotsu ramen, your taste buds are in for a treat! 

Nakano Sun Mall Shopping Street: Embrace the local vibe as you stroll through Nakano Sun Mall's vibrant covered shopping street. Shop for trendy fashion, score unique souvenirs, and indulge in authentic Japanese snacks. And oh, don't forget to try the mouth watering freshly made taiyaki – a true local delight!

Nakano Broadway: Ready for something extraordinary? Nakano Broadway is your go-to place for quirky wonders! This multi-story shopping complex is an anime, manga, and pop culture haven. Discover rare collectibles, vintage toys, and an impressive manga selection that's sure to fuel your curiosity.

Get ready to immerse yourself in the magic of Sakura House Nakano Shimbashi and embrace the captivating charm of Nakano Shimbashi! Convenient city living, affordable rates, and a trove of local treasures await you. From savoring delectable ramen at Ramen Alley to exploring Nakano Sun Mall's buzzing atmosphere and diving into the quirky world of Nakano Broadway, there's no shortage of excitement. Make Sakura House Nakano Shimbashi your home away from home and let the adventure begin. Tokyo's calling – will you answer?
SAKURA HOUSE – NAKANO SHIMBASHI
Also please check what the residence says about Sakura House and Nakano-Shimbashi!
SAKURA HOUSE
Nishi-Shinjuku K-1 Bldg. 2F
7-2-6 Nishi-Shinjuku, Shinjuku-Ku Tokyo, Japan
Postal code: 160-0023
Google map
From Japan:
From outside Japan:
Mail:
Office hours:

8:50 am to 8:00 pm
We are open every day of the year.
Tokyo time:

06:41