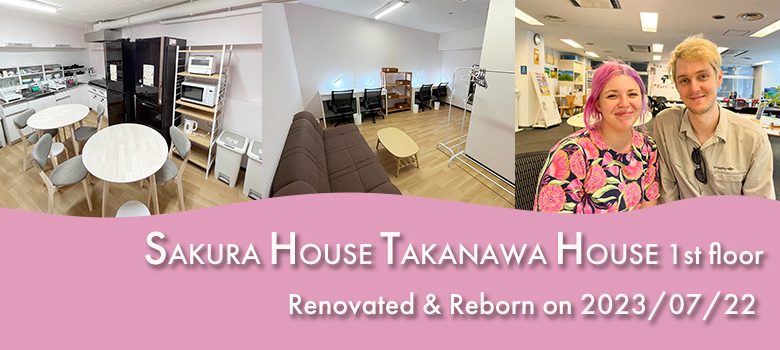 2023/07/28 (Fri)
Living in Japan
Welcome to Takanawa's Newest Sharehouse: 1st floor has reborn!!
Welcome to Takanawa's Newest Sharehouse: Now Open for Residents!
Attention all Tokyo adventurers and travelers, the wait is over!
We are thrilled to announce that our brand-new sharehouse in the charming Takanawa neighborhood is now officially open and ready to welcome residents.
This exciting chapter in our journey began on July 22, 2023, and we can't wait to share this hidden gem with you.
A Fresh Start for Takanawa Sharehouse
If you thought you knew everything about our MINATO-KU TAKANAWA residence, think again! The first floor of this building has been thoughtfully renovated into a modern and inviting sharehouse. Drawing from our success with the popular SHIBUYA HIROO sharehouse, we've created a space that prioritizes comfort and convenience for all our residents.
Cozy and Welcoming
Step into the Takanawa sharehouse, and you'll immediately feel the warmth of a place you can call home. The entrance area greets you with Japanese hospitality, featuring a wooden porch for shoe storage. As you explore further, you'll find a spacious kitchen and living area designed to foster connections and relaxation.

Rooms to Suit Your Preferences
We understand that each resident is unique, and that's why we offer a variety of room options to cater to your needs. Among them, Room 106 stands out, boasting an impressive area of approximately 25.1 square meters. It's the perfect choice for groups of friends seeking comfort and ample space to unwind after a day of exploration.


Budget-Friendly Living
The best part? Our monthly rate is just ¥65,000, and it includes all utility costs such as electricity, water, gas, furniture, and regular maintenance. We want to ensure that your Tokyo experience is hassle-free and affordable, so you can focus on making the most of your time in this vibrant city.

Explore Takanawa's Charm
Now that our sharehouse is open, it's time to venture out and discover Takanawa's delightful offerings. Don't miss the chance to visit the serene Sengakuji Temple nearby, a cultural gem worth exploring. For sports enthusiasts, there are tennis and golf facilities to keep you active and entertained.

Embrace the Local Atmosphere
Takanawa is known for its friendly and welcoming vibe. Take a leisurely stroll through the picturesque streets, find cozy cafes, and explore unique boutiques. The sense of community in Takanawa makes it a truly special place to call home.
Charming Shops and Exhibits
Surrounding the temple grounds, you'll find intriguing exhibits and charming shops run by Tokyo merchants. These establishments showcase the city's craftsmanship and cultural treasures, allowing visitors to immerse themselves in the local traditions.
Delightful Culinary Options
Sengaku-ji Temple offers more than just spiritual solace. Visitors can enjoy delicious food options, satisfying their taste buds while exploring the temple and its vibrant surroundings.
Cute Mini Mall
Located near Shinagawa station, ECute presents a mini mall wonderland. Visitors can find a plethora of gifts, meals, and experiences, making it a perfect spot for some last-minute shopping or a quick meal.
Convenient Connectivity
Living in Takanawa means easy access to major train stations like Sengakuji and Shinagawa, making it simple to explore Tokyo's diverse neighborhoods, Saitama, Kanagawa, and even Haneda International Airport.
The doors of our Takanawa sharehouse are wide open, waiting to welcome you into this exciting new chapter. Comfort, affordability, and a vibrant neighborhood await you. It's time to create unforgettable memories in Tokyo! Reserve your spot now and be a part of this wonderful journey.
Check and Reserve the room in our TAKANAWA HOUSE
SAKURA HOUSE : MINATO-KU TAKANAWA
SAKURA HOUSE
Nishi-Shinjuku K-1 Bldg. 2F
7-2-6 Nishi-Shinjuku, Shinjuku-Ku Tokyo, Japan
Postal code: 160-0023
Google map
From Japan:
From outside Japan:
Mail:
Office hours:

8:50 am to 8:00 pm
We are open every day of the year.
Tokyo time:

06:37