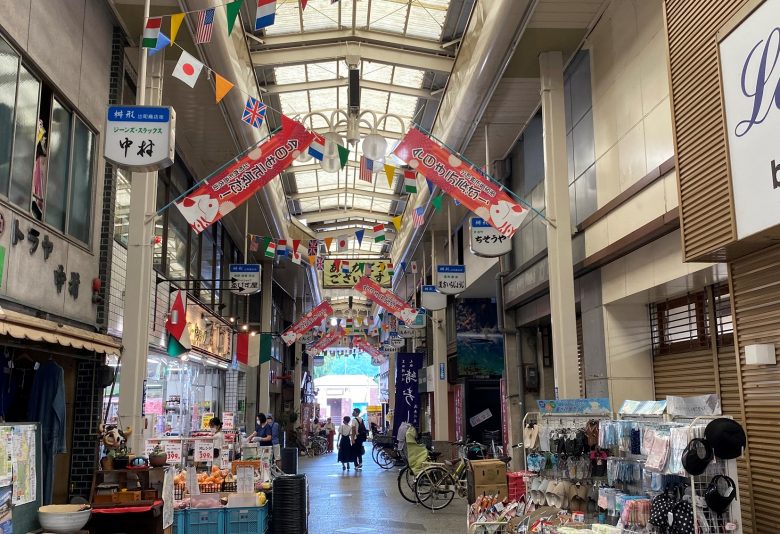 2022/05/20 (Fri)
Living in Japan
A look around the areas of SAKURA HOUSE
A stay in Tokyo or Kyoto is filled with adventure and discovery. Foreign students of Japanese language schools and university graduates can take a break from their studies on the way back home to SAKURA HOUSE's Share House and Guest Houses by going past a large park or checking out a unique shop in an undisturbed street. While working professionals and interns can discover places with their work colleagues by going for a drink after work and making new connections and friendships with the locals, all while being close to their private Apartment.
With a large variety of locations to choose from, each area of the city has something particular to offer and discover. Lets take a look at a few we have recently stopped by while we introducing more of the area around our accommodation options in Tokyo and Kyoto.
A heaven of Soy Sauce near TOKYO STATION

Tokyo Station is one of the most transited stations in all of Japan, so it is without a doubt an area filled with shops, products and rarities constantly changing, and some traditional as well. On this occasion we went by the "Shoyu Kaikan" (Hall of Soy Sauce) with an increadible display of information regarding this unique and world wide loved condiment. Do you know how many types there are? make sure you stop by next time, specially if you are staying at one of SAKURA HOUSE TOKYO STATION's Guest House dormitories or Private Apartment units.
ASAKUSA KURAMAE, a childs delight

Located an easy walk away from the popular Senso-ji Temple and its long traditional shopping street, little know that it used to be the area where wholesalers of toys gathered. Now the area has many things to enjoy on a daily basis with its variety of shops, public transport options and proximity to the peaceful Sumida River. Still some toy stores have remained and offer both typical toys as footballs and dolls, but some also have gathered a bit of an antique collection. Maybe you can discover one during your stay at SAKURA HOUSE ASAKUSA KURAMAE, Share House and Guest House dormitories.
HIGASHI KOENJI, laid back life with nature

Located to the west of central Tokyo is this area with a most suitable ambiance for those travelers in search of a peaceful and laid back lifestyle in bustling Tokyo city. One beautiful aspect that we enjoy every time we go to visit the Private Apartments and Share House private bedrooms of SAKURA HOUSE HIGASHI KOENJI is the large green spaces you can find, and on a sunny day, it is almost inevitable to get a bento lunch and take a break for a few minutes.
A trip to the culinary past around OJIMA

The modern and technological aspects of Tokyo is one of the aspects that this city attracts so many people from all corners of the world, but if you know where to go, you can find streets that seem to have been frozen in time. In a way one of these is Sunamachi Ginza Shopping Disctrict. The narrow streets here get filled with vendors exposing their products to passerby  customers. The whole ambiance oozes a retro Showa Era style feeling that can easily make one spend the entire day here just eating from shop to shop while talking with the shop attendants. Give it a try during your next stay at SAKURA HOUSE OJIMA TOKYO 4, with some of the most affordable accommodation options in all of Tokyo.
Getting a taste of Korea near SHIN OKUBO

Food is a large contributor in attracting visitors to Japan, but for long term residents it can sometimes be overwhelming. For when the need explore other cuisines kicks in, the residents of the Private Apartments and Semi-Apartments of SAKURA HOUSE SHINJUKU SHIN OKUBO have a peculiar advantage. The neighborhood, located right in Shinjuku, has a great variety of Korean food shops as well!
History lives in KYOTO

365 km. away from Tokyo city is the city of Kyoto. Here, the location of our Machiya Houses and Share Houses in the historical weaving area of Nishijin, offer a culturally rich array of things to discover (museums, tourist spots, events, shops, etc.), but one that will definitely go unnoticed are the variety of antique shops. So much that some gather a collection worthy of a museum. Make sure you take a stroll around the neighborhood during your stay in SAKURA HOUSE KYOTO ANNEX and its flexible rooms for both individuals or groups.
If after seeing all of these areas you find yourself completely at a loss on where to stay, you can always contact our multilingual staff to help you find the best area and accommodation type for your needs and interests.
SAKURA HOUSE
Nishi-Shinjuku K-1 Bldg. 2F
7-2-6 Nishi-Shinjuku, Shinjuku-Ku Tokyo, Japan
Postal code: 160-0023
Google map
From Japan:
From outside Japan:
Mail:
Office hours:

8:50 am to 8:00 pm
We are open every day of the year.
Tokyo time:

04:09