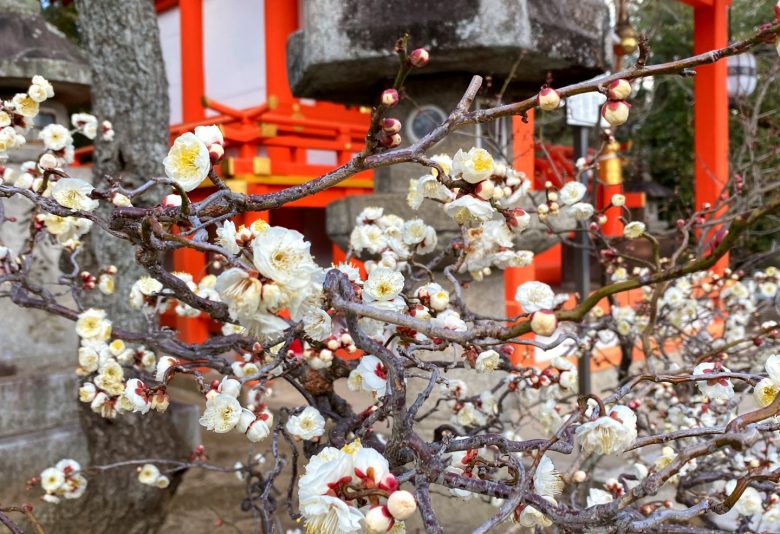 2022/02/18 (Fri)
Living in Japan
"Ume" is in the air
As the cold persists during February, some flowers start to bloom. This indicators of the popular season of Spring in Japan are well welcome. Going out to work, or commuting to a Japanese school or university, becomes more enjoyable as nature decorates streets and parks. Locals and foreign residents in Tokyo and Kyoto have their cameras ready to catch sight of the rising colors. From these, one particular tree attracts special attention, the Japanese plum tree, or "Ume" in Japanese.

The Ume is believed to have been introduced to Japan from China in the 8th Century. The initial popularity of this tree was due to it being a symbol of protection against evil. Because of this, many houses, temples and shrines have it planted in their gardens. Traditionally, it is planted on the area known as the ""demon's gate". This is the north-east corner of a plot of land. This is believed to be the direction by which evil passes through a plot of land.
One may be already familiar with the "ume boshi", or dried plum. As the name gives away, the Ume is the tree which gives its fruit. If you have ever eaten "ume boshi", the sourness shall certainly bring back memories. It is most commonly eaten on top of rice or in an "onigiri" rice ball. Following with the talisman protection that the Ume tree provides, it is believed that eating "ume boshi" for breakfast protects one from dangers during the whole day.

Whether it serves for protecting evil or not, it continues to be a most loved tree among the Japanese. The fragrance can also be very pleasant and the fruit's flavor can vary from tree to tree. But the most awaited aspect of it is its beautiful flowers.

Going out to catch sight and take pictures of the Ume is a great invitation to all people expectant of the "Sakura" (cherry blossoms) trees appearing thereafter.
There are many areas all around Tokyo and Kyoto to enjoy the Ume. However, one that can certainly not be overseen is Kitanotenmangu Shrine in Kyoto. Every year during February, the shrine opens its renown garden for visitors to stroll among the fragrance and color of this tree. Later on the 25th of the month, when the trees are expected to be on full bloom, the "Baikasai" takes place. This is the Ume blossom festival. On this day, the maiko and geiko geishas from the local Kamishichiken district serve green tea and seasonal sweets to visitors. It is a most rewarding experience that we recommend. Specially if staying at SAKURA HOUSE KYOTO, which is located a quick walk away from the shrine.
If you are planning your study, work or recreational trip to Tokyo or Kyoto during this beautiful season, dont hesitate to contact our team. For short or long term stays, lets find your home away from home and enjoy your life in Japan.