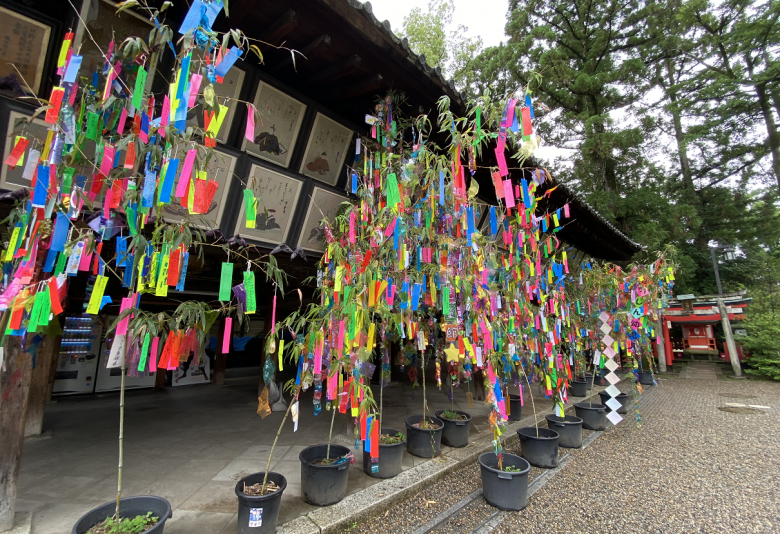 2021/07/09 (Fri)
Living in Japan
Tanabata and the magic of staying in Japan during summer
Among the summer festivals, one of the most beautiful is the Tanabata (七夕). The colorful decorations and meaning of this festival make it a beautiful time to be in Japan and enjoy with housemates, roommates and international friends.

During this time of year it is possible to see decorations all around the city with colorful pieces of paper on bamboo branches. Each paper slip containing the wishes of its writer for this year.
As Sakura House, we wish that this pandemic situation ends as soon as possible so that we can welcome you all. If you are planning your trip and would like to take the first step on securing your place to stay in Japan, we have many affordable accommodations in Tokyo and Kyoto, check our website: https://www.sakura-house.com/

The Tanabata festival also marks the beginning of many night illumination events, however, this year most of them are either cancelled or reduced both in size and display hours.

In Kyoto, this festival takes the name of Kyo-no-Tanabata, having several events during August, when the Tanabata falls in the lunar calendar. This year it is all about celebrating at home, and the organizers have set a website (mainly in Japanese) with information on how to enjoy this time of year safe and together. One thing you can do is send them your wish by mail. The wishes received will be "forwarded into the heavens above Kyoto", from Otakiage (a bonfire) at Kiyomizu-dera Temple, on August 16, how cool is that!
You can get more information here: https://kyonotanabata.kyoto.travel/en/
Entrance to Kyomizu-dera Temple

If you decide to do so, make sure you download and make your "kamigoromo" (紙衣) or paper garment for your wish. You can paint it, decorated and slip your wish paper inside. Get it here: https://d1csrci3yhe395.cloudfront.net/kamigoromo/pdf/tanabata_kamikoromo.pdf

We hope you all enjoy this magical festival from home and look forward to seeing you in Japan in the near future!
SAKURA HOUSE
Nishi-Shinjuku K-1 Bldg. 2F
7-2-6 Nishi-Shinjuku, Shinjuku-Ku Tokyo, Japan
Postal code: 160-0023
Google map
From Japan:
From outside Japan:
Mail:
Office hours:

8:50 am to 8:00 pm
We are open every day of the year.
Tokyo time:

15:23(We are open now!)