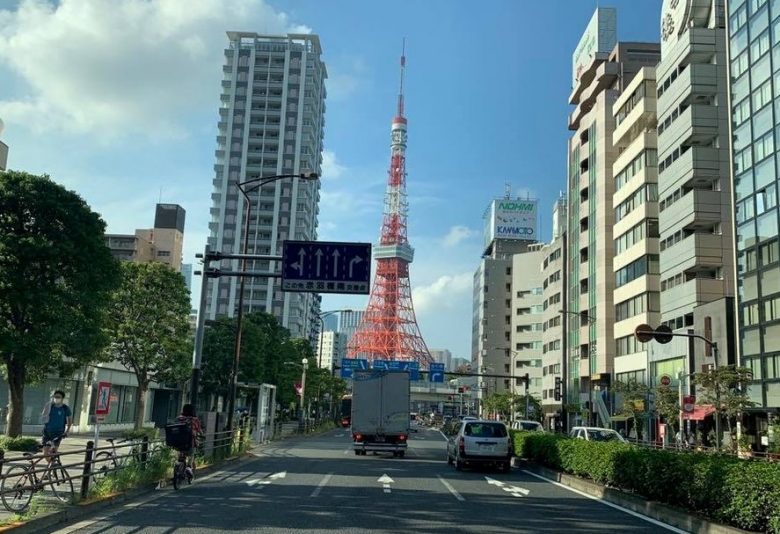 2021/08/23 (Mon)
Living in Japan
Remembering your stay in Japan, preparing your future trip to Japan
As the travel plans of many continue to be delayed due to the ongoing world situation, we would like to share with you all a couple of pictures to keep your spirits up for your awaited future plans in Japan.
Our Apartment, Share House and Guest House units continue to be available for all foreign travelers to enjoy, whether it be for a short term stay or a long term stay! Also, if your planning your work trip or study program trip soon, don't hesitate to inquire for our private units and any additional details, such as a quiet neighborhood, close to public transport or close to your place of work/study. Our multilingual staff is always welcoming your requests to make a success from your stay in Tokyo, Kyoto or Izu.

Tokyo Tower as seen on the way to our SAKURA HOUSE MINATO-KU TAKANAWA, Share House & Apartment rooms

Tokyo Sky Tree as seen on the way to SAKURA HOUSE ASAKUSA KURAMAE, Share House & Guest House rooms

Kyoto Tower as seen from the top of Kyoto Station on the way to our Kyoto Machiya Houses

Sakura season in Kyoto at the entrance of Hirano-jinja Shrine near SAKURA HOUSE KYOTO ANNEX

Sakura season in the neighborhood of SAKURA HOUSE KYOTO L

Entrance to Kyomizu-dera Temple, one of Kyoto's landmarks

Heian-jingu Shrine in Kyoto

Daily sights of life in Japan

Preparation for the Gion Matsuri as one of the most awaited festivals in all Japan

Limited seasonal goods, in this picture, miniature replicas of the Gion Matsuri's parade floats

Summer illumination events during the cool evening to fight the heat during the day

Arashiyama Bamboo Forest in Kyoto, one of the most visited sights during the autumn "momiji" (autumn leaves) illuminations

The beauty of the country during the autumn season can be seen in all Tokyo, Kyoto and Izu, with a particular beauty in each

A most recent sight during the Tokyo Games of 2021

Art all around Tokyo, here in the subway and some of the street manholes

Unique trains in Tokyo, here with a Doraemon themed limited edition

A sight of the most unique food that everyone loves

And of course "wagashi", traditional Japanese sweets and their seasonal speciality

With all the variations and creativity, every traveler to Japan may remember a particular dish or snack, like these "tamagotako" (egg-octopus, octopus tentacles with a colored small egg as its head

A most unique souvenir, traditional Japanese pottery

Of course, an image of Japan is not complete without their most unique UFO catchers

The old and the new, the constant evolution of a country that continues to amaze and delight
We hope you liked these set of pictures and that some may bring old memories back. If you are still planning your much awaited trip, SAKURA HOUSE shall continue to be here, waiting for you, so don't hesitate to contact us anytime!
SAKURA HOUSE
Nishi-Shinjuku K-1 Bldg. 2F
7-2-6 Nishi-Shinjuku, Shinjuku-Ku Tokyo, Japan
Postal code: 160-0023
Google map
From Japan:
From outside Japan:
Mail:
Office hours:

8:50 am to 8:00 pm
We are open every day of the year.
Tokyo time:

16:47(We are open now!)