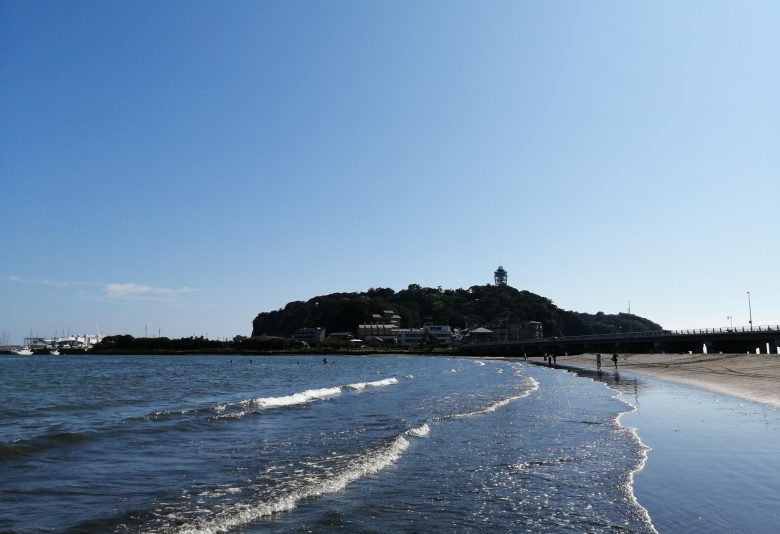 2021/07/19 (Mon)
Living in Japan
A short trip to Enoshima
Summer started and for many people the summer holidays started. Usually the most people use their time to go to the beach and relax there. Surfing, swimming, sun bathing and eating ice cream is just the best thing you can do to enjoy the hot summer.
If you live in Tokyo there is no need to travel far away, even a one day trip to the beach can be nice.
Have you ever been to Enoshima?
Enoshima is a small offshore island in Kanagawa Prefecture. People from Tokyo often take a one day trip there to go to the beach and have fun. If you are lucky you can even see Mount Fuji from there.
Not only the beach, you should visit also the island itself too. There are so many nice shops, restaurants and shrines. When I visited I found a small restaurant where I ate really delicious roast beef with salat and drank a refreshing lemon beer.



The Enoshima Sea Candle Tower is just the hot spot to have a nice overview of the island and surrounding. Also perfect place for dates! On a hot day it might be hard to climb until the top of the island, however if you buy a ticket you can use the escalator.

From Shinjuku it takes only around 1 and half hour. You take the Odakyu Line and transfer at Fujisawa station to the cute Enoden Line. We recommend this way since from the Enoden trains you have a beautiful view at the sea depending where you want to go, for example Kamakura. Also the Enoden has a cute retro design. Or you go with the Odakyu Line until Katase-Enoshima and walk by feet until Enoshima station. If you are planning to visit Enoshima you can also visit Kamakura on the same day!
If you are looking for an accommodation in Tokyo which is close to Odakyu Line and has easy access to Kamakura, Enoshima or Hakone why dont you try to stay in our Tokyo Share House Yoyogi Koen 1? The closest Stations are  Yoyogi Hachiman and Yoyogi Uehara. 
YOYOGI KOEN 1 Share House
https://www.sakura-house.com/building/yoyogi-koen-1-tomigaya-a
SAKURA HOUSE
Nishi-Shinjuku K-1 Bldg. 2F
7-2-6 Nishi-Shinjuku, Shinjuku-Ku Tokyo, Japan
Postal code: 160-0023
Google map
From Japan:
From outside Japan:
Mail:
Office hours:

8:50 am to 8:00 pm
We are open every day of the year.
Tokyo time:

06:46