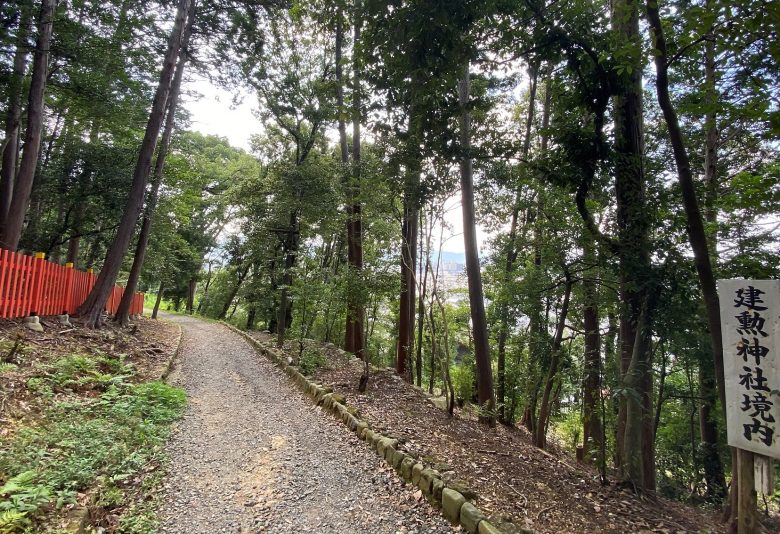 2021/07/27 (Tue)
Living in Japan
Funaokayama in Kyoto
If you are coming to study Japanese in Kyoto, or maybe are completing your study program at one of Japan's prestigious universities, have a work experience or intern at a local Japanese company, it is nice to have a place to relax and enjoy the natural beauty of life in Kyoto.
Fortunately, there are many places around the city to visit and spend some time in nature, destress and relax. However, if you have already decided and reserved your room in Kyoto at one of Sakura House's share houses, guest house or semi-apartment units, one particular spot to consider that usually does not get mentioned much is Funaokayama.

Although named as a mountain ("yama" means mountain in Japanese) this is more of a hill, with its 112 meter height. It's name describes it beautifully since "Funaoka" (船岡) is written with the characters for ship and hill. The name has been given due to it's ship like shape.
Funaokayama is historically recognized as a spot with mysterious powers, part of which made it a geographic starting point when eastablishing Kyoto as the new capital of Japan back in the year 794. It's northern location has given it the importance of being the "guardian of the north", protecting the city from evil spirits.

With several steps along th way and not to steep roads, this is a perfect place to do some easy hiking. The whole area is busting with vegetation, making it a small forest, and at the very top the trees open up to a beautiful view of Kyoto city. This is where our Sakura House Kyoto staff regularly comes to enjoy their lunch on a sunny day. There are shaded areas for groups to sit as well, so sharing some time here with housemates of your share house is a great way for everyone to discover this secret gem in Kyoto.
Also, during the Obon Matsuri festivals it is possible to see the "Hidaridaimonji". This is the mountain which burns with the character for big (大) during the famous Daimonji burning of the mountains around Kyoto City, a great Kyoto like experience to have.

To the north there's the busy Kitaoji Dori street, where many buses complete their routes around the city and several tourist spots, including the famous Diatoku-ji Temple and its numerous surrounding smaller temples.
To the south there is Kuramaguchi Dori street, loved by both the locals and visitors but usually overseen by those unaware. This whole area exudes history, tradition and uniqueness, all reflected in the aspect of some of these shops. This makes it a great place to come over again and again to refresh one's mind, enjoy some unique shops and cafes, and get to know what life in Kyoto is really like.

On Funaokayama there is also the Kenkun-jinja Shrine (officially known as Takeisao-jinja), enshrining the famous warlord Oda Nobunaga of the historical Sengoku period. For lovers of Japanese history, this shrine stores invaluable treasures designated as Important Cultural Assets of Japan such as Nobunaga's Domaru armor and a sword he has apparently brought from his victory in the Okehazama battle near Nagoya in 1560.

See how to reach Funaokayama Park from Sakura House Kyoto:
SAKURA HOUSE
Nishi-Shinjuku K-1 Bldg. 2F
7-2-6 Nishi-Shinjuku, Shinjuku-Ku Tokyo, Japan
Postal code: 160-0023
Google map
From Japan:
From outside Japan:
Mail:
Office hours:

8:50 am to 8:00 pm
We are open every day of the year.
Tokyo time:

06:04