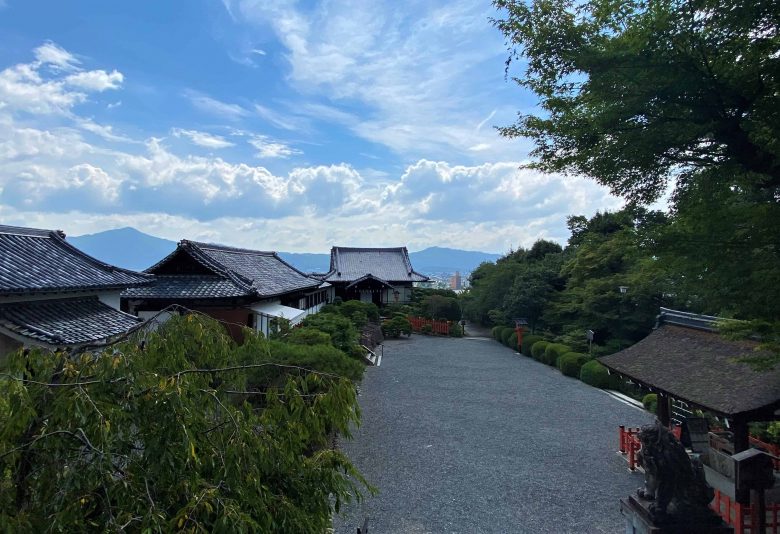 2021/10/24 (Sun)
Living in Japan
Discovering Kyoto: Kenkun-jinja Shrine
Many foreign students, travelers, workers, researchers and interns come to Kyoto to proceed onto the next step of their plans through life. The main reason of choosing Kyoto above other cities is mainly because of its peaceful atmosphere and historical richness. A big part of that reflects this are the over 2.000 temples and shrines throughout the city area, and conveniently some of the most important are located near SAKURA HOUSE KYOTO and its machiya style share house, guest house and vacation rental units. From all of these we shall look on this Sakura Tip at one that can be easily reached and enjoyed throughout any season. This is the Kenkun-jinja Shrine, also known as Takeisao-jinja Shrine.

Located on the top of Mount Funaoka, which we have mentioned previously, this shrine can be reached in just about a 20 minute walk from our Kyoto house options in the central city area of Nishijin, the origin spot of world acclaimed traditional Nishijin obi and kimono weaving.
Although located at the top of this large hill, the way is very simple, even for unexperienced hikers. The top also has a beautiful rest area right behind the shrine's location with benches, a beautiful city view and also a view of one of the "daimonji" mountain signs lit during the Obon festivities.

Kenkun-jinja enshrines Oda Nobunaga, the historical warlord that largely contributed to the unification of Japan throughout the Warring States period. It was built around the year 1869 and the main sanctuary serves as a beautiful example of the "nagare-zukuri" way of architectural construction, where the roof hangs longer over the front of the structure in its characteristic sloping style. This has given it the reputation to become a tangible cultural property of Japan.
At the entrance to the top shrine area a large rock with a scripture is easily seen. This writings display a section of the Nobunaga's favorite play "Atsumori", and it says "A man's life of 50 years under the sky is nothing compared to the age of this world. Life is but a fleeting dream, an illusion— Is there anything that lasts forever?". This same play is partially performed every year at the shrine on October 19th during the Funaoka Taisai festival in remembrance of Oda Nobunaga. 

Interestingly, after Nobunaga's death on 1582, a temple was originally planned to be constructed on top of Mt. Funaoka to console the spirit of Nobunaga, but construction got halted and the land was kept as it was for over several hundred years. It was only on 1869 that Emperor Meiji granted the possibility to construct a shrine to worship this historical figure. After its completion, the shrine has been welcoming visitors with prayers related to ambition, fortune, good business leadership and warding off disasters. The original name was Takeisao Shrine, however it was later known more as Kenkun Shrine, which is an alternative reading to its characters (建勲神社).

The worship hall has a "haraigushi" typical shinto style wand used for purification during rituals. Visitors can use this wand to purify themselves by moving it left, right, left and above themselves while keeping grateful thoughts. 
Besides the Funaoka Taisai festivities, other shinto events take place throughout the year, but visiting the shrine at anytime throughout the year is a most pleasant experience. It can be accessed best from the eastern entrance through its torii gates at the base of the hill going up a set of stairs, or through the southern entrance stairway to Mt. Funaoka directly. A short walk then allows to see the entrance of the shrine with 2 large lanterns by a set of stone stairs. The view from the shrine's main sanctuary is also beautiful since it includes the main grounds and the city of Kyoto, looking like if the shrine is floating on the air. Since walking through the hill is a priority, it is easy to feel the undivided connection with nature that characterizes the shinto religion. This also makes it a beautiful scenery anytime with beautiful flowers in spring, cooling breeze in summer, nice foliage in autumn and mystical snowy atmosphere in winter.

From all locations around SAKURA HOUSE KYOTO this is one we always like to recommend travelers to visit. So next time you plan to stay in Kyoto for either a long term stay for your Japanese study program or university studies, or a short term stay for tourism or a brief internship, don't hesitate to contact our staff to help you find the best option for your stay and good advice to enjoy your life in Japan's old capital city.
SAKURA HOUSE
Nishi-Shinjuku K-1 Bldg. 2F
7-2-6 Nishi-Shinjuku, Shinjuku-Ku Tokyo, Japan
Postal code: 160-0023
Google map
From Japan:
From outside Japan:
Mail:
Office hours:

8:50 am to 8:00 pm
We are open every day of the year.
Tokyo time:

15:53(We are open now!)