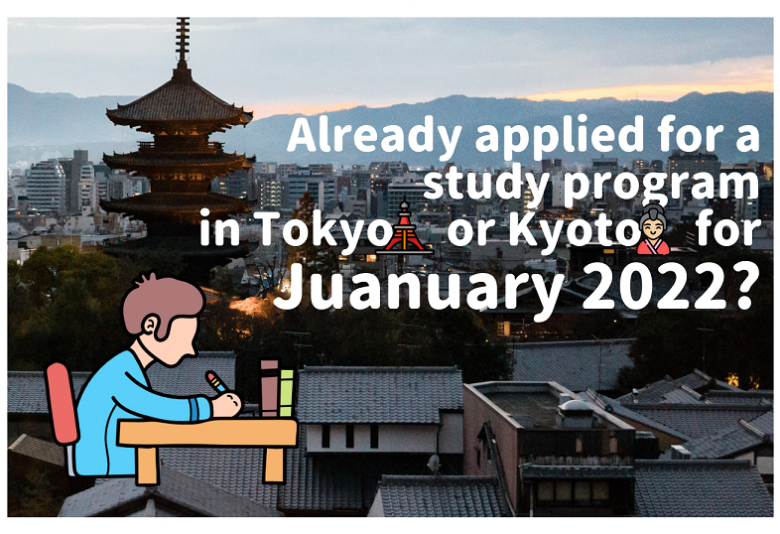 2021/09/02 (Thu)
Living in Japan
Prepairing for your study program in Japan 2022
With the current ongoing border restrictions, many unfortunately had to cancel or postpone there very much awaited travel to Japan. For others however, this opportunity continues as a possibility for the end of 2021 and the beginning of 2022. If you are part of the many Japanese language students, university students or overseas students coming to Tokyo or Kyoto to complete your study program, it is time to start settling your accommodation while here.

Many real estate companies have a complicated reservation process, requiring several documents (even sometimes legalized translations as well), a few months rent paid in advance and can also not provide essential furniture and home appliances like air conditioning or internet connectivity. Fortunately this is not the case with SAKURA HOUSE.

All our rooms and apartments are already furnished and equipped units to allow all our residents to quickly start their life in Japan without major complications. There is no need to subscribe to an internet provider since WiFi internet is already installed and completely free of charge!
The same is the case with the utilities (water, gas, electricity). The regular use of these are already included in the rental fee, so there is no need to make confusing calculations every month or have the uncertainty of how much the rent shall be next.

Everything from a large private apartment unit in central Tokyo to a shared Japanese style bedroom in Kyoto, SAKURA HOUSE continues to welcome all type of inquiries for both individuals and groups staying together or in individual bedrooms.

It is well known that as the current situation remains unclear for next year, it would be a shame having all your Japan stay preparations ready and then having to cancel them and in the process loose the deposited reservation fee. That's why are offering our Stress Free Campaign!
Make your room/apartment reservation now and if you are unable to be in Japan on your planned date, we can either postpone your check-in for a later date with no extra fees, or cancel your reservation and we shall refund your deposit fee.
Get to know a bit more of our reservation process here and take a look at our reservation options here for more details.
If you have any questions or would like us to help you find your best home away from home, send us a message here.
SAKURA HOUSE
Nishi-Shinjuku K-1 Bldg. 2F
7-2-6 Nishi-Shinjuku, Shinjuku-Ku Tokyo, Japan
Postal code: 160-0023
Google map
From Japan:
From outside Japan:
Mail:
Office hours:

8:50 am to 8:00 pm
We are open every day of the year.
Tokyo time:

17:50(We are open now!)