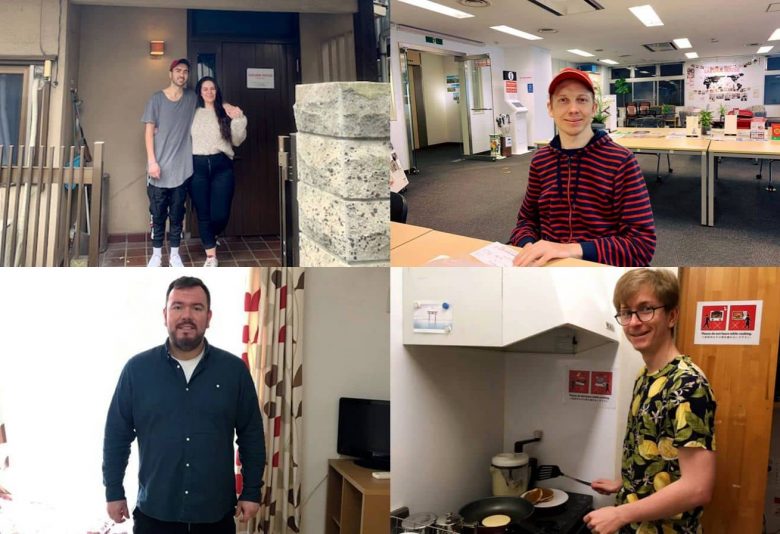 2020/05/20 (Wed)
People in SAKURA HOUSE
Resident Stories vol.02

As many of our residents currently work & study from home, our staff is able to meet them on site more frequently.
We met our young French resident, who was making pancakes for breakfast.
Another share mate made "Shirataki" (Konnyaku noodle) known as the material of "Sukiyaki" or "Oden" for breakfast.
It's so healthy.


We are happy to meet these kind people from New Zealand.
They are planning to live in on their car from now on, get a bit away from the big city and the crowned people for a while, then will come back to Tokyo soon few month later.
We look forward to see you again later!

We are happy to have met with this nice resident from Russia.
He came to pay his final rent before going back to his country and kept smiling.
We think that it is very important to stay positive and smile even in the hardest times.
SAKURA HOUSE is happy to meet such great persons and get to create special memories with a simple smile.
Let's keep our best smile and stay positive together.

Stay home and stay safe with us at our private apartment.
Monthly, weekly and daily rental is available, we have full furnished apartment discounted under 100,000 JPY for monthly!
Contact us to get the limit special discount!
SAKURA HOUSE
Nishi-Shinjuku K-1 Bldg. 2F
7-2-6 Nishi-Shinjuku, Shinjuku-Ku Tokyo, Japan
Postal code: 160-0023
Google map
From Japan:
From outside Japan:
Mail:
Office hours:

8:50 am to 8:00 pm
We are open every day of the year.
Tokyo time:

12:15(We are open now!)