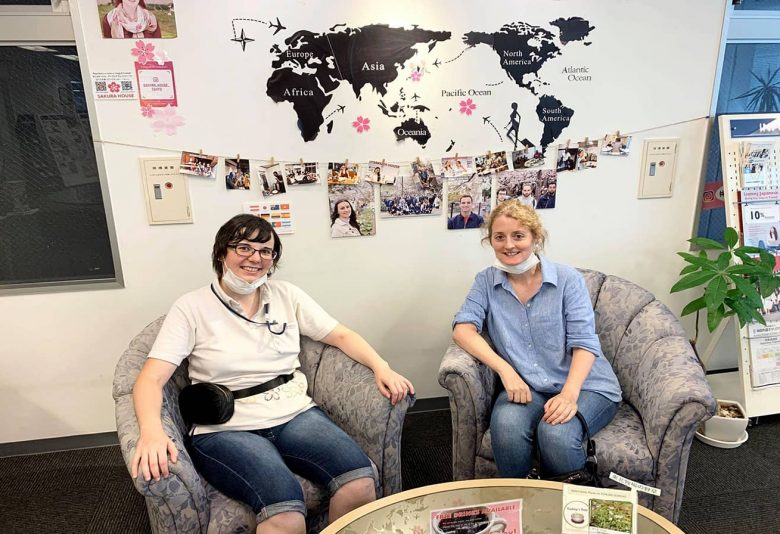 2020/09/24 (Thu)
People in SAKURA HOUSE
Resident Stories vol.010

And yet another goodbye we had to say. We met our KUNITACHI HOUSE residents while they were having their last meal together.
Even it was their last meal they enjoyed as a group, we are sure that it wasn't their last chat. At Sakura house, we are always thrilled to see when people get along well with each other and end up not only having great impressions of Japan but also precious memories that are tied to an everlasting friendship they made at the share house.
The resident that left us told us about her travel plans to Osaka. And we wish her a great time there eating takoyaki all day long. Because this is probably what we would do too.

Take care!

Our senior staff member shared with us that he has a very nice talk with our residents because they have life experience in common.
We are very glad to exchange our life stories with everyone come from all over the world and we look forward to meeting all of you after the normal life getting back!


We greeted a new resident from the UK!
She is an English teacher and worked all over the Asian country.
After viewing the shared room dormitory close to Nippori area together she made her mind and could easily check -in.
She has experience in teaching many Chinese students for 7 years, and made many friends in japan now.
The best way to enjoy Japanese lifestyle.
We wish her to have a good time during her stay!


This friendly American resident has stayed at Sakura House SETAGAYA UMEGAOKA for more than 4 years.
This house and city seem full of special memories to him.
He also shows us his T-shirts which is a gift and made by his friend!

SAKURA HOUSE
Nishi-Shinjuku K-1 Bldg. 2F
7-2-6 Nishi-Shinjuku, Shinjuku-Ku Tokyo, Japan
Postal code: 160-0023
Google map
From Japan:
From outside Japan:
Mail:
Office hours:

8:50 am to 8:00 pm
We are open every day of the year.
Tokyo time:

11:04(We are open now!)