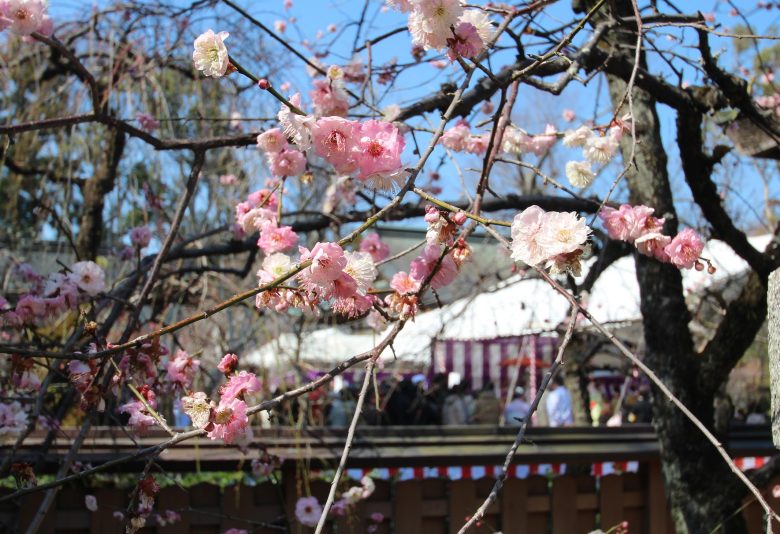 2022/03/02 (Wed)
People in SAKURA HOUSE
SAKURA HOUSE during February of 2022
February has continued to bring us snow both in Tokyo and Kyoto, but the warmth of our SAKURA HOUSE Share House, Guest House and Apartments have offered a warm home for all foreign students and work related travelers to endure their long term stay and short term trip in Japan.
The month brought us some events back again, which allowed to the enjoyment of the season. Also, the announcement of the slow opening of the border makes us look forward to this year. But first, lets look at what has been going on during February of 2022 at SAKURA HOUSE.
Plums are in the air

Although temperatures were quite low in comparison to other years, the plum blossoms thrived. One particular place we went to check them out was Kitanotenmangu Shrine, just a walk away from our Machiya Houses of SAKURA HOUSE KYOTO.
The fragrance and beauty of the varied colors continues to invite everyone to stroll outside and enjoy.
Welcome!

As the border restrictions begin to loosen little by little, we continue helping many foreign travelers in Japan. This month we welcomed IT engineers, artists, university students and interns. We hope that many more are able to fulfill their dreams in the near future. Of course, SAKURA HOUSE will continue being here at our Shinjuku Lounge Office everyday to assist you.
Inspiration is everywhere

As usual, we always like to chat and know a bit about our residents when we visit their houses. Sitting down for a cup of tea or coffee is a great way to relax and know how they are doing. We are always surprised to how creative and dedicated our residents are. Whether it be gardening, painting, drawing or completely focusing on their studies, we always get very inspired by them.
Meeting people from different cultures ands interests is a great way to begin a new friendship, get special tips and broaden ones mind. We are very grateful for our wonderful residents.
All set and ready

With the unforeseen cold temperatures and heavy snow, we continued to visit our houses and apartments to check that everything continues to work fine. From the air conditioning heating system to the condition of window frames and the hot water supply, no corner is left unchecked. While doing so, we update our accommodation units information and pictures so that you are also updated with our options.
Enjoying the neighborhood

While visiting our houses and apartment units, we like to continue showing you all the different neighborhoods. Finding a nice home to stay in Japan is important, but knowing what's around it is also as important. From theme cafes to interesting spots and historical sites, we like to make you feel like you are already in Tokyo or Kyoto with us.
Out with the "oni", in come the good fortune!

February celebrates one of Japan's most important festivals, the Setsubun. Fortunately this year, as some events started to take place, we were able to attend a few Setsubun events. In doing so, we always take our cameras so that you can also experience life in Japan from overseas while you continue to wait to be here in person.
See what is going on in Tokyo and in Kyoto.
Sakura's on the way

As the plum blossoms invite people to go out, their beauty inevitably makes one think of the "sakura" (cherry blossoms) approaching.
As many people in Japan do, we look forward to the upcoming highlight of spring with these beautiful trees. We shall of course be sharing with you pictures and videos, but it would be great if you could all come and experience it with us.
Our entire multilingual team continues to be answering your inquiries for a trip to Tokyo or Kyoto this 2022. Don't hesitate to contact us with any question you may have. We are here to help you find your home away from home!
SAKURA HOUSE
Nishi-Shinjuku K-1 Bldg. 2F
7-2-6 Nishi-Shinjuku, Shinjuku-Ku Tokyo, Japan
Postal code: 160-0023
Google map
From Japan:
From outside Japan:
Mail:
Office hours:

8:50 am to 8:00 pm
We are open every day of the year.
Tokyo time:

19:36(We are open now!)