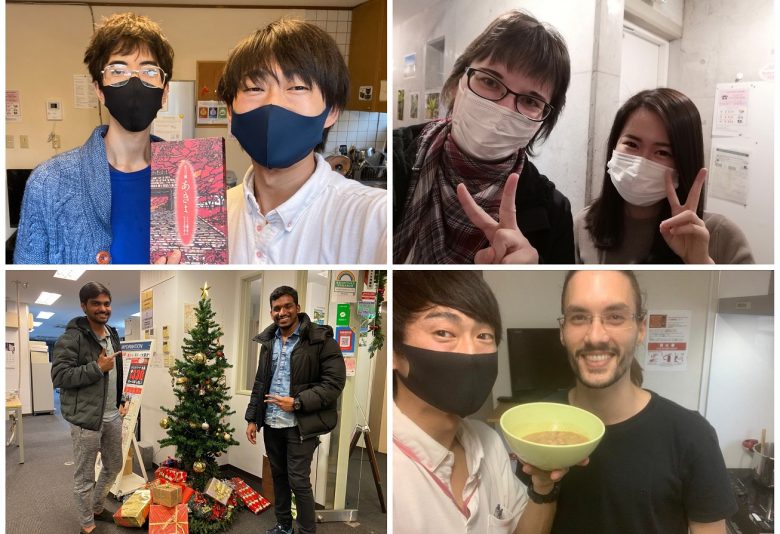 2021/12/31 (Fri)
People in SAKURA HOUSE
SAKURA HOUSE during December of 2021
The year has come to an end and although many obstacles have appeared on the way, we had the pleasure of welcoming several Japanese language foreign students, as well as university students, work related travelers, families, groups and temporary guests looking for a comfortable apartment to complete their quarantine stay after entering Japan.
As we approach the new year 2022, year of the tiger, lets look at a few of the things December has had for us and our residents.
Getting ready

No matter what the situation may be, we always keep great focus on continuing to provide a safe and secure accommodation option for all foreign travelers to enjoy during their stay in Tokyo or Kyoto, whether it be for a long term stay or a brief temporary stay.
As the autumn leaves fell and set the ambiance for winter and its dry climate, we continued to make fire inspections at our Share House, Guest House, Apartments and Vacation Rental houses to ensure that all is well in case of any emergency situations. To also avoid any clogging or fire hazards, cleaning the dried leaves has been a constant activity at all our houses.
We are and shall continue to be here for you

Throughout the day our dedicated staff visits several of our houses and apartments to check the ongoing condition of each building. In doing so we also take the time to keep on introducing some of our special rooms, their features and interesting facts, as well as special discounts. We hope that this can help everyone know what options we have available and how it can benefit you on your next trip.
New faces and more smiles

There have been several complications this year again and it is common to start feeling anxious and worried about how the situation may be in the future. That's why we always like to take the time to chat with our residents when visiting their location, or when they come visit us at our Shinjuku Lounge Office. We like to know how they are doing and what has been going on as well. Even sometimes we are lucky enough to learn about a new recipe from other cultures.
Going beyond borders

No matter what the reason of coming to Japan may be, or what background each resident may have, staying at a Share House or Guest House continues to show us how beautiful it is to be able to make new friendships with other housemates and roommates easily on the normal daily interactions. Parting is the hardest part, but also the most meaningful and cherishing.
Happy Birthday to KYOTO R & L!

In a city with a lot of cultural history as Kyoto, it is with great pleasure that we celebrate the over 100 years of our KYOTO R and KYOTO L houses. Having been built during the Taisho era, this large Machiya style townhouse has welcomed families, groups, students, university graduates and travelers from all over the world. We continue to be proud of being able to offer everyone the opportunity to stay in such a historical piece of the city.
As year 2022 approaches and many look to prepare once again their travel plans to Tokyo, Kyoto or to the coastal area of Izu, our multilingual staff invites you to take the first step on securing your home away from home in Japan. Simply contact us and let us know what you need or what your travel plans shall be to help you find the best option.
SAKURA HOUSE
Nishi-Shinjuku K-1 Bldg. 2F
7-2-6 Nishi-Shinjuku, Shinjuku-Ku Tokyo, Japan
Postal code: 160-0023
Google map
From Japan:
From outside Japan:
Mail:
Office hours:

8:50 am to 8:00 pm
We are open every day of the year.
Tokyo time:

01:54