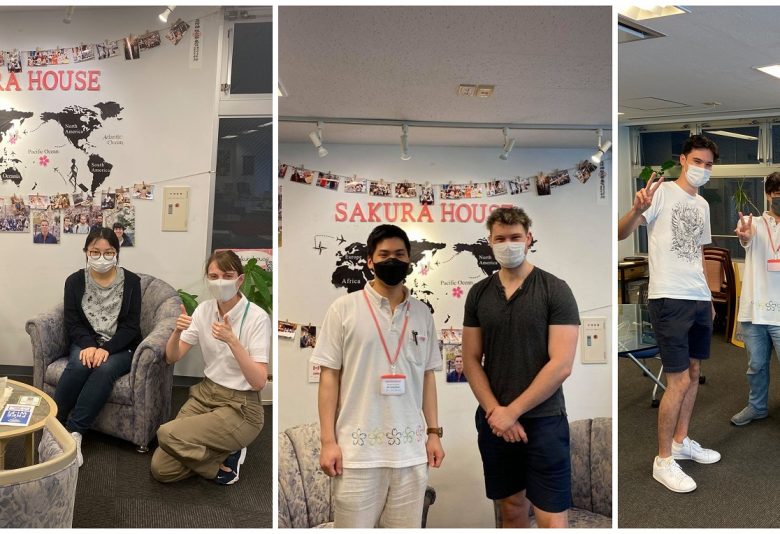 2021/08/03 (Tue)
Living in Japan
Staying in Tokyo and Kyoto, July 2021
With the arrival of some of the most awaited summer events in Japan, July has been a memorable month for those staying in Tokyo and Kyoto. Our share house, guest house and apartment residents have had some wonderful experiences and we share them here.
We are on TV!
Our resident from Ireland has been making the best of his time indoors by painting some of the most beautiful pictures showing his discoveries on life in Tokyo. We were so impressed that our "okonomiyaki" restaurant, Sakura Tei, has given him a space to display his art. And what could happen next? A TV channel wanted to record his whole experience!

As if this wasn't enough, the guest from Cabo Verde at our company hotel, SAKURA HOTEL, also got featured on the same tv show!

They have contributed to the hotel kitchen with a typical dish from their home country, and it's been having great success.
Check all about it >>here<<
Time to cook!

For the enjoyment of all our residents, and anyone interested in world cultures and food, our Sakura Events continued to show some of the most delicious and creative Korean dishes that you easily copy at home. On this occasion we made Tteokbokki (떡볶이) and Cold Noodles (냉면). On top of this, we learned many new korean words, convenient phrases and interesting cultural tips for future travels.
Sharing is caring

One thing that you may find out while staying at a share house, is that you may encounter the most unexpected kindness. This month, we met with one of our Chinese residents when visiting his house and he had the kindness to show us how he makes some delicious chinese dumplings. With the tempting smell and having them just made, how can we refuse such kind invitation to share a meal together with him.

On another occasion we met with our Sumo loving resident. Although he can not view the matches in person, he showed us how intense and immersive it can be to also watch them online! Plus he can enjoy them while having a meal or a drink.
Celebrating summer!

Summer is a season well known in Japan for its multiple events. If you are already planning your trip for next year, make sure to keep this season in mind. Beginning July is the display of all the colorful papers of the Tanabata Festival with everyone's wishes. What have you wished for this year? We have hoped to have the chance to meet you all again in the near future and welcome you to stay in Tokyo and Kyoto, and have a lively Tanabata just like in the past.

In Kyoto, after 2 years of postponement, we had the construction of the Yamaboko Floats, part of the Gion Matsuri. Usually this is done in preparation for the great parade carried out by the middle of the month. However, due to the ongoing situation worldwide, only the floats were constructed and displayed on the streets during the day. It was still a nice chance for those new to Kyoto, to know a bit more of the city and it's history.
Getting creative!

With more time spent indoors and social distancing, it can be difficult to socialize and make new friends while in Japan. To counter this, the residents of our HIGASHI NAGASAKI B share house & apartments, have made use of the blackboard in the common area as a chatting board. Not only that, but it also turned into a nice canvas for many of them to express their art and ideas. How clever!
Focus time
The ongoing pandemic situation has showed us how dedicated and cooperative our residents are. One particular resident has also showed us that now is the time to focus on overcoming obstacles and going with ones whole strength towards ones goals.

This young man has been studying non stop to apply for the N1 level of the JLPT (Japanese Language Proficiency Test), the hardest level of all. His incredible sense of humor and liveliness as he spoke of his goals made us feel his energy. Even more so after we found out that he can also speak Korean fluently.
Welcome to your new life in Tokyo and Kyoto

Our Shinjuku Lounge Office in Tokyo and our Kyoto Office continue to be open to welcome you all on the new beginning of your life in Japan. Our multilingual staff is always ready to answer your inquiries and offer a clear and friendly service to help you find your home away from home. So contact us and begin the plans to your successful Japan trip!
SAKURA HOUSE
Nishi-Shinjuku K-1 Bldg. 2F
7-2-6 Nishi-Shinjuku, Shinjuku-Ku Tokyo, Japan
Postal code: 160-0023
Google map
From Japan:
From outside Japan:
Mail:
Office hours:

8:50 am to 8:00 pm
We are open every day of the year.
Tokyo time:

02:44