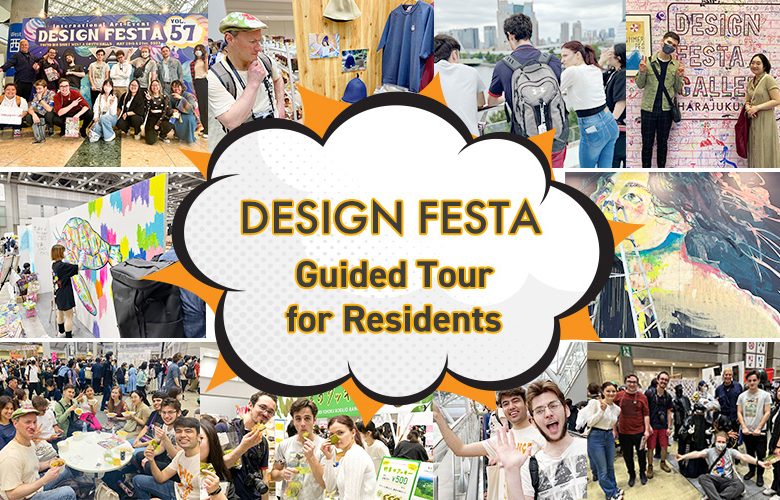 2023/10/21 (Sat)
Living in Japan
Tokyo Design Festa: BIG international event, Full of Creativity, Art, and More!!!
The vibrant and artistic spirit of Tokyo comes alive once again on November 11th and 12th, 2023, as Design Festa (Vol.58) takes center stage at Tokyo Big Sight in Odaiba.
If you're looking for an event that celebrates art, craft, pop culture, cosplay, and performative art, this is where you want to be! Now let us introduce the event!

**A Canvas for Creativity**
Design Festa is not just any art event; it's the largest of its kind in Japan, drawing artists and enthusiasts from all corners of the country. But it's more than just an art exhibition. It's a cultural celebration that transcends boundaries and brings together the diverse facets of creativity.
**The Design Festa Journey**
Founded in 1994, Design Festa was born from a simple yet profound idea: to create a space where anyone, regardless of their background, could express themselves through art. This ethos has stood the test of time, and today, Design Festa boasts over 15,000 artists who come together to showcase their talents.
**Live Painting Spectacle**
One of the highlights of this event is the live painting artists who will be creating stunning artworks on huge 8m x 3.5m canvases. Witness the creative process unfold before your eyes and interact with the artists, gaining a unique insight into their craft.

**Get Hands-On in the Workshop Area**
For those inspired to unleash their inner artist, the Workshop Area is the place to be. Here, you can create your very own one-of-a-kind artwork, guided by experienced artists who are more than happy to share their knowledge and skills.

**Feast for Your Senses**
Art isn't the only thing on the menu at Design Festa. Explore the Food Area, where you can indulge in delicious bites from food trucks and cafes. Then, head to the Performance Area and Show Stage, where you'll be treated to a variety of captivating performances, from fashion shows to live dance and music shows.

**Exclusive Guided Tours**

If you happen to be a resident at SAKURA HOUSE, or customers of SAKUR HOTEL,
here's an extra treat for you.
You can join a FREE GUIDED TOUR (organized by SAKURA HOUSE) that even includes complimentary drinks and meals.
This year, the guided tour welcomes participants from Sakura Hotel too for  the fist time, promising an even more exciting and diverse experience. 
SAKURA HOUSE's Design Festa Guide tour is like….
Let's meep up in Tokyo Big sight (The details/info of meeting point will be sent to all registered participants few days before of the event)
Take a walk around the hall, Sakura Staff will explain, guide and assist you though the tour.
LUNCH TIME !  Let's have a lunch together, free meal / drink ticket will be distributed)
After the lunch, we may go around together or maybe will be free time.
Please NOTE : This schedule is a plan / and example, the time schedule could be changed.
TO JOIN THE TOUR, PLEASE CHECK THE DETAILS ON OUR EVENT PAGE, and Sign up for the event !!!
**For the Next time!**
Design Festa is a biannual event, held in both spring and fall. So, if you can't make it to the upcoming edition, keep an eye out for future installments. This is your chance to dive into the colorful world of Japanese art and creativity.
Don't miss out on this incredible opportunity to immerse yourself in the artistic culture of Tokyo. Mark your calendars for November 11th and 12th, and head over to Tokyo Big Sight in Odaiba to witness the magic of Design Festa Vol.58. Whether you're an artist, an art enthusiast, or simply looking for a unique experience, Design Festa has something for everyone. See you there! 


SAKURA HOUSE
Nishi-Shinjuku K-1 Bldg. 2F
7-2-6 Nishi-Shinjuku, Shinjuku-Ku Tokyo, Japan
Postal code: 160-0023
Google map
From Japan:
From outside Japan:
Mail:
Office hours:

8:50 am to 8:00 pm
We are open every day of the year.
Tokyo time:

15:56(We are open now!)