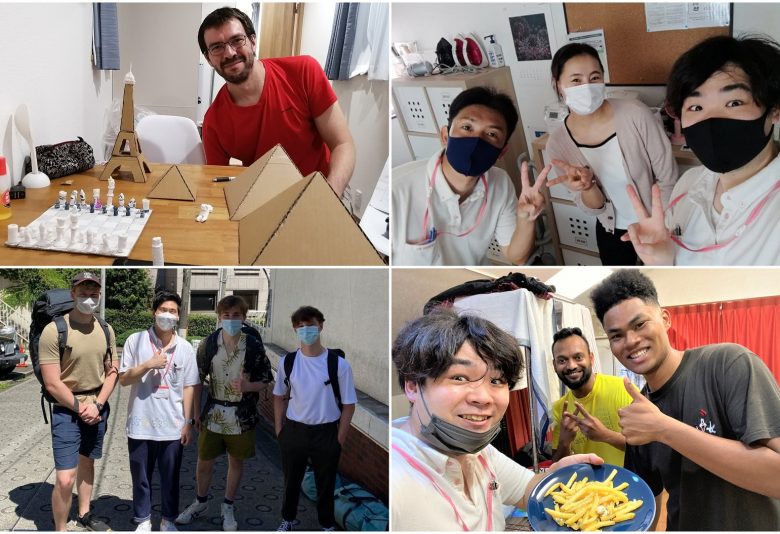 2021/08/30 (Mon)
Living in Japan
Staying in Tokyo and Kyoto, August 2021
August is coming to an end and we are surprised as to how quick the Summer Tokyo Games just went past. As we now enjoy the 2nd part of these Summer Games, we look back to all the wonderful students, travelers, foreign workers, entrepreneurs and Japan enthusiast that came by our office and shared their experience of life in Tokyo with us.

It is always difficult to say goodbye to those who have shared so much with us. This lovely gentleman came to know more about the cooking in Japan and to share this knowledge through his video streaming channel. After all he has learned, he goes back home and we look forward to hearing from him again in the near future!

As we regularly visit our Share House and Guest House units for the regular cleaning of the shared areas of the houses, it is always a heartwarming scene to see our residents share a meal together. When we have the time, we also love to sit down with them as well and chat a little on how they are doing and what they have been up to. After all, our goal is always to make everyone's stay as pleasant as possible.
These friendly residents in the above picture were kind enough to also share one of their special dishes, Feta Potatoes, French fries mixed with Greek cheese, green onion, and pepper. Simple and absolutely delicious.

One of our staff, pictured above with one of our residents, is very interested in Indian cooking recently. So when he met this resident from India in one of our houses, conversations started right away and ended up even setting a date to cook together and share their knowledge.
Making friends in a Share House/Guest House is certainly a beautiful aspect of it, but when our staff also gets kindly treated as another member of the house, we are very much delighted and is the fire that keeps our passion going to help all foreign residents in Japan.

With the announcement of the state of emergency, not having many events outdoors and also having to undergo a self-quarantine stay upon entry to Japan, spending time indoors is something that everyone is going through right now. So when we found out what this resident was doing to entertain his children we really got inspired!
He simply gathered some cardboard, paper, siccors and glue, and made his own chess board and pieces! Not only that, but also the Egyptian sphynx and pyramids and the Eiffel Tower, amongst other creations. What a great use of the power of creativity!

It is clear that many have been "stranded" in Japan due to flight cancellations and postponements, but fortunately we have been keeping our service as flexible as possible to allow everyone of our residents to be able to continue their stay up until the last moment without extra stress and anxiety. This lovely lady finally had the chance to go back to the Philippines to meet with her family. It is sad to see her leave, but we are also very happy that she shall be able to reunite with her loved ones, who have been waiting for her at home.

One of our most regular residents are students. These can be from Japanese language schools or also Universities. Our lovely resident from Mongolia (picture above) has finished her university studies and now returns back to her country to share all her experience with her colleagues. Just before that, she was kind enough to share about her experience with us while living in Tokyo.

During the ongoing pandemic situation, it can be difficult to stay together with one's beloved group of friends, but not in Sakura House!
These friendly young men came to Japan together to search for work and share their experience. It is natural that they wanted a place for their group to stay together but with individual rooms. So we offered them a great deal, which they accepted. They rented an entire floor in one of our Share Houses just for them! That's right, if you are also coming to Japan with your family of group of friend, it is possible to rent an entire floor, or even an entire house, just for your group. Just let us know what you may be looking for and our staff will be very happy to help.

Staying in touch with our residents during their stay is essential to make sure everyone os having a comfortable experience of live in Tokyo or Kyoto, but we do not cut communication after this. This month, our staff contacted some of our past residents to see how they are going, and fortunately they are all doing great and progressing on their dreams after staying with SAKURA HOUSE.
For first time travelers to Japan we always like to recommend they stay some of their time first in a Share House or Guest House. Doing so allows them to easily make new contacts, get some great tips from other experiences residents and even make some everlasting friendships. On top of this, our staff is always welcoming to help with any need our residents may have, so feel free to contact us.
SAKURA HOUSE
Nishi-Shinjuku K-1 Bldg. 2F
7-2-6 Nishi-Shinjuku, Shinjuku-Ku Tokyo, Japan
Postal code: 160-0023
Google map
From Japan:
From outside Japan:
Mail:
Office hours:

8:50 am to 8:00 pm
We are open every day of the year.
Tokyo time:

11:29(We are open now!)