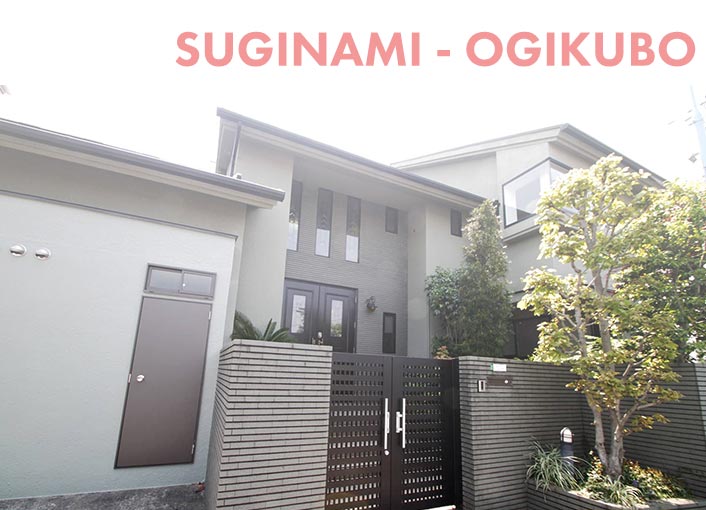 2023/08/04 (Fri)
Living in Japan
Suginami Ogikubo: Embrace the Charm of Tokyo's Diverse District

Nestled in the heart of Tokyo, Suginami Ogikubo is a captivating district that seamlessly blends the charm of local Japanese culture with a unique touch of international influence. Whether you're a history buff, an animation enthusiast, or simply seeking an authentic and diverse experience, Suginami Ogikubo has something special to offer for everyone.

Sakura House Suginami Ogikubo: Your Gateway to Global Connections

Planning a visit to Tokyo? Sakura House Suginami Ogikubo offers more than just accommodation – it provides a vibrant share house experience. Welcoming travelers from around the world, this residence fosters cultural exchange and friendship among its diverse community. The cozy and fully furnished accommodations ensure a comfortable stay for both short and long-term travelers.

Sakura House Ogikubo offers the ideal destination for travelers seeking an authentic Japanese experience in a serene and residential setting. Nestled in a tranquil neighborhood, this peaceful retreat provides numerous captivating spots to explore, ensuring a memorable stay for every visitor.

Suginami Animation Museum: Unraveling the Artistic Journey


Animation enthusiasts will be thrilled to visit the Suriname Animation Museum in Suginami Ogikubo. This museum showcases a remarkable collection of animated artwork, taking visitors on an inspiring journey through the evolution of animation. From vintage classics to modern masterpieces, the exhibits offer a glimpse into the captivating world of animation production and storytelling.

Suginami Chuo Library: A Gateway to Knowledge


For the bookworms and knowledge-seekers, the Suginami Chuo Library is a treasure trove waiting to be explored. This modern and well-equipped library boasts an extensive collection of books in various languages, making it an excellent place for locals and expats alike. Whether you want to dive into the works of famous Japanese authors or explore international literature, this library is the perfect spot to relax and indulge in the pleasure of reading.

TOPA21st Century koenji Japanese School: Conveniently Located

Located next to Sakura House Suginami Ogikubo, the TOPA 21st Koenji Japanese School offers high-quality education to students from around the world. This convenient proximity makes it easy for residents to access the school, further enhancing the enriching cultural experience.
Please check website of the school : TOPA21st Century koenji Japanese School

Nishi Ogikubo Street: Izakaya & Shopper's Paradise!


For those who loves drinking & shopping at the local stores, Nishi Ogikubo in Suginami Ogikubo will be best place for you!
Yanagi-koji / 柳小路 :  Located at the south exit of Nishi Ogikubo station,  there is a narrow alley lined with lots of Izakaya. 
For shopping, Nishi-Ogikubo Street is lined with charming boutiques, quirky shops, and traditional Japanese stores. From trendy fashion to handcrafted souvenirs, you'll find an array of delightful treasures to take home as cherished mementos of your Suginami Ogikubo adventure.

Otaguro Park: Where Nature Meets Leisure


Nature lovers and families will be thrilled to explore Otaguro Park in Suginami Ogikubo. This charming green space provides a breath of fresh air amidst the urban landscape, with picturesque walking paths, scenic views, and recreational facilities. It's a great spot for a leisurely stroll, a family picnic, or a moment of relaxation after a day of exploration in Suginami Ogikubo.

Dining and Cafes: A Gastronomic Journey

No travel experience in Suginami Ogikubo is complete without savoring the local flavors. Suginami Ogikubo boasts a variety of excellent eateries and cafes that cater to diverse palates. Indulge in Japanese delicacies or explore international cuisine, creating a unique gastronomic experience. Don't forget to try the delightful selection of traditional Japanese teas and desserts too!

Excellent Transportation Links

Located in the heart of Suginami Ogikubo, Sakura House provides easy access to the best of Tokyo. The nearby Ogikubo Station, served by the JR Chuo-Sobu Line and Subway Marunouchi Line, connects you to various parts of the city. Additionally, the short 10-minute train ride to Shinjuku Station on the JR Chuo-Sobu Line opens up a world of entertainment, shopping, and dining options.

Available at ¥55,000 per Month

At Sakura House Suginami Ogikubo, convenience meets affordability. With a monthly rate of just ¥55,000, utility costs such as electricity, water, gas, furniture, and regular maintenance are all included in the stated price. Say goodbye to the stress of dealing with multiple bills and focus on making the most of your Tokyo adventure.

Embrace the Cultural Fusion

Beyond the exceptional services provided by Sakura House, staying in Suginami Ogikubo promises an unforgettable experience for all travelers. This vibrant district offers a harmonious blend of local traditions and international influence, making it a perfect destination for cultural enthusiasts.

With Sakura House Suginami Ogikubo as your cozy home base, you'll have all the elements to make your Tokyo adventure truly special. Whether you're immersing yourself in the local culture, forming international friendships, or simply experiencing the everyday wonders of Suginami Ogikubo, this vibrant share house promises an enchanting and memorable journey through Tokyo. So, pack your bags, embrace the cultural fusion, and get ready to embark on an extraordinary experience with Sakura House Suginami Ogikubo!

SAKURA HOUSE : SUGINAMI OGIKUBO
SAKURA HOUSE
Nishi-Shinjuku K-1 Bldg. 2F
7-2-6 Nishi-Shinjuku, Shinjuku-Ku Tokyo, Japan
Postal code: 160-0023
Google map
From Japan:
From outside Japan:
Mail:
Office hours:

8:50 am to 8:00 pm
We are open every day of the year.
Tokyo time:

06:14