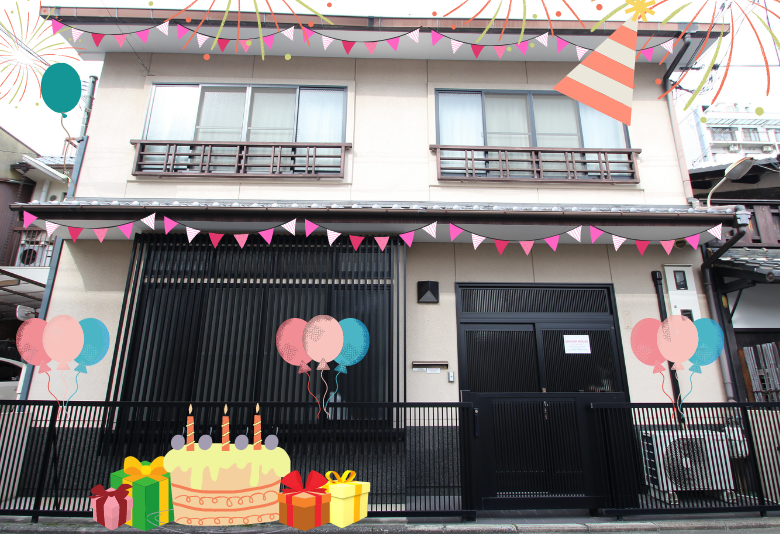 2021/12/10 (Fri)
Living in Japan
Happy over 100th birthday to KYOTO R & L
If you have ever enjoyed a stay in Kyoto, you may well know that the entire city is engulfed by history and tradition. Much of this is seen in the people's customs, the food, shrines and temples, and of course houses as well, particularly Kyo-Machiya houses like SAKURA HOUSE KYOTO R, which continues to welcome foreign Japanese language students, university graduates, research related specialists, professors families and of course, enthusiastic travelers as well.

As with many structures in a country that has had a strong culture, it is normal to hear of buildings standing for over 100 years, and recently this year, our emblem Kyoto residence has become part of this historical group.
Built around the Taisho period (1912-1926), this house continues to amaze long term and short term residents by its large rooms (quite unusual for a Japanese house), its quiet environment and, of course, its central Japanese garden, which has served as the perfect scenery for pictures with family, friends and housemates.

SAKURA HOUSE KYOTO R – Garden
An interesting fact about this "KYOTO R" house is that it was actually much larger than it currently is. The "R" in its name stands for "right", meaning then that there is a "left" as well, and so is the case. SAKURA HOUSE KYOTO L was born from the division of making KYOTO R. This house, although smaller in size, continues to offer the cozy atmosphere of a traditional Machiya style townhouse while still offering the comfort of modern equipment, all in a perfect display on how the historical aspects of Kyoto blend into the modern world.

SAKURA HOUSE KYOTO L
So, happy over 100th birthday to both KYOTO R and KYOTO L!
We look forward to continue offering unique accommodation options like this one for all foreign travelers to enjoy and feel the real life in Kyoto.
Stay in contact with our staff if you are considering to begin your plans of stay in Japan's ancient capital city, Kyoto. We shall be happy to assist you anytime.
SAKURA HOUSE
Nishi-Shinjuku K-1 Bldg. 2F
7-2-6 Nishi-Shinjuku, Shinjuku-Ku Tokyo, Japan
Postal code: 160-0023
Google map
From Japan:
From outside Japan:
Mail:
Office hours:

8:50 am to 8:00 pm
We are open every day of the year.
Tokyo time:

18:58(We are open now!)