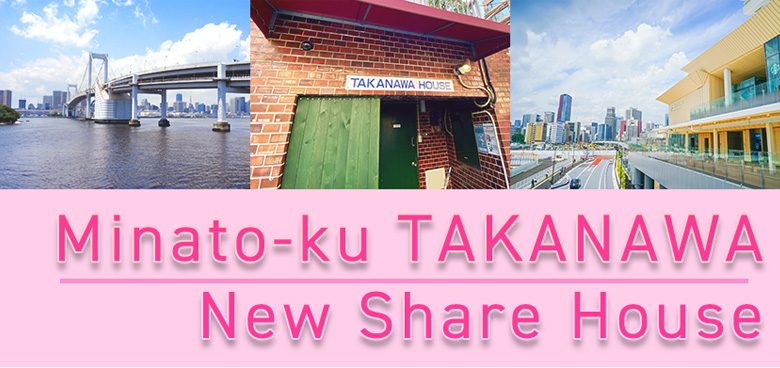 2023/07/14 (Fri)
Living in Japan
The countdown to the New Share House Opening has begun!
We are opening a new share house in Takanawa, a popular Minato neighborhood among expats due to its proximity to the city center, as well as Yokohama and Kawasaki. The grand opening is scheduled for July 22, 2023!
Many of our residents are already familiar with the MINATO-KU TAKANAWA residence.
It's a long, trapezoidal-shaped building with many furnished apartments on the second, third, and fourth floors, some of which are shared and some of which are private. For many years, the entire 1st floor of this building was off-limits. Some of our long-term, older residents may still recall that a long, long time ago, the first floor used to be a bustling share house, before it was shut down for maintenance.
The first floor of the MINATO-KU TAKANAWA residence remained closed to the public for many years. On July 22nd, after several months of construction and preparation, we will finally open it to the public with a new, entirely renovated share house.

We brought in the same construction director that worked on our share house SHIBUYA HIROO, which has become one of our most popular houses, for this project.
To avoid losing inside space, we opted to include a wooden porch area in the entrance for shoe storage and to serve as the "genkan / 玄関" (=traditional Japanese entrance area).

Upon entering, we are met with a long corridor that leads to the kitchen and living area, passing past the rooms on the left side. A small stairway at the end of the corridor leads to the bathroom section on the right side, which has four face-washing basins, three toilet units, and three shower units. We spent a long time carefully planning the layout of the living room since we wanted it to be a place where the residents could socialize as well as comfortably relax.
The rooms are perhaps the most fun part of this project, particularly Room 106, which we will talk about later.
There will be a total of six rooms in this share house, four of which will be private and two shared. All the private rooms .
The shared rooms – Rooms 105 and 106 – will be furnished with special Sakura House custom-made bunk beds, complete with bed lighting and privacy curtains.
Let's talk about Room 106 now. This room is massive! With a whopping area of around 25.1 square meters, it's roughly the same size as Rooms 103, 104, and 105 put together. This room alone is bigger than most of our apartments!
Room 106 will have four bunk beds and a sofa bed, as well as its own living space. This room was specially designed to be the ideal accommodation for groups of friends who are coming to Japan and want to stay together. Instead of cramming into a small room or crowded dormitory, you can enjoy ample space for studying and chilling out with your friends in Room 106 of the MINATO-KU TAKANAWA house.
And this wraps up the new Takanawa sharing house project.
We will show you the final images as soon as it's ready and we open the house to the public. Until then, stay tuned!
SAKURA HOUSE : Minato-ku TAKANAWA
SAKURA HOUSE
Nishi-Shinjuku K-1 Bldg. 2F
7-2-6 Nishi-Shinjuku, Shinjuku-Ku Tokyo, Japan
Postal code: 160-0023
Google map
From Japan:
From outside Japan:
Mail:
Office hours:

8:50 am to 8:00 pm
We are open every day of the year.
Tokyo time:

06:46