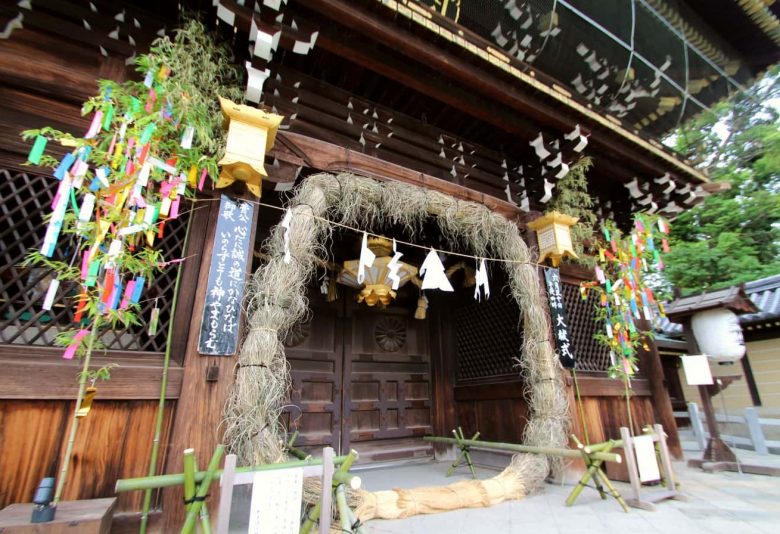 2022/06/15 (Wed)
Living in Japan
Living in Japan's traditions: Chinowa kuguri
Summer has arrived and as temperatures rise with a few gray clouds announcing the arrival of the rainy season in Japan, we are ready to provide a cozy and comfortable accommodation in Tokyo and also in Kyoto, for foreign Japanese language students, university students, interns, research academics and Working Holiday travelers to have a nice place to enjoy this time of year.
One activity that can be seen around the city while walking through the streets of Japan is the large grass rings displayed at shrines. But, what is this about?
We finds ourselves, once again, faced with another typical aspect of life in Japan. One that may foreign travelers, students and working professionals may well not be aware of. So here we would like to briefly introduce about this curious summer tradition.

While walking back home after a long day of work in Tokyo, or after a very active class at a Japanese language school or university in Kyoto, walking past a shrine is no uncommon thing. But something quite different is decorating them during the first month of summer. A large ring made out of grass, large enough to be seen as a kind of portal.
Well, it is not a special doorway to more mystic wonders of Japanese culture, but an important part of the rituals of summer in Japan called "nagoshi no harae". Particularly, this large hoop is known as "chinowa kuguri".
"Chinowa" is the name of the ring itself meaning "large grass wheel", while "kuguri" comes from the verb kuguru in Japanese, which means to pass through. Yes, it is a ritual of walking through the ring, but it is not a portal.
The tradition of this large grass made ring comes from the legend that attaching a small ring of grass to the hip can ward off disease and evil forces. This is also believed to be the effect of passing through the chinowa.
However, as with most rituals, there is a special way of walking through it. It has to be done in a figure of an eight, as shown on the image below.

The steps are:
1. Face the chinowa and make a bow. Then begin passing through it with your left foot and walk toward the left to face the chinowa again.
2. Facing the chinowa again, make a bow and begin going through it, but this time with your right foot. Then turn right and walk around it to face it once again.
3. One more time, facing the chinowa, make a bow and walk through it with your left foot first, just like the 1st time. Turn left and face the chinowa one last time.
4. Bow at the ring one last time and walk straight through it (without turning left or right) with your left foot first. Now you can go and pray at the shrine.
Each time going through the ring has a special meaning. The first time is for dispelling any evil, the second for purification, the third for protection and the last time for happiness. It is therefore best to keep these thoughts in mind while going through it each time.
There are still many other traditions, customs and curiosities of life in Japan during summer, but better than reading about it is living and experiencing them in person. For that, if you are planning your stay in Toyko or in Kyoto this summer, or at any time of the year for that matter, you can always count on the support of our multilingual team. Get in touch with us anytime and lets begin your accommodation arrangements in Japan in your language and we a team of travelers that have been in your shoes.