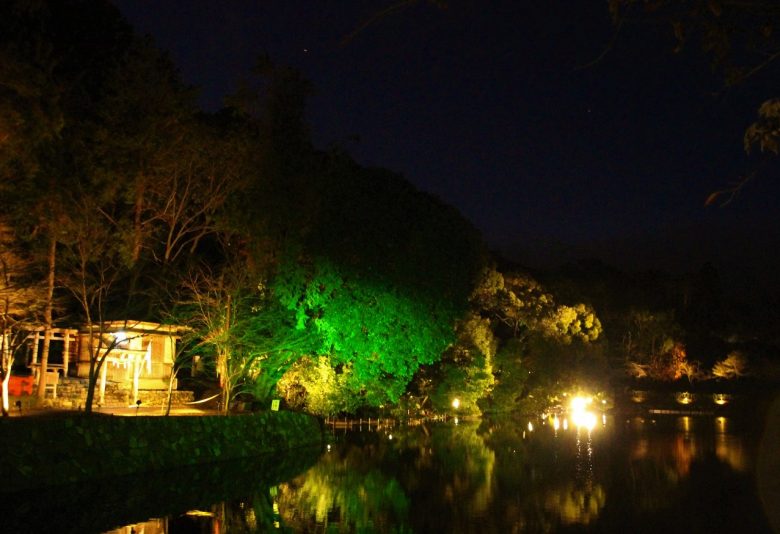 2021/12/17 (Fri)
Living in Japan
Winter Illuminations in Kyoto
Apart from its beautiful scenery and historical attractive, Kyoto is a city that hosts several events throughout the year. Some are very well known and expected, like the grand Gion Matsuri, but many others show different aspects of the city, the Japanese culture and life in Japan.
From all of these, some of the ones we particularly like to recommend by the end of the year to all foreign students, families, groups and any of our residents, are the illumination events. These evening events also are a great chance to go out after work with friends, family, housemates or roommates to enjoy after Japanese classes or work. So here are a few to keep in mind for your next travel to Kyoto.
Christmas

One of the main topic of the end of the year is of course Christmas. Shops, streets, houses and even some parks get decorated with the most eye-catching and beautiful patterns that brings warmth during the cold evenings of winter.
Some of the usual places residents from SAKURA HOUSE KYOTO can go and enjoy these spots are Doshisha University with a large lit up christmas tree in its campus, St. Agnes' Junior & Senior High School with a beautiful and free contribution by their students group, and the Yokai Street with its "yokai" monsters also decorated in a Christmas manner.
Lights on at Kyoto Station

The main point of entry to Kyoto is Kyoto Station, and foreign travelers may be amazed to how large it is, even having a stage within it. It is this stage that every year gets decorated with a large Christmas tree that invites singers and artists from all around Japan to perform for crowds sitting on the also illuminated stairway in front of it.
The show schedule changes every year, but even when there is no show on display, the stairways offer different light patterns that serve as a kind of screen to be watched from the stage area.
Arashiyama Hanatoro

Usually taking place on the beginning of December, when the autumn leaves are in its full development, this is one of the most awaited evening events for tourists, both local and foreign.
During a period of 10 days, the main streets and pathways (including the emblematic Bamboo Grove) get lit up by colorful beams of light and lanterns. Some of the local schools also contribute with unique decorations made by their students. But the main event here takes place on the final days, when visitors can register themselves to be part of the Arashiyama Sky Lantern, where participants prepare a glowing lantern to be sent floating into the night sky.
Besides the Bamboo Grove, the famous Togetsukyo Bridge also offers a most iconic scenery to take some unique pictures and make unforgettable memories.

ROHM Illuminations

Finally, one particular spot that can not be overseen is that offered by the large semiconductor company of Rhom. Right next to its main offices, the streets covered with rows of pine trees get highly illuminated in a most unique runway that attracts neighbors and travelers alike.
Although this is not a tourist attraction spot, it is slowly getting a reputation for its impressive Christmas vibe with also a romantic appeal for couples.
Whether you are planning your stay for winter, spring, summer or autumn, there is always something different to discover while staying in Japan. So if you are looking to return to Japan or set forth preparations for your first trip to Japan, don't hesitate to contact our multilingual staff to help you find your accommodation in Tokyo, Kyoto or the coastal beauty of Izu.
SAKURA HOUSE
Nishi-Shinjuku K-1 Bldg. 2F
7-2-6 Nishi-Shinjuku, Shinjuku-Ku Tokyo, Japan
Postal code: 160-0023
Google map
From Japan:
From outside Japan:
Mail:
Office hours:

8:50 am to 8:00 pm
We are open every day of the year.
Tokyo time:

23:40