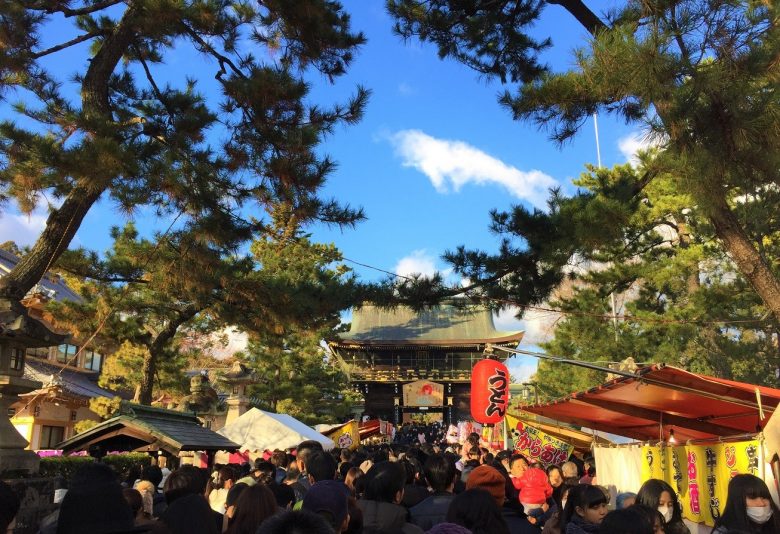 2022/01/03 (Mon)
Living in Japan
Living in Japan's traditions: Hatsumode
The new year has just begun and although many are overseas at the moment waiting for the chance to complete their Japanese study program, commence their life in Tokyo or Kyoto working or being an intern at a local company, or finish their university degree at one of Japan's prestigious institutions, we continue to bring closer to all different aspects of the Japanese culture and daily life in Japan.
On this occasion, one activity that can not be forgotten at the beginning of the new year is "hatsumode" (初詣) or first shrine/temple visit of the year.

During this time, usually between the first 3 days of January when most businesses are closed, people approach their local shrine or temple to greet the deities and wish for a good year ahead. But not all people choose the convenience of their neighborhood, others have a particular place they like to visit every year, and some places are more popular than others, like the Meiji Jingu shrine in Tokyo or Kitanotenmangu shrine in Kyoto.
If you are looking into being part of this typical tradition during the beginning of the new year, make sure you also check the manners required when visiting a shrine or visiting a temple.

Besides praying, many visitors bring their old "omamori" lucky charms to be disposed of and buy a new one for the current year. Likewise, it is most customary to read ones luck for the new year by getting an "omikuji". Many shrines are dedicated to special historical persons that give it a particular appeal for certain type of wishes or plans ahead. For example, Kitanotenmangu shrine near our SAKURA HOUSE KYOTO houses, is particularly popular with students and those planning to undergo an important exam. While Kadodehachimangu shrine is believed to be particularly effective with wishes regarding new beginnings, trying something new or starting something new.

The tradition of "hatsumode" dates as far back as can be possible, but some customs have certainly changed throughout its existence.
For instance, it appears that the actual custom was "toshigomori" (年籠り), a practice that required the head of the household to spend the entire night of the 31st of December awake in worship of the local deity of the town or village.
Other custom that may continue for a few people even today is the "ehomairi" (恵方詣り). Here, people visit the shrine that is on the favorable direction of that year ("ehou", 恵方) from their house.
There are many shrines and temples in Tokyo and specially in Kyoto, and some are very close to our Share House, Guest House and Apartment units, so a simple walk around the neighborhood may give you a chance to get more familiarized with this and other aspects of the Japanese culture. If you are already beginning the preparations for your trip to Japan, you can  get in touch with our multilingual staff anytime to help you find your home in Tokyo, Kyoto or the beautiful coastal area of Izu.
SAKURA HOUSE
Nishi-Shinjuku K-1 Bldg. 2F
7-2-6 Nishi-Shinjuku, Shinjuku-Ku Tokyo, Japan
Postal code: 160-0023
Google map
From Japan:
From outside Japan:
Mail:
Office hours:

8:50 am to 8:00 pm
We are open every day of the year.
Tokyo time:

23:33