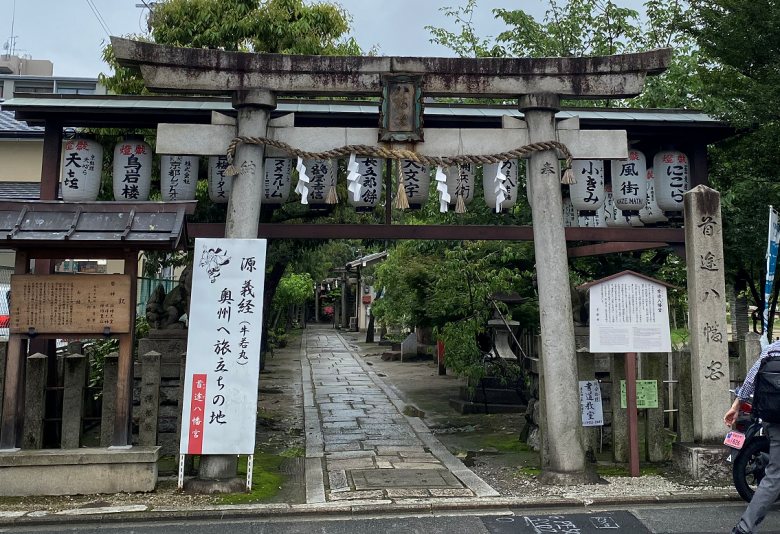 2021/07/26 (Mon)
Living in Japan
New beginnings in Kyoto
We visit a special place near the share house and guest house units of Sakura House Kyoto. A place specially for international students, foreign workers, interns and anyone looking to start a new chapter in their long term stay or short term life experience in the city of Kyoto.

This is Kadode Hachimangu Shrine, located just 2 minutes walk away from our Machiya houses in one of the city's most traditionally kept areas, Nishijin.
Visited by both locals and visitors, this shrine holds a special meaning from the classic literature of the Heian Period. Its name was taken from Minamoto-no Yoshitsune, a well known historical Sengoku warrior, who made his visit to this shrine right before his great departure to Oshu. His numerous military victories have been the base for many Kabuki theatre plays, stories and legends throughout the history of Japan.

As its name refers ("Kadode" in Japanese means "starting life anew"), Kadode Hachimangu is well known to be visited by those who are about to make a big turning point in their life. So if you are coming to Kyoto to begin a new path on your journey through life (study program, joining a Japanese compnay, beginning an internship with a Japanese firm, etc.), make sure to stop by this shrine, make an offering prayer, get your "omikuji" (fortune slip) or just ask for a great outcome in your new path.

With a great display of flowers, the narrow paths of this shrine make it a wonderful place for pictures and relaxation any time of the year, so make sure you visit it next time again to see what new flowers are blooming.

Directions to Kadode Hachimangu shrine from Sakura House Kyoto: 
SAKURA HOUSE
Nishi-Shinjuku K-1 Bldg. 2F
7-2-6 Nishi-Shinjuku, Shinjuku-Ku Tokyo, Japan
Postal code: 160-0023
Google map
From Japan:
From outside Japan:
Mail:
Office hours:

8:50 am to 8:00 pm
We are open every day of the year.
Tokyo time:

01:15