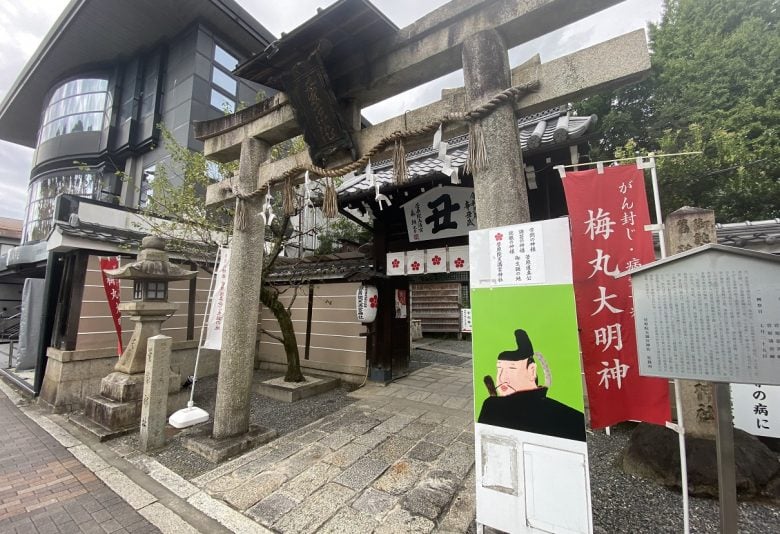 2021/10/15 (Fri)
Living in Japan
Discovering Kyoto: Sugawarain Tenmangu Shrine
From the roughly 2.000 temples and shrines in Kyoto city, we recently discovered one particular shrine that can very easily be overseen. It is located right next to the Kyoto Gyoen National Garden (home to the Kyoto Imperial Palace) and is on the way to our Kyoto Machiya private house and share house units. This is the Sugawarain Tenmangu Shrine.

We cover on this Sakura Tip a little bit about what makes this shrine unique and hope that it enhances the knowledge of those already enjoying a stay in Kyoto, as well as provide a window into the amazing things that life in Kyoto has to offer students, travelers, foreign workers, and anyone in search of an adventure and discovery of Kyoto.
Sugawarain Tenmangu Shrine stands on Karasuma Dori street, which runs all the way from Kyoto Station to Imadegawa Dori, where SAKURA HOUSE KYOTO houses are located. It is particularly located in front of one of the south-western gates to the great Kyoto Gyoen National Garden, making it an easy place to visit while downtown or coming back to SAKURA HOUSE KYOTO.
Enshrined here is Michizane Sugawara, from which the shrine takes its name. He was a noble, scholar, politician and poet throughout the Heian Period and took many important parts in the Heian court. After the death of Emperor Uda, his foremost protector, Sugawara was demoted and exiled from Kyoto by the then powerful Fujiwara clan, making him leave to Dazaifu in Fukuoka Prefecture where he ended his days.

Michizane Sugawara certainly was an important figure throughout Japanese history and it is estimated there are about 1.200 shrines dedicated to him all around the country, with the most renown one being Kitanotenmangu Shrine, about 15 minutes walk away from the private machiya houses and share houses of SAKURA HOUSE KYOTO in the city central area of Nishijin.

Kitanotenmangu Shrine
Known to be the patron of learning, all shrines dedicated to him regularly receive the visit of students looking to pass exams or show their appreciation for having been able to do so.
Although the shrine is dedicated to Michizane Sugawara, one of the first things visitors may notice when arriving at Sugawarain Tenmangu Shrine is the large kanji writing for ox (丑) right at the top of the entrance torii gate. The reason for this relates, of course, to a few events in the life of Sugawara.

The first reason seems to be that he was born on the year of the ox. The second reason relates to his great opponent Fujiwara no Tokihira, who attempted to kill him while he was leaving Kyoto but was saved by an ox that ran out from the pine groves, hurting the assassin with its horns. And finally, after his death in Fukuoka, his body appears to have been transported back to Kyoto by an ox cart to undergo his burial in the city. However, the ox refused to move from Dazaifu and was therefore buried there, particularly in what is now Dazaifu Tenmangu, another shrine dedicated to him in Fukuoka Prefecture.

Sugawarain Tenmangu Shrine is said to be the original location of Sugawara's family, dating all the way back to his grandfather.
One interesting area within the shrine that attracts visitors from all over Japan is that of Umemaru Daimyōjin, a dedicated area that displays an enshrined round stone. This stone is said to aid in the cure of cancers, tumors and skin diseases, and has a particular protocol to follow in order to receive its benefits where the affected person first prays to the stone, rubs their hands on it and then puts them on the affected area.

Finally, the main shrine also shows the proper manner to pray, a topic that we have covered previously, so make sure to check that and other Sakura Tips as well.

If your planning your planning your next stay in Kyoto and want to experience all aspects of its beauty and history, don't hesitate to contact our team of experts to help you find the best option for your home in Kyoto.
SAKURA HOUSE
Nishi-Shinjuku K-1 Bldg. 2F
7-2-6 Nishi-Shinjuku, Shinjuku-Ku Tokyo, Japan
Postal code: 160-0023
Google map
From Japan:
From outside Japan:
Mail:
Office hours:

8:50 am to 8:00 pm
We are open every day of the year.
Tokyo time:

13:04(We are open now!)