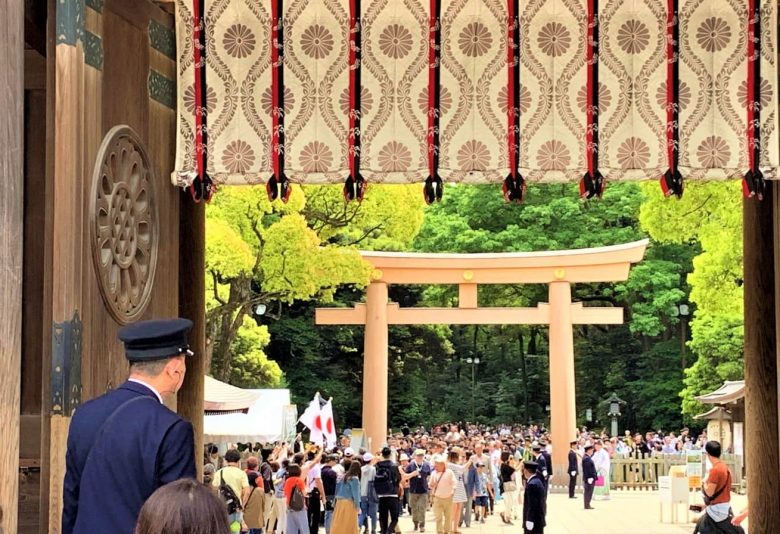 2021/09/24 (Fri)
Living in Japan
Discovering Tokyo: Meiji Jingu Shrine
One aspect that shall certainly appear while enjoying a stay in Tokyo is the contrast between the modern shops and the traditional shrines and temples. It is very common to find these historical emblems of the shinto religion all around the city and even close to highly transited streets with neon lit shops with the latest goods. From all the areas where SAKURA HOUSE has private apartment, private bedroom in share house and shared dormitory in guest house units, there is one place that our varied residents love to visit. An area close to the beauty and serenity of nature but also right in the middle of the bustling Tokyo streets. This area is place to one of Japan's most importante and most visited shrines that perfectly shows this contrast of modern and traditional blending in harmony, we refer to the great Meiji Jinju Shrine, located right next to Harajuku, one of the most fashionable and modern areas of Tokyo, and also where SAKURA HOUSE has some of its most popular monthly rental options in Tokyo.
This shrine's origin dates back all the way to the year 1920 and is dedicated to Emperor Meiji, the first emperor of modern Japan, and Empress Shoken after their passing away. Unfortunately the original shrine suffered its destruction during the Second World War, but it has been thereafter rebuilt and maintained to this day.
Located within the grounds of Yoyogi Park, the great torii gates located near Harajuku Station (close to our HARAJUKU houses), Yoyogi Station (close to our SENDAGAYA houses) and Sangubashi Station (close to our YOYOGI UEHARA house), welcome visitors to a wide forested passage that is regularly transited by tourists and commuters alike. The whole ambiance is very relaxing and gives a sense of the simplistic but magnificent beauty that such traditional aspects of the Japanese culture continue to have.
A 10 minute walk from either entrance shall allow to access the Meiji Jingu Shrine, located in the middle of the forest. Interestingly, it is estimated that about 100,000 trees have been donated from all over Japan during the srhine's construction and these trees continue to stand to this day.
On the way can also be seen several large barrels of sake, which unavoidably attracts the attention of all visitors. As usual for all shrines, these are all offerings from all over the country by some of the most prestigious sake breweries, with also some offerings from overseas.
At the shrine it is possible to partake in Shinto related activities such as making an offering at the main hall, buying "omamori" charms and amulets or writing out one's wish on an "ema".
It is also very popular among wedding ceremonies and "hatsumode" (the first shrine visit of the New Year) when it receives over 3 million people from all over Japan. If you are planning to stay in Tokyo during the new year season, this is certainly an experience to have.
For visitors looking to indulge in the history that has made this shrine such a popular spot within Tokyo, there is the Meiji Jingu Museum. Beautifully designed by architect Kuma Kengo, the museum not only digs into the history of the emperor and empress, but also displays several national treasures such as the carriage used by the emperor and empress on the formal declaration of the Meiji Constitution in 1889, after the fruits of the historical Meiji Restoration took place.

As an after activity, we recommend taking a break at the large natural grounds of Yoyogi Park, possibly for a picnic or just to rest after all the walking. Visiting Harajuku's Tateshita Street is also a great way to return to the modern aspects of the city and also buy some of the most creative fashion items and some eye-catching snacks.
If you are interested in staying around this area, don't hesitate to contact our experienced multilingual staff who is always happy to help finding your perfect apartment, share house or guest house unit in Tokyo, Japan.
SAKURA HOUSE
Nishi-Shinjuku K-1 Bldg. 2F
7-2-6 Nishi-Shinjuku, Shinjuku-Ku Tokyo, Japan
Postal code: 160-0023
Google map
From Japan:
From outside Japan:
Mail:
Office hours:

8:50 am to 8:00 pm
We are open every day of the year.
Tokyo time:

03:41