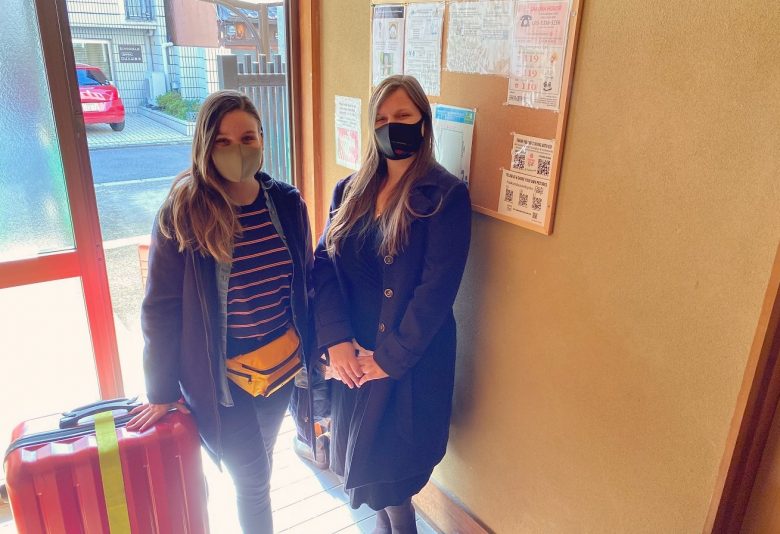 2022/04/15 (Fri)
Living in Japan
Flexible rooms for groups and couples in Kyoto
For travelers with plans in Kyoto, it can be a difficult task to find an accommodation that can meet one's needs as a foreign student, intern or work professional in Japan. For students attending a Japanese language school or university, and for those completing an internship or traveling for work, time is of great importance. Many documents and preparation need to be made, which can leave little time to search for a comfortable room that can meet one's needs. Even more so if traveling with a partner,  friends, colleagues or family members.
To avoid so much complication, the Machiya Share House rooms of SAKURA HOUSE KYOTO ANNEX are offering great flexibility to match the needs of individuals, couples and group stays.

Although all bedrooms have the option of staying privately, the special feature of KYOTO ANNEX Machiya Share House is that by staying together with friends/relatives or work/study colleagues, it is possible to share a private bedroom with the members of your group and split the monthly stay fee between each one of you. This is a very convenient way to have more of the travel budget dedicated to going out and enjoying the city and its events.
For couples/friends,
KYOTO ANNEX room 301


Located on the 3rd floor facing toward the calm neighborhood street, room 301 is the brightest room in KYOTO ANNEX. It is naturally warm during winter and cool in summer with its large window and spacious balcony area.
Several friends and couples studying in Kyoto have preferred this room particularly for its natural brightness throughout the entire day, making it easy to study. Some previous residents of this room have also shared how having a spacious balcony area makes it easy to relax between long hours of study and even get fresh air while doing so.
For families/couples,
KYOTO ANNEX room 102


For anyone in search of more private space, room 102 is a bedroom dedicated to this. 
Located at the very back of the house, this separate bedroom has a unique and cozy atmosphere.
What used to be the traditional "Kura" (storage room) of this Machiya house, got turned into a private bedroom.
Beds are located on the 1st floor, right in front of the Japanese garden, and on the 2nd floor is a private lounge exclusive for residents of this room only. This gives it a home-like feeling without having to bear the high costs of a private house altogether.
For large groups, friends/colleagues,
KYOTO ANNEX room 201


With a large window covering almost all of the wall facing the street, and a small balcony area receiving plenty of natural light during the day, this spacious bedroom is a rarity amongst Kyoto accommodation options.
Being able to comfortably accommodate up to 5 people, it is particularly convenient for groups. Splitting the monthly stay fee potentially makes it a very cheap alternative for all group members individually. A great way to share the fun and experience of life in Kyoto.
For a taste of tradition,
KYOTO ANNEX room 202


This is the only Japanese style bedroom equipped with Japanese folding futon beds, making it easy to rearrange the room setting for couples, friends or colleagues stay.
The large window facing the central Japanese garden from the 2nd floor private balcony, offers natural light throughout the day, connection to nature and fresh air.
This is one of the best options available to truly feel life in Kyoto, as if traveling back in time.

If you would like our multilingual staff to help you decide which room shall be best for you, feel free to contact us anytime. And don't forget that it is also possible to view the rooms online from the comfort of your home while you continue to prepare your travel plans.
Get in touch with us and lets make your stay in Kyoto happen!
SAKURA HOUSE
Nishi-Shinjuku K-1 Bldg. 2F
7-2-6 Nishi-Shinjuku, Shinjuku-Ku Tokyo, Japan
Postal code: 160-0023
Google map
From Japan:
From outside Japan:
Mail:
Office hours:

8:50 am to 8:00 pm
We are open every day of the year.
Tokyo time:

03:41