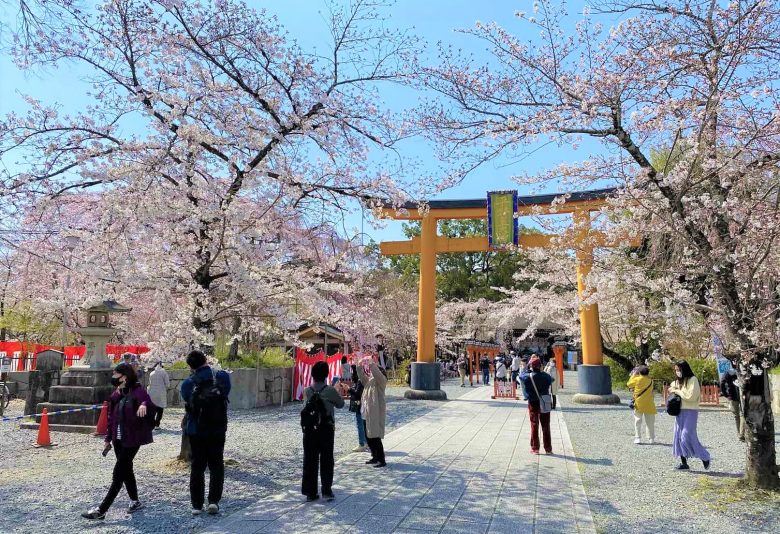 2022/01/07 (Fri)
Living in Japan
Discovering Kyoto: Hirano-jinja shrine
A stay in Japan is not complete without visiting a few shrines and temples, and no city is more convenient for this than Kyoto. If you shall be enjoying a long term stay in this city as a foreign Japanese language student, intern, university student or foreign employee, there shall be more than one chance to see these historical aspects of the country. But also for short term visitors there are several shrines around the Share House, Guest House and Vacation Rental options of SAKURA HOUSE KYOTO to make best use of your time and comfort. From all of these, one that is specially nice to visit is Hirano-jinja Shrine.

Having been established in the year 794, when the capital of Japan transferred from Nagaoka-kyo to Heian-kyo, it has had a long relationship with the Imperial Household and royal family. However, nowadays it is more renown for its particular beauty during the cherry blossom season in spring. Just beside the shrine is a large garden area that usually gets visited by people from all over Kansai to enjoy the lively ambiance and even spend the entire day with family and friends under the "sakura" trees. There are said to be about 500 cherry blossom trees here displaying 60 different species in total. This has been a most rewarding contribution from Emperor Kazan in 985, when he ordered the plantation of such trees.

From the trees in the shrine, there is a particular one that gets special attention. This is the over 400 year old camphor tree located in front of the main shrine area. There is a small platform at the base of it, which allows visitors to walk around it. This is believed to energize the body.

Just recently, on the 26th of August, 2018, typhoon Jebi significantly damaged some of the main structure of this shrine, as well as many of its beautiful trees. Hopefully, with the ongoing contribution of visitors, it shall return to its previous appeal for the amazement of photographers and tourists.

Hirano-jinja shrine is easily accessible from SAKURA HOUSE KYOTO in Nishijin in about 20 minutes on foot. It is also a popular stop for those on the way to visit Kinkaku-ji Temple (the Golden Temple) since it is on the way. Access also allows to see the the beauty of Kyoto's oldest geisha district, Kamishichiken, as well as the well known Kitanotenmangu shrine.
This is just one of the many spots you can enjoy during your stay in Kyoto. Our experienced staff is always available to chat about the latest events, recommendations and to help with any aspect of your live in Japan's old capital city. And as always, you can already contact us from overseas to begin your house or room search in a most favorable location to your needs.
SAKURA HOUSE
Nishi-Shinjuku K-1 Bldg. 2F
7-2-6 Nishi-Shinjuku, Shinjuku-Ku Tokyo, Japan
Postal code: 160-0023
Google map
From Japan:
From outside Japan:
Mail:
Office hours:

8:50 am to 8:00 pm
We are open every day of the year.
Tokyo time:

09:20(We are open now!)