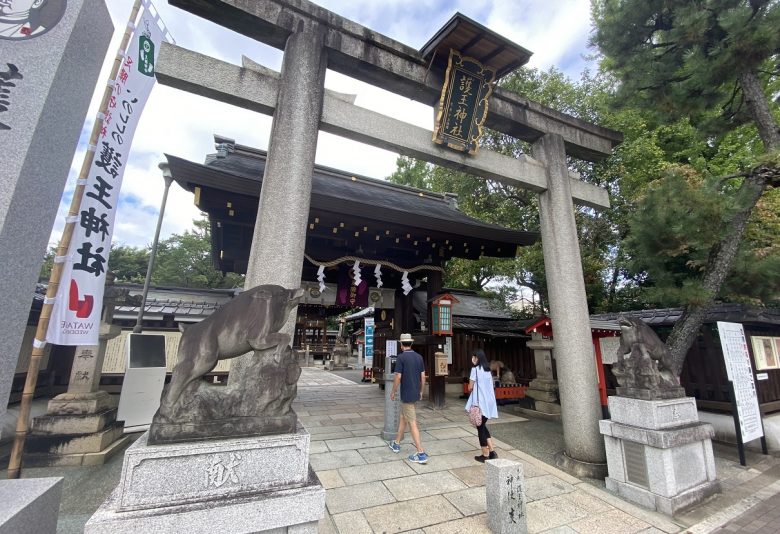 2021/09/27 (Mon)
Living in Japan
Discovering Kyoto: Goō Shrine
We've shared in the past about some of the mysterious aspects of Kyoto city, and many of these shall be discovered while enjoying a stay in Kyoto. Many places around the city may seem weird and out of the ordinary, and this is the perfect sign that under it is a beautiful history that has caused it to be so. For example, it can be difficult to expect a shrine to be decorated with images of wild boars and feet, but such is the case of a unique place near SAKURA HOUSE KYOTO's Machiya share houses and private houses. We refer to Goō Shrine.

Goō Shrine is located right next to the Kyoto Imperial Palace grounds to the west on Karasuma Dori street, right in between Imadegawa Station (the closest station to SAKURA HOUSE KYOTO) and Marutamachi Station (located near the southern entrance of the Imperial Palace grounds). The shrine is dedicated to Wake-no-Kiyomaro, a high-ranking Japanese official during the Nara period who played an important role during the construction of Heian-kyō, when Kyoto served as the capital city of Japan.

One thing noticed when arriving at the shrine's gate entrance is the image of a large "omamori" amulet decorated with feet. This is because many visitors reach the shrine to pray for the recovery from lower-body injuries, especially from legs or lower back.

History tells that Wake-no-Kiyomaro had a dispute with Empress Koken and was forced to exile in what nowadays is Kagoshima prefecture in western Japan. Just before his journey began, the empress's advisor, Doukyo, attempted to kill him but only could damage one of his legs. During the painful journey, Wake-no-Kiyomaro realized that many assassins have been sent by Doukyo and were getting closer each day. Unable to continue baring the pain of his injured leg, he was ready to give up his life to the assassins when several hundred wild boars appeared within the forest and saved him by driving the assassins away. It is also said that the boars helped Wake-no-Kiyomaro heal his leg sooner than expected, which allowed him to complete his journey safely. This is the reason for also having several wild boar statues and decorations within the shrine.

To end the story, after the whole dispute with the empress got resolved, Wake-no-Kiyomaro could return to the capital and was held several important roles, one of the main being the relocation of the capital from Nagaokakyo to Heiankyo.

This shrine is also well known for receiving the prayer for children's well being. It is said that Wake-no-Kiyomaru, and his sister Wake-no-Hiromushi, have taken care of several children who had lost their families due to war. Wake no Hiromushi is also enshrined at this site as a child-rearing deity.

One of the most surprising aspects of this shrine is the incredible wild boar collection it displays. Their said to be about 4,000 decorative statues on display, all made from different materials, colors and holding different poses.

If interested in more of the shrine's history and Wake-no-Kiyomaro's endeavors through life, the shrine's outer fence displays in detail some of the most important aspects of his life. 

It is quite easy to reach from our Kyoto Machiya houses, specially if planning to visit the Kyoto Imperial Palace or if attending a Noh play at the local Noh theatre in the neighborhood, which we shall talk about on a later Sakura Tip.
SAKURA HOUSE
Nishi-Shinjuku K-1 Bldg. 2F
7-2-6 Nishi-Shinjuku, Shinjuku-Ku Tokyo, Japan
Postal code: 160-0023
Google map
From Japan:
From outside Japan:
Mail:
Office hours:

8:50 am to 8:00 pm
We are open every day of the year.
Tokyo time:

02:52