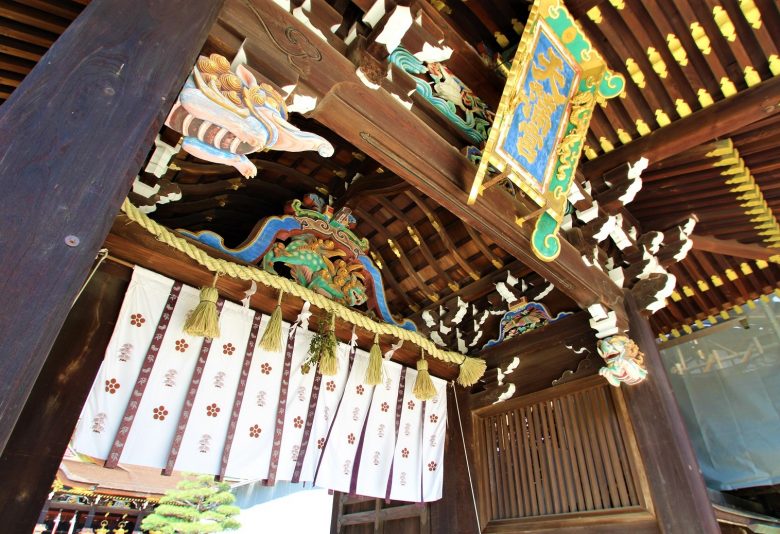 2021/11/01 (Mon)
Living in Japan
Discovering Kyoto: Kitanotenmangu Shrine
From all the thousands of shrines and temples in and around Kyoto city, one that our residents always visit, particularly foreign students, is the Kitanotenmangu Shrine, a large reverence place for the Shinto religion to show both its beauty and importance within the everyday life in Japan. Whether traveling as a Japanese language student, university student, for work, internship or simply travel, this is a Kyoto spot worth visiting, particularly if it is the first time being in the city.

Located just about 15 minutes on foot from SAKURA HOUSE KYOTO, the walk takes visitors through one of most historical places of Kyoto, the street of Kamishichiken, the oldest geisha district in the city. This street connects with Imadegawa Dori, the street running just behind our Machiya style share house and private house options. Filled with traditional and modern shops and restaurants, the walk toward this shrine is quite pleasing by itself, but also offers a nice view into what the neighborhood has to offer.
We have mentioned before that there are many shrines around Japan dedicated to the great scholar and politician Sugawara Michizane, and this is one of the most important of them. Known today as the patron of study and associated with "Tenjin", the god of education, a great number of students visit this shrine particularly during exam periods in order to ask for good grades or thank for having obtained them.

Interestingly, this shrine is largely decorated with many ox figures. This takes origin on the happenings in Sugawara's life. Having been exiled by his political opponents of the time, Sugawara was saved from assassins on his road to exile by a wrathful ox that came running out from the pine groves hurting the assassin with its horns, allowing Sugawara to escape and complete his journey. Likewise, it seems that he was also born on the year of the ox.

But history is not the only aspects that characterizes this shrine. Right next to it, there is a large plum garden with about 2000 trees that display their full beauty on the blooming season of these flowers, around February-March each year. Access to this garden required an entry fee, but it is well worth it, as the ambiance is as peaceful as it is beautiful.

Alternatively, there are many plum trees around the shrine's grounds, allowing the enjoy this season by simple walking around. During this time also takes place the Baikasai gathering, particularly on February 25th. On this day, the maiko and geiko (geisha practitioners) of Kamishichiken offer green tea and sweets to visitors. This is a most recommended experience to have since it allows to enjoy several aspects of the Japanese culture at once, the beauty of being in nature during this peak season, the traditional aspects of "chado" or "sado" (tea ceremony) and being close to one of the most significant aspects of Kyoto, the geishas themselves.

Finally, as if all of this wasn't enough, every month on the 25th, there is a flea market taking place around the shrine known as "Tenjin-san". Many may be familiar with the flea market taking place in Toji temple each month on the 21st, but Tenjin-san has nothing to envy this market. Many of the sellers are even present on both markets, making it a great option to get some interesting souvenirs or a local treasure at a great price just being a walk away from our share house and private houses. Some of our previous residents have also spent an entire day just buying things to take or send back home, since there are many unique items.
If you are planning your stay in Kyoto for study, work, research or just travel, make sure to contact our staff to help you find a convenient room for your private or shared style stay as well as securing your private home for a most unique Kyoto life experience.
SAKURA HOUSE
Nishi-Shinjuku K-1 Bldg. 2F
7-2-6 Nishi-Shinjuku, Shinjuku-Ku Tokyo, Japan
Postal code: 160-0023
Google map
From Japan:
From outside Japan:
Mail:
Office hours:

8:50 am to 8:00 pm
We are open every day of the year.
Tokyo time:

11:00(We are open now!)